We're celebrating Autostraddle's Fifth Birthday all month long by publishing a bunch of Top Fives. This is one of them!
---
Lactose intolerance is a cruel, cruel mistress. As a kid, I was one of those weirdos who truly relished drinking a tall glass of milk, and as I got older I became one of those vegetarians who professed a strong desire to be vegan, if ONLY I could ever give up cheese. Cheese, man! Cheese is the best! Then one day I became an 18-year-old college student who had stomachaches almost all the time, and I found myself afraid to eat anything in my university's dining hall. The only thing I'd allow myself was cereal with milk, and I still couldn't understand why I was doubled over in pain after every meal. Finally, a doctor suggested that I (like so many Eastern European Jews) had developed an intolerance to lactose, and that maybe I should try two weeks dairy-free to see how I felt. Never one to waste time, I instead experimented by drinking yet another tall, frothy glass of milk and… well, let's just say I'll never do that ever again. That was the day I renounced dairy for the rest of my natural life. I've never looked back.
Thankfully, I am not alone in my cow-product-free lifestyle, and the science of fake cheese has made incredible advances in recent years. When I first sucked it up and removed dairy from my diet, I ate a lot of tomato pie pizzas and stared yearningly at my friends' mozzarella sticks. These days, I hardly feel like I'm missing out on anything, and if there's a food I happen to miss, odds are good that Isa Chandra Moskowitz or Chloe Coscarelli or someone equally brilliant has figured out a vegan way to recapture the decadent snacks of my childhood.
This isn't to say that all alt-cheese products on the market are created equal. Take it from me: if you ever get lazy and decide to purchase a package of Mac and Chreese at your local health food store, you will live to regret that terrible decision. It's helpful to know which fake cheeses are so delicious you can eat them straight out of the box, and which are merely bright orange globs of gelatinous sawdust that even the dog won't touch. Presented below are five of my favourite cheese substitutes, with links to purchase them online if you don't live near a store that carries them. Let's get to it!
---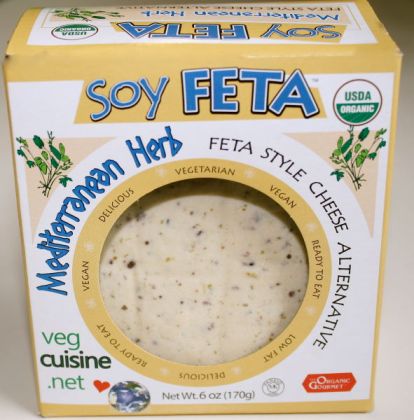 So the thing about eliminating dairy from my diet is that everybody I knew was always trying to find a catch. Goat cheese doesn't have as much lactose as cow's milk-based cheese, so I wouldn't feel as gross if I happened to consume some. This meant that for the first five years or so that I identified as a vegan person, my mom kept trying to feed me goat-based cheeses. "But you won't get sick!" she protested, missing the point entirely. For one thing, I was hardly willing to risk eating any kind of cheese on the off chance I might fall to the ground in agony 30 minutes later. For another thing, I was a goddamn vegan, which means no animal products. God, MOM, you just don't understand me!  The thing is though, feta is delicious. The neat thing about this soy-based feta is that you can put it in your Greek salad or whatever and you don't feel like you're missing anything. I've been known to occasionally nibble it right from the package. Delicious.
---
: Heads up, this links to a case of 12 blocks of cheddar, which sounds ridiculous until you try this stuff. Follow Your Heart has an adorable name and also melts, which is an important quality for cheese to have. When I finally swore off the casein-laden Veggie Shreds for good, I discovered that Follow Your Heart was ideal for most cheesy purposes – it could melt on top of a burger, drizzle onto my nachos or better still, coat my macaroni and cheese. Through extensive trial and error, I am here to tell you that the nacho and cheddar flavors are far superior to the Monterey Jack and mozzarella, and that the one downside is that once your cheese re-hardens after melting, it's gonna stay that way. It's never going to regain its gooey texture, but it's still delicious, particularly when you are drunk in front of the refrigerator around 3-4 AM.
---
Guys, this is just insane. If you happen to be a lactose intolerant person hosting a fancy party, you now have the option of serving creamy soft cheeses in several delicious flavors. Treeline cheeses are a bit pricy (Whole Foods in New York City had a little tub for about $9), but I tested them out a couple of weeks ago and was really impressed – impressed enough to feel sort of guilty, in that way I do sometimes when vegan substitute foods taste a little too much like the real thing. I'm not used to eating spreadable cheese on crackers; I haven't in a decade, but Treeline have done amazing work turning cashew cream, scallions and herbs into a pretty amazing hors d'oeuvres situation. I haven't tried their new line of hard cheeses yet because I can't afford nice things, but soon, Treeline. SOON.
---
2. Homemade Cashew Cheese
If you think I'm being an elitist jerk by linking you to expensive spreadable vegan cheese, you're right. When I tested Treeline out for the first time, I was making a lot more money than I am now, so spending $9 on something I'm going to consume as an appetizer now seems just a liiiittle over budget. The good news is, you can actually make your own cashew cheese at home and it's mega-customizable and amazing. This recipe comes from Bold Vegan.
You will need:
– 1 cup cashews, soaked in water (preferably overnight, but at least for an hour)
– 2 tsp fresh lemon juice
– 1/2 tsp salt
– 1 dash black pepper
– whatever herb situation you want
– 1/4 cup water
Drain and rinse your cashews and place them in a blender or food processor along with the lemon juice, salt, pepper and herbs. Blend for about a minute, then add the water and pulse again until everything is completely smooth – about 3 minutes or so. You are welcome.
---
This might seem a little obvious, but only because Daiya is the king of the vegan cheese world. Dairy free, gluten free and soy free, Daiya melts and stretches and regains perfect texture, which has changed the game for every other vegan cheese out there. Daiya first hit the market in shred form, but has since expanded to include wedges and slices as well as a line of cream cheeses and frozen pizzas. I can't say these guys are doing wonders for my healthy diet, but they have made me appreciate everything that science has done for me. Since I regained the ability to have melty pizzas, quesadillas and nachos, my life has improved tenfold.
---
Header Image by Rory Midhani