feature image via stopstreetharassment.org, poster made by Tatyana Fazlalizadeh
There is no way to prepare a person for how much women get hit on. Cisgender men don't typically experience aggressive flirtation, and cisgender women seem to experience it from birth. I once had a life where I could go blocks, miles, months without a stranger standing in my way, saying,"Hey girl, where you goin' in such a hurry?" I want to take my personal space bubble to the shop and have it re-inflated to its original size, but that chapter of my life seems to be done.
About a year and a half ago, men started flirting with me a lot. A lot a lot. And then there was the harassment. It hadn't always been like this, though. For awhile before and after I came out and went full-time lady, I was fairly obviously in transition. The main tip-off was my voice. I didn't work on it very hard, it was difficult to get myself up to a point that I felt comfortable changing it. I loved my old voice even when I hated most parts of me; it had gotten me acting gigs, I had given presentations to Walt Disney executives with it, I'd helped talk trauma survivors through their pain with it. We were a team. Even when our team-up got me called "he-she" or scowled at in interviews, or just at the grocery store.
To make my life a little easier, I decided to work harder towards changing my voice. Afterwards I blended in more, and then I began to understand, rather than simply "know," what women had been telling me my whole life. It's very frightening when, after 20+ years of being left alone when you're walking down the street, a man comes up to you in a public place in the middle of a Thursday afternoon and says, "I just want you to know I've been following you for the last 30 minutes. You're the most beautiful woman I've ever seen, and I just want you to give me a chance," and then tries to grab you.
There is a silent, insidious social contract at work here. Because it is so commonplace for men to do many things to women openly without repercussions of any kind. There's no pretense, no hesitation. It just happens.
Nothing anyone could tell me in advance (though they tried) would have adequately prepared me for the cab driver who picked me up from the rape crisis center where I worked at 1AM. It was raining and as he drove me home he asked if I was gay, because I "look gay" and then asked if I "like to party? Would you like to party with me? Hey, what's your name?" He was driving 35 mph, so I wasn't getting out of the car. "I don't have to tell you my name," I said. "Oh," he said, "it's right here on the request form. Your name's Morgan. Hi Morgan." He stopped the car suddenly, turned in his seat and reached his hand out towards my chest. I pressed myself into my seat. I wasn't thinking, just trying to melt through the back of the car. His fingertips outstretched for my right nipple, and then stopped suddenly. His seat belt had locked and he couldn't move any farther. He smiled wide, turned his hand over palm up and said,"I just wanted to give you a high five." My brain jumped out of its coma and I jumped out the door and ran home.
---
I think that, in another time in history, I would feel comfortable exploring the thin slice of my sexuality pie that is bi. It's there, I can feel it. It has thoughts about Karl Urban and Charles Dance. It's just that I don't feel safe. I originally tried to write this article a year ago, and as I was about halfway through the piece, I stopped to be a good little hippie child and take the house's compost three blocks to the community dump. It was raining again and no one was around. As I walked away from the dump a man appeared from behind a building fifty feet away, looked me up and down, lowered his head and began walking toward me very fast, saying, "Hey lady. Lady. Hey lady, hey. Hey!" He was chasing me, and again I ran.
Four weeks before that I was walking to work one morning, and I passed in between a group of guys on the sidewalk. They closed ranks around me and started chanting, "Pale white bitch!"
I was at work, and everyone but me was out of the office. A man walked in through the front doors, shirtless, carrying an eight-foot wooden pole. He backs me up against a wall and says, "The red man has come to reclaim this land, but don't worry, I'm going to protect you."
I was driving a co-worker to the bus stop one night, and he turned to me and said, "Women like you are thirsty for n***ers like me."
I was walking out the door from work one night, when a man came out from behind some bushes and stood in my way. I zigged, he zigged. I zagged, he zagged. "Where are you going so fast?" He was faster than me but eventually let me go, and laughed and laughed.
I called to order a pizza and the guy on the other line says, "Your voice sure sounds pretty. Can I give you my number? I get off work at five."
I was at a drive-thru last week and the guy leaned out the window and said,"Hey, you're beautiful. What's your name, girl?"
Every week it's "hey sweetie," "hey baby girl," "hey red."
It didn't take long before I wasn't leaving my home much anymore. Friends I'd opened up to about it often just say, "Welcome to womanhood" or sometimes, "Wow, really? I wish guys would pay that much attention to me." I can see what they're saying, because some guys are just trying to tell me I look nice and they're not going to follow me home or hurt me. (One just bicycled around me a couple times and said, "Little girl, you are the most beautiful," and pedaled away.)
People have asked me, "Before you came out, how did you interact with women you were attracted to?" I didn't. I hated my body way, way too much to experience anything libidinous. I was never attracted to anyone sexually until after I came out. Before then I understood my attraction to women (or anybody) like this: "That person seems interesting, I would like to spend more time with them and talk to them more." Maybe that has made it harder for me to empathize with how the other half lives, because those first 22 years I wasn't really living.
A few times friends have said, "I guess it's hard being a trans woman," to which I say "I don't think I'm being harassed because I'm trans, I think this is because I'm a woman." "Oh. Well, are you sure they didn't know you were trans?"
---
All of this still happens, but about a year ago I received some advice that has made this part of my life easier. It's not our responsibility to respond to street harassment a certain way or to do things to avoid it; it's harassers' responsibility to leave us alone. Still, sometimes it feels empowering to have specific responses at your disposal. I was teaching volunteers how to be crisis counselors, and had Marty Langelan, author of Back Off: How to Confront and Stop Sexual Harassment and Harassers, as a guest speaker. She gave the class some very simple pieces of advice.
First off, the more things happened to me, the more my posture worsened and the more I stared at the ground. Not making eye contact says to a potential assailant, "This person is not aware of their surroundings and won't see me coming." Stand up straight, look confident, walk with a purpose, make eye contact with people. Imagine a sphere going out ten feet in every direction around you. Know everything in that sphere at all times: how people look and how they're dressed, places your view is obstructed, escape routes. Change up the way you walk home so people can't learn your routines. Know your streets. Look over your shoulder to see behind you, calmly and confidently and not like a frightened animal. Acknowledge people you make eye contact with with a nod.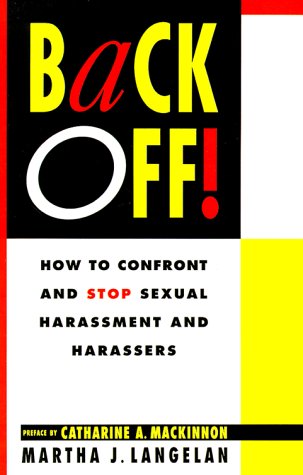 Get to know the homeless people in your area, because when every neighbor is staying inside their home, the person who hangs out near your street might be your only witness or your only source of rescue. Have pepper spray already in your hand. Don't be afraid to cross to the other side of the street if someone gives you a bad feeling; trust your instincts. And to really throw people off their game, tell them what they are doing to you — name their behavior in a public way. "Stop harassing women. I don't like it, no one likes it, show some respect." "When you stare at women's breasts it's obvious to everyone in the room. Look us in the eyes." Or one of my own, "My name is not sweetie. It is Ma'am or Miss." If you're receiving this behavior from someone you run into a lot, document it (name, date, time, description, place). You may need this later for your supervisor or the authorities.
It took awhile to put these lessons into practice and make them routine, and it will take more than that to get over the fact that the way I move in public places has so changed. I've mostly shaken my fear of boyfolk, but the way I've always heard it told, a little fear is required. A friend asked me several years back: "Okay, you walk past an alley. A guy is lying there, he asks for help. What do you do?" I ask "Is the answer don't help him?" "You absolutely help him. You stand away from him, in the street in public view, pull out your phone and say, 'Would you like me to call 911?'"
---
Special Note: Autostraddle's "First Person" column exists for individual queer ladies to tell their own personal stories and share compelling experiences. These personal essays do not necessarily reflect the ideals of Autostraddle or its editors, nor do any First Person writers intend to speak on behalf of anyone other than themselves. First Person writers are simply speaking honestly from their own hearts.