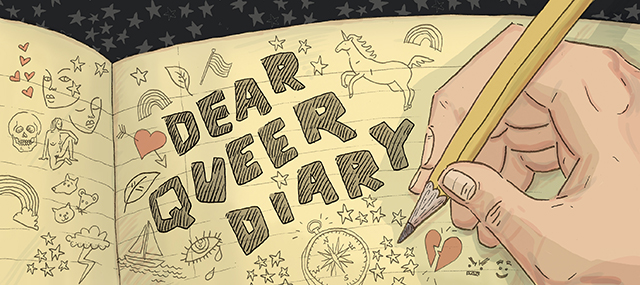 When I was an angsty teen, there was nothing I loved more than listening to mix CDs on my discwoman and writing in my journal. Today, I would like to celebrate the union of those two passions with a specially made playlist. But first, permit me another word on my youthful quirks.
Back then, my preferred playlist-listening location was a somewhat worn yellow armchair, where I would sit with my calculus homework arrayed about me, enjoying the musical stylings of Coldplay and Death Cab for Cutie. When I had finished my required derivatives, I would crack out the ol' book o' feelings.
The flaw in the mix CD/journal writing model was that I have always been one of those people who has a difficult time paying attention to more than one thing at once. When I was in elementary school, I once famously wrote the sentence, "Llamas are useful pack Pokemon," while attempting to simultaneously draft a paragraph on camelids and carry on a conversation about Gameboy games.
(In spite of the fact that I've known this about myself since approximately age thirteen, I am currently attempted to write this column while listening to the below playlist. It's not going well.)
I guess what I'm saying is that if you are unlike me in your ability to do things while listening to music, this collection of songs would be a great complement to your journaling activities.
Please note that we open with two of the greatest lesbian musical acts of the last two generations and close with three songs clearly selected only because their titles contain the word "diary." In between, there are some (mostly depressing, strangely folk-y) songs that I like.
What are your journaling jams, Straddlers? I won't be able to listen to them while I write, but I'm still curious.
Dear Queer Diary
Virginia Woolf – Indigo Girls
Follow – Brandi Carlile
The Engine Driver – The Decemberists
One More Time With Feeling – Regina Spektor
White Blank Page – Mumford & Sons
Your Ex-Lover Is Dead – Stars
Saddest Sound – Lucy Wainwright Roche
The Wrote & the Writ – Johnny Flynn
Your Secrets – Belle & Sebastian
Scythian Empires – Andrew Bird
Diary – Alicia Keys
Dear Diary – Pink
Diary of Me – Taylor Swift
Want to suggest a playlist theme? Hit Stef up and someone on the team might make it for you.
---
Dear Queer Diary is a column about the joys (and occasionally, the pains) of journaling. We crack open our tiny notebooks and break out the rainbow-colored pens on the regular, so get ready to limber up your writing hands and document all your beautiful feelings!
Header by Rory Midhani
Feature image via Blackbird and Peacock