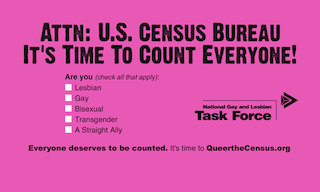 This November the U.S Census Bureau will have a much easier time counting the gays then they've had for the last ten years because the 2010 census is the first which will count same-sex couples as same-sex couples and now that gay marriage is legal in five states it will be infinitely easier to count those people. Back in 2000, however, a lot of couples were already reporting themselves as spouses despite not being married according to the government's definition.
However data from the Census' 2005-2009 American Community Survey  has been analyzed and has discovered the following — the top ten cities by proportion of same-sex couples, as "identified by the percentage of households occupied by unmarried partners of the same sex":
1. San Francisco-Oakland-Fremont, Calif. 1.36%
2. Burlington-South Burlington, Vt. 1.12%
3. Barnstable Town, Mass. 1.10%
4. Portland-South Portland-Biddeford, Maine 1.09%
5. Santa Rosa-Petaluma, Calif. 1.03%
6. Portland-Vancouver-Beaverton, Ore.-Wash. 1.00%
7. Santa Cruz-Watsonville, Calif. 0.95%
8. Springfield, Mass. 0.92%
9. Seattle-Tacoma-Bellevue, Wash. 0.91%
10. Boston-Cambridge-Quincy, Mass.-N.H. 0.91%
What is interesting about this list is that all of the cities are in states that currently allow same-sex marriage or domestic partnerships. However, only Massachusetts and Maine allowed either for all of the given time period, while the rest started after the data gathering began. According to USNews:
"The data suggests that a large proportion of same-sex couples in a city, state, or region is a factor that sets the stage for legislation granting marriage rights to non-heterosexual couples."
Obviously this makes sense, since the more gay people there are in an area, the greater chance there is of them being able to get things like "rights" and "equality." But the interesting part is that the public sentiment in support of the gay community likely existed before any policy-based action happened.
According to a representative from the Human Rights Campaign,
"It is more likely, if you have an organized and active LGBT [lesbian, gay, bisexual, and transgender] community, that you're going to see relationship recognition happen. This climate would have to come together before the political process."
In other words, people didn't move to those cities because same-sex partnerships were OK. Same-sex partnerships moved to those cities because gay people were OK. The HRC also says:
"One of the largest factors is really about perception, and how a place is perceived to be welcoming or not."
It's also important to note that while the list is new, the data it's based on is dated, and incomplete — while many gay couples listed themselves as spouses in the 2000 Census, same-sex partnership wasn't recognized anywhere yet, making the results partial at best.
While the inclusivity of the 2010 Census is an improvement, there are still endless problems — for instance, information on sexual orientation of individuals is not recorded — which is what makes getting an estimate of the gay population so difficult and results so riddled with problems. This is what was behind the National Gay & Lesbian Task Force's pink stickers last year which hopefully you all filled out.
Finally, because I am Canadian and haven't had to fill out a census yet and Did Not Know This, there were only five questions on the 2010 Census anyway (age, sex, race/ethnicity, relationship, and living situation/rent/own a home), and changing them takes years of development and advocacy.
According to Queer the Census, change, when it does happen, will be important:
The U.S. Census is the bottom line in Government for allocating resources and making policy decisions. LGBT individuals have never been counted before. According to the Government, we don't exist! It is standard to ask other self-identification questions, like those about race and ethnicity. The Census website explains, "Race data…are used to promote equal employment opportunities and to assess racial disparities in health and environmental risks." With similar information about LGBT people, we can better advocate for fairness in policy decisions, like health initiatives, family services, and education.
And until that information is gathered in a way that's full and complete and includes individuals as well as married partners and domestic partners and people just living together to see how it feels and everyone, we're stuck with dated top 10 lists.
There are lots of elements of the fight for marriage equality that we feel we can control — changing the hearts and minds of the citizens through information campaigns, calling voters, going door to door, talking to our friends/family, exposing lies on the other side, taking legislative action and writing articles on The Huffington Post. But if the number of gay people residing in your state is one of the most influential aspects in how that vote turns out — well, we have much less control over that. (Clearly a gay population can't necessarily make/break a vote, but people who know gay people are more likely to be pro-equal rights, etc., so the more gay people there are to know, the better.) And here we come back tot he problems of having a majority vote on the rights of the minority, especially when the minority is really really small.
It seems like an obvious statistic now that it's out there — what do you think? Which comes first, the chicken or the egg? How is the gay community mobilized where you live?