So you've finished watching Showtime's thrilling supernatural horror mystery series Yellowjackets, you've watched it again and perhaps one additional time, and now you need something new with which to occupy your idle mind. You're looking for other shows like Yellowjackets, or shows that embody some aspect of Yellowjackets that you yearn for. Well, great news: here are 18 shows that might satisfy that primal urge.
---
1. The Wilds (Amazon Prime Video)
If you like high school girls, including a lesbian athlete, struggling for survival in nature after being thrust out of a flying object that had promised to take them somewhere else altogether, try The Wilds. This teen drama finds eight teenage girls abandoned on a desert island after their plane crashes en route to Hawaii for "Dawn of Eve," an empowerment retreat they've been sent to by their parents. The girls embody and eventually betray their obvious archetypes as they attempt to piece together a path towards survival when it seems rescue is at best, not around the corner. The Wilds was renewed by Amazon but Season 2 hasn't been released yet. (Stream The Wilds Season One on Amazon Prime)
If you like complicated, unnaturally attractive teenage girls being taunted and extorted and blackmailed by a mysterious person or group of people who do not reveal their identity, try Pretty Little Liars. A year after the queen bee of their social group goes missing, four former best friends who wear really ambitious outfits to school are drawn together and pushed apart by relenting messages from the mysterious "A" who threatens to expose their secrets. As the show proceeds over the course of seven seasons, those original secrets feel increasingly silly compared to their new secrets: so much murder and deception, so little time! Very similar to Yellowjackets in that you never really know who to trust besides the core four, and you're also not really sure who's dead! (Stream Seven Seasons of Pretty Little Liars on HBO Max)
3. Dare Me (USA)
If you like homoerotic elite high school sports teams containing girls with a lot of psychological baggage and a story that involves the slow unpeeling of a central mystery, try Dare Me. Unfortunately only given one season at USA, this series based on a Megan Abbot novel follows a cheer team under the leadership of a new, boundary-less coach whose own personal unraveling aligns with that of many of her damaged, self-destructive charges. "Dare Me takes a still heightened but significantly more grounded approach to its tales of teen violence and small-town drama," Kayla wrote in her comparison of the show to Riverdale. "It still dresses up its darkness with glitter, but that mask is very intentional, a piercing juxtaposition of the thrills and terror of high school sports." (Stream One Season of Dare Me on Netflix)
4. The Leftovers (HBO)
If you like Jasmin Savoy-Brown in a supernatural prestige cable drama centered on a town deeply impacted by a tragic event in which some residents lost more than others and some of them eventually formed cults, try The Leftovers. The show is set three years following the "Sudden Departure," an unexplained global event in which 2% of the world's population suddenly disappeared. Savoy-Brown joins us in Season 2, as the show shifts its focus and moves its main characters from Mapleton, New York to a town in Texas that didn't lose any residents during the Rapture but now faces a new tragedy that engenders emotions including chaos and panic. (Stream all three seasons of The Leftovers on HBO Max)
5. Westworld (HBO)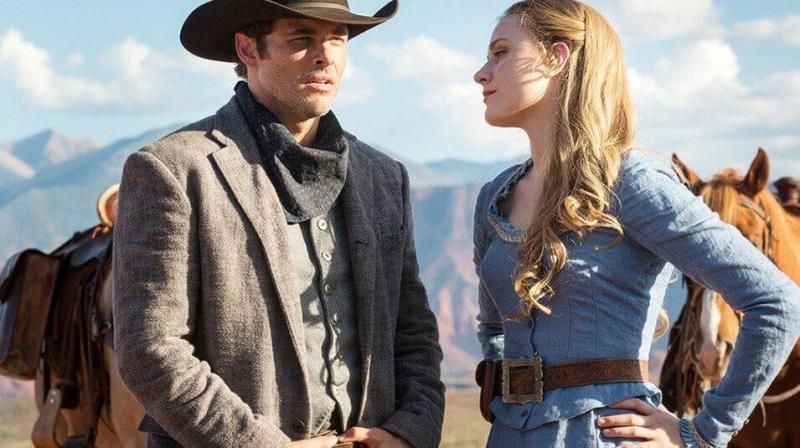 If you like a show that spawned active, engaged reddit fan boards of fans attempting to unravel the show's central questions through piecing together its various clues, try Westworld. Westworld takes place in the future in a Wild West themed amusement park populated by androids and patronized by rich people who enjoy killing and raping the androids without consequence. But then the androids start becoming sentient and shit gets very complicated. A perfect first season is followed by two more that didn't hit quite so hard, with a fourth debuting this year. (Stream Westworld on HBO Max)
6. Station Eleven (HBO Max)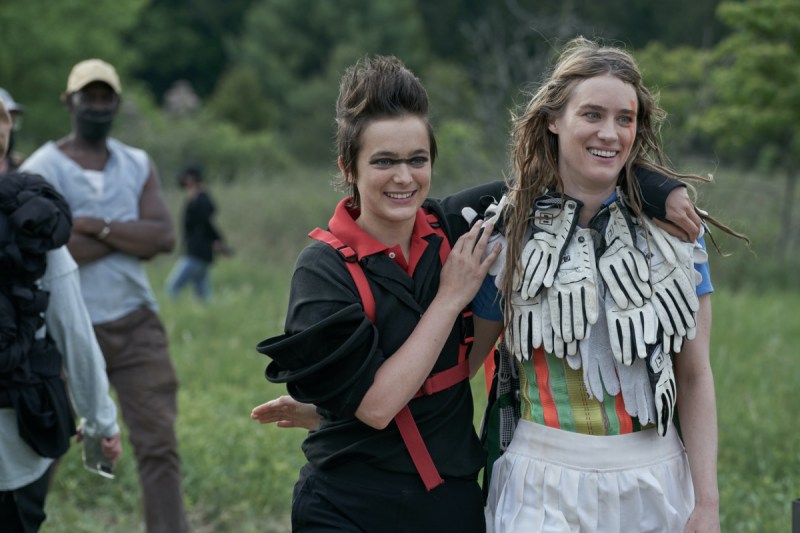 If you like a story in which past trauma remains a vivid presence in the still-tenuous present or are just interested in viewing the best television show I have ever seen, try Station Eleven! Station Eleven grapples with the world built in the aftermath of a flu that wiped out civilization entirely in 48 swift hours, weaving together stories of interconnected characters across time, flashing between the day the pandemic first hit and the ensuing few years and then what remains 20 years later, focusing specifically on The Traveling Symphony, a group of actors and musicians who perform Shakespeare in a loop around the now sparsely inhabited Great Lakes region. (Stream Station Eleven on HBO Max)
If you like weirdly charming sociopaths like Misty Quigley who enjoy commiting murders, try Killing Eve! This delightfully deranged thriller follows Eve Polastri (Sandra Oh), a British intelligence investigator who becomes obsessed with a very beautiful and fashionable assassin Villanelle (Jodie Comer) who in turn becomes obsessed with her. Season One is a perfect season of television and by Season 3 we are mostly here for the outfits and the sexual tension although I believe some spy stuff is still technically happening on some level. (Stream Killing Eve on Hulu)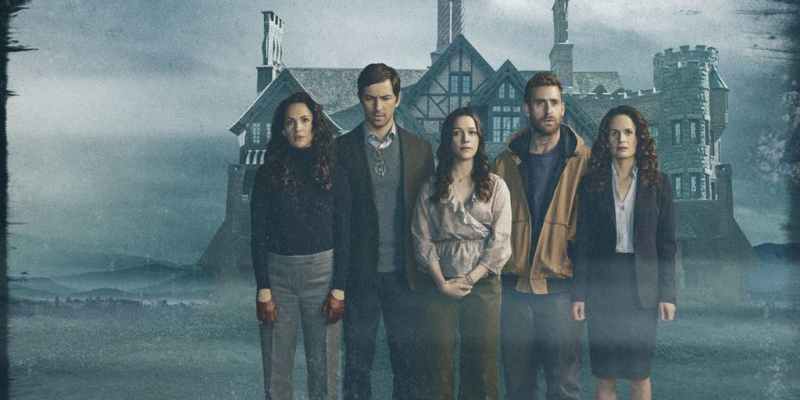 If you like haunted lesbians who aren't really sure what's real and what isn't, try The Haunting of Hill House and its follow-up series, The Haunting of Bly Manor! Both seasons of this supernatural horror series take place in houses that hold both their present residents and the very creepy history of its previous inhabitants who continue to hover around literally and figuratively. Also, there are queer women in both who are often not entirely sure what is happening in their lives: relateable! (You can stream The Haunting of Hill House and The Haunting of Bly Manor on Netflix.)
10. Lost (ABC)
If you like large groups of people forced to build a new world for themselves on a strange unidentified patch of land with supernatural qualities after a plane crash that left many of them in a compromised medical state and also one of them is pregnant, try Lost! Lost, which was enormously popular during its run and had a brilliant first season and a sprawling and brilliant ensemble cast, is considered a definitive entry in the Stranded on a Desert Island cannon. Like Yellowjackets, Lost also employs a lot of flashbacks and flashforwards to gradually unwind its central mystery. (Stream seasons 1-6 of Lost on Hulu)
11. Cruel Summer (Freeform)
If you like a dark thriller produced recently but set in the mid-90s and loaded with nostalgic call-backs that is about high school popularity politics and a town grappling with an unexpected disappearance, try Cruel Summer. In a small Texas town, the very popular Kate Wallis disappears without a trace and awkward outcast Janette Turner takes over her life — but when Kate turns up a year later, new questions must be asked. The show hops between 1993, 1994 and 1995. (Stream the first season Cruel Summer on Hulu)
12. The Society (Netflix)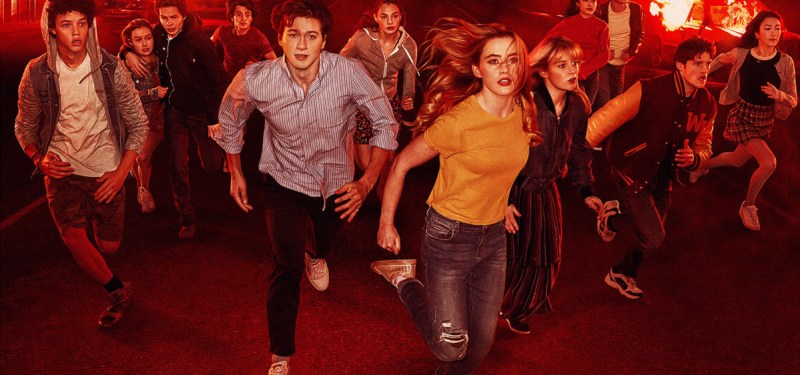 If you like a bunch of high school students going on a little trip that turns out to actually be a prequel to having to create their own society with limited resources and a lot of pre-existing tension, try The Society. The senior class of West Ham, Connecticut, heads off on their senior camping trip, but a storm defers the journey. When the busses return them home, however, home has changed insofar as nobody is there anymore, just them, and roads to the outside world have been closed. Unfortunately, the show's renewal was snatched back from the world by COVID, so we only get one (1) season. (The Society 's one season is streaming on Netflix)
If you like watching suburban Moms and allies undertake low-key heists through which they discover new things about themselves, try Good Girls! This crime dramedy follows three Moms in suburban Michigan struggling to pay the bills who plan a big supermarket robbery heist only to find themselves involved in something much bigger than they expected involving a mob gang who was using the supermarket as a front. As the series continues the stakes raise and they find themselves involved in an increasingly dangerous and thrilling journey. (Good Girls is streaming on Netflix)
14. The A-List (BBC/Netflix)
If you like teens on a sinister island with a supernatural mystery, try The A-List. This British teen thriller is centered on Mia, who arrives at summer camp on Peregrine Island expecting to be Queen Bee, only to find a challenge from the very sinister Amber. The creators called it "mean girls meets Lost." There's also Alex, who is genderqueer and has a little thing with Petal, a cheerful little hippie who joins Alex for explorations into the mysterious monsters in the forest. (You can stream The A-List on Netflix.)
15. Wayward Pines (Fox)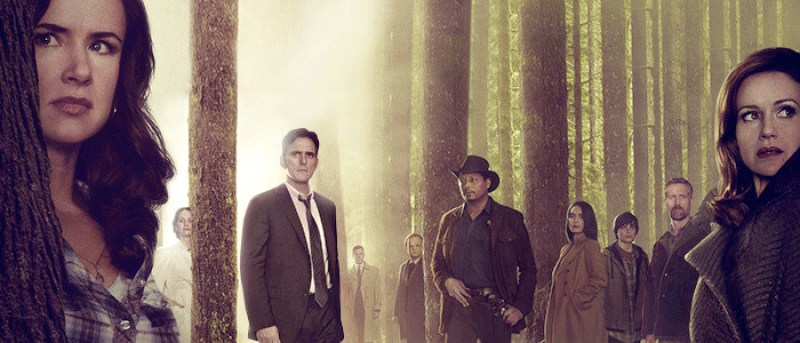 If you like Juliette Lewis and an all-star cast in a creepy fish-out-of-water thriller where the water is not exactly what it seems and there are a lot of flashbacks, try Wayward Pines. Based on the Blake Crouch trilogy (which I also highly recommend!), Wayward Pines finds secret service agent Ethan waking up after an accident in a strange, seemingly perfect small town in Idaho where he's gone hunting for two federal agents who've gone missing. (Lewis is only in the first four episodes, but by then you'll be hooked anyhow.) (You can stream the two seasons of Wayward Pines on Hulu.)
16. Creamerie (Hulu)
If you like considering the possibility of matriarchy with one (1) grown man and a lot of humorous negotiations between charismatic women who are usually slightly panicked in an ambient way, try Creamerie. This dystopian comedy finds three dairy farmers building a life eight years after a mystery virus killed all the men and now their town is now mostly under the control of a wellness cult who have created a "reproduction protocol" to repopulate society. One of the three sisters at the center of the story, Alex, is gay, and has a very complicated relationship with (You can stream the first season of Creamerie on Hulu.)
17. This is Us (ABC)
If you like consuming the story of a group of people on separate timelines played by different actors as we hop back and forth between the past and the present, try This is Us! This beloved family drama follows the lives of three siblings (two surviving members of a triplet pregnancy and an adopted son) and their parents and makes people cry a lot. (You can stream all five finished seasons and the in-progress sixth season of This is Us on Hulu.)
If you like a group of troubled teens in a dimly-lit town with low-key Twin Peaks energy and also like being able to read Kayla Kumari Upadhyaya's recaps of a television program after you have finished watching it, try Riverdale! Like so many thrillers on this list and elsewhere, Riverdale had a perfect first season and was more uneven from there, but it also added a queer storyline for Cheryl Blossom and Toni Topaz and remained fun and weird with plenty of intrigue to keep you on your feet.