Some researchers have been putting a lot of time/energy into determining where, exactly, you're most likely to be oppressed and the results are at once totally predictable and completely shocking. It's predictable because us homos have a chronic habit of losing when our civil rights are up for a popular vote, discrimination remains written into our constitution, and The Real L Word exists. It's shocking because despite how far we've come as a country, there are many states out there where popular opinion has barely budged and seems unlikely to transform any time soon.
See, lately the National stats have kinda been floating gradually toward our favor. A recent Gallup survey showed 64% of respondents believing gay and lesbian relations should be legal, up from 50% in 2000 and 32% in 1987. Earlier this year, The Public Religion Research Institute found 47% of Americans supporting gay marriage and 47% against. Other recent studies by Gallup, ABC News and CNN placed support of gay marriage at between 51% and 53%.
But, as two other recent studies show, progress may seem far off if you live in Alabama. Yesterday's National Coming Out Day probably felt a little different depending on where you're at in the Nation.
First up we have an employment discrimination survey from American Journal of Sociology which focused on gay men. Researchers sent 1,700 copies of two resumes out to entry-level white collar job openings — managers, business and financial analysts, sales representatives, customer service representatives, and administrative assistants.
One resume indicated that the applicant had been part of a gay organization in college. In order to eliminate the possibility of job discrimination against gay people based on an overall aversion to liberal left-leaning politics, the other resume indicated its applicant's involvement with the "Progressive and Socialist Alliance."
They found that employers were 40% less likely to offer interviews to applicants with resumes that indicated they were openly gay than they were to offer interviews to their heterosexual counterparts.
However! Researchers said most of the overall gap was driven by the extreme disparities in Texas, Florida and Ohio. In California, Nevada, Pennsylvania and New York, the gaps were statistically insignificant.
It's hard to tease out the chicken/egg situation here, but as you can see by that giant white hole down the middle of this chart from The Gay & Lesbian Task Force, there isn't any legislation in place to stop employers in these states from discriminating against potential employees on the basis of sexual orientation or gender identity: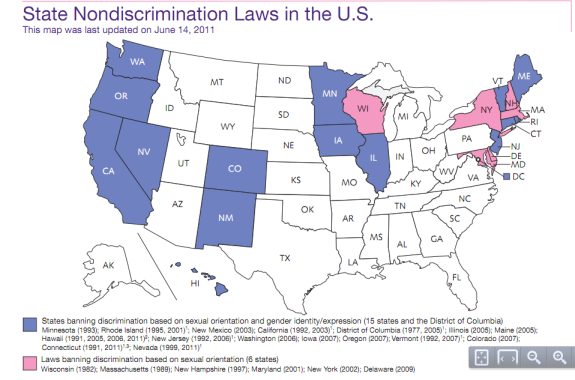 But what's the bigger picture? Well, this week The University of Chicago Press has published its evaluation of where it's "okay to be gay." They've declared that New Englanders (Connecticut, Maine, Massachusetts, New Hampshire, Rhode Island, and Vermont) are the most accepting of gay people with only 27% of study respondents saying homosexuality is always wrong.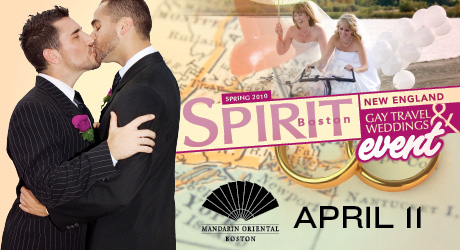 The remaining regions, in order of tolerance for gay people:
2. Pacific Region (Alaska, California, Hawaii, Oregon, and Washington) – 37.5% think homosexuality is "always wrong"
3. Mid-Atlantic (New Jersey, New York, Pennsylvania) – 39.3%
4. West North Central Region (Iowa, Kansas, Minnesota, Missouri, Nebraska, North Dakota, and South Dakota) – 43.8%
5. East North Central Region (Indiana, Illinois, Michigan, Ohio, and Wisconsin) – 46.4%
6. Mountain states (Arizona, Colorado, Idaho, New Mexico, Montana, Utah, Nevada, and Wyoming) – 47.2%
7. South Atlantic (Delaware, District of Columbia, Florida, Georgia, Maryland, North Carolina, South Carolina, Virginia, and West Virginia) – 54.8%
8. West South Central (Arkansas, Louisiana, Oklahoma, Texas) – 61.8%
9. East South Central (Alabama, Kentucky, Mississippi, Tennessee) – 73.7%
Similarly, these regional attitudes are quickly apparent when you check out the National Gay and Lesbian Task Force's map of partner-rights legislations across the US: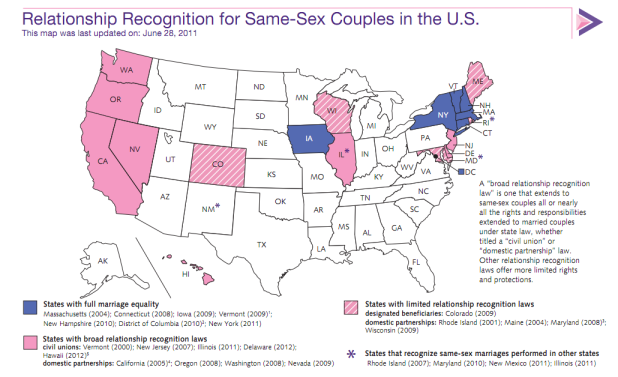 State-by-state data tells the same story of dramatic disparity over and over — whereas in Massachusetts, 60% favor gay marriage and only 30% oppose it, in West Virginia only 19% of the state's voters want same-sex marriage legalized. When the Census's 2005-2009 American Community Survey ranked cities by gay population, the top ten included five New England states and five in the Pacific Region.
I took perhaps an obsessive amount of time looking at these numbers along with all of the statistics in the whole wide world (including numbers from The Pew Forum on Religion & Public Life, Gallup and Public Policy Polling) and considering my own personal, completely subjective feelings about life in these here United States (based on extensive travel, conversations with other humans, reading magazines/books, watching a lot of documentaries and taking multiple trips to Oklahoma wherein I posed as my gay best friend's girlfriend) to break down the country as I see it.
I've concluded that we've got approximately four "types" of states right now when it comes to Gay-Friendliness (which correspond with the above regional rankings of gay tolerance): Winners, Up-and-Comers, Wild Cards, and Longshots.
Type One – Winners: States like Massachusetts, New York and Vermont, where gay people already have a healthy portion of civil rights as well as general social acceptance.
Type Two – Up-and-Comers: States like California, Illinois and Oregon, where one expects equality will come sooner rather than later and, although pockets of religious extremism pose some threat, people over 70 are generally the ones blamed for present inequity. Due to the finite lifespan of a human being, these states have high (although morbid) hopes for the future.
The next two categories require a bit more unpacking and a good long look at the forces driving anti-gay sentiments in these states. What do they have in common besides latitude and longitude? Well, obviously the worst states for gay people are usually the best states for the GOP.
But more importantly, it comes as no surprise that a great deal of this discrimination, unfortunately for G-d who is probably super-annoyed that everybody has forgotten to love thy neighbor, is rooted in religion — more specifically, Evangelical Churches. Believe it or not, most churches are okay with your homogayness. But not the Evangelical Protestants!
Evangelical churches are thriving in America. It's a boom industry, actually — and for more about the growth of evangelical megachurches, I highly recommend reading The Atlantic's Did Christianity Cause the Crash?.
Nationally, 26% of Americans identify as Evangelical Protestants. But over 40% of citizens in Alabama, North & South Carolina, Kentucky and Mississipi are affiliated with the notoriously anti-gay movement as well as over 50% of the population in Oklahoma, Arkansas and Tennessee.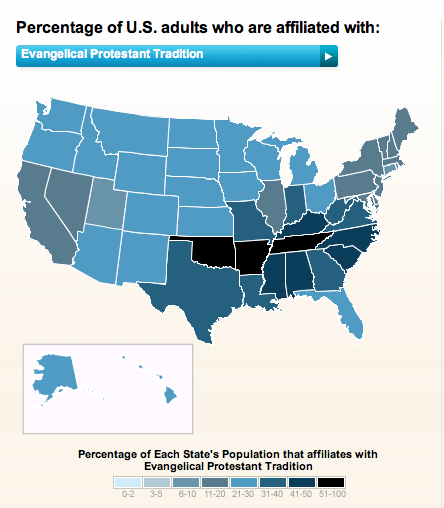 And according to the Pew Forum's U.S. Religion Landscape Survey, whereas nationally 50% of Americans think homosexuality should be accepted by society, only 26% of Evangelical Churches' congregants feel that way.
This is significantly less than most other American religions, surpassed in intolerance only by Jehovah's Witnesses (17%) and Mormons (24%). (The most accepting religious faiths include Judaism, Buddhism, Catholics and "other Christians.")
Furthermore, 79% of Evangelicals say "religion is very important in their lives," a dedication matched only by Historically Black Churches, Jehovah's Witnesses and Mormons (faiths which only compose 7%, 1% and 2% of the US Population, respectively). And — surprise! — residents of more gay-intolerant states with the highest Evangelical populations are more likely to say "religion is very important in their lives":
In 2009, Gallup surveyed gay/lesbian people about whether or not their city/area was a bad place to live and found only 25% of respondents in the less religious areas said their home was bad for gays, as opposed to 84% of residents in the most religious areas:
Which brings me to Type Three, The Wild Cards. These are states in which extreme social conservatism and relative social liberalism exist in close quarters, states where gays are openly attacked in one town and have three bars to choose from in another. These states aren't 47% Evangelical, like Mississippi, but many are still host to a significant Evangelical population (or that one state with all the Mormons).
In Texas (34% Evangelical), a lesbian won the mayorship in Houston, but in 2010 the Texas Republican platform pushed to make conducting a same-sex marriage a felony. Texas is home to some of the country's most mega-megachurches, but it's also home to booming gay villages in Houston, Dallas and the uber-liberal Austin. In March 2010, the Texas Board voted to put a conservative stamp on their history and economics textbooks (that means no gays or evolution), but recent polling shows that 59% of Texans believe that same-sex couples should at least be allowed to form civil unions with the same rights as marriage.
The Advocate's totally weird and non-scientific ranking of the gayest cities in 2010 listed  several cities from states I'd consider Wild Cards, including Albuquerque, New Mexico (#15) Asheville, North Carolina (#12), and Gainesville (#11) and Fort Lauderdale (#7) in Florida. Atlanta, Georgia scored #1.
There are pockets of hope in states broadly believed to be anti-gay — last week, the Public Policy Polling Center found opposition to same-sex marriage in Florida has fallen from 53% wanting same-sex marriage to be illegal in June to 48% opposing it right now. But Florida also expressly prohibits "homosexual" couples from adopting children. [ETA: Apparently this ban has been overturned since the GLTF's last update in April 2011. So hurrah!] Nevada has employment protection and domestic partnerships for gay people and a booming gay population, but is one of many states with a same-sex marriage ban on the books.
In a Wild Card state, a gay human can usually find a tolerant place to live, even if the state in general isn't exactly waiting with open arms. Some of these states may trend our way soon (Michigan) and some probably won't for a long time (Texas). (I grew up in Ann Arbor, a liberal mecca in Michigan, and my gay mom still lives in a gay-friendly area of Suburban Detroit.)
Then we've got the Longshots –– like Mississippi (47% Evangelical), Alabama (49%), Tennessee (51%), Arkansas (53%), Oklahoma (53%) and Kentucky (49%). Tennessee's Senate recently passed the infamous "don't say gay" bill. A 2011 Public Policy survey found 46% of Mississippi Republicans oppose interracial marriage. So what do we do with these numbers?
For starters, this is why we need action on the federal level. Obama keeps saying it's a matter best left to the states, but tell that to a 19-year-old in Alabama who can't afford to move out of state but wants equal rights. The aforementioned states are also some of the poorest states in the country with respect to household income — Mississipi ranks 50th as the poorest US state, followed up by Arkansas at 48th, Kentucky at 47th, Alabama at 46th, Oklahoma at 45th and Tennessee at 44th. In other words, these are the people for whom Dan Savage's It Gets Better video about his life in San Francisco is more a slap in the face than a comforting tome.
But do these numbers really tell the whole story? Cities like Birmingham, Alabama, are allegedly super-gay. When a university in Nashville fired a lesbian soccer coach, basically the entire city freaked out about it, and in Arkansas a school administrator was recently forced to resign over anti-gay rants on facebook. Mary Gray, author of Out in the Country: Youth, Media and Queer Visibility in Rural America, told us that while doing research for her book, said she found that "the idea that everyone is going to be a hater" was inaccurate. Furthermore: "More often than not I found folks were either neutral or positive, and just didn't have the forum to say they were absolutely fine with LGBT identifying people."
We talk a lot about how despite the degree to which it often sucks to be gay in America, it sucks even more to be gay in lots of other countries (for example, Uganda!). But it's important to remember that things still suck really really really super bad for gay people right here in America, too, possibly sucking worse than you could ever imagine if you are right now sitting in Bed-Stuy eating macaroni con queso on your fire escape wishing you could get a job and/or girlfriend or if you're sitting in Northampton feeding your baby applesauce.
(Furthermore, one could easily write another 2,000 words on the intersectionality of oppression for LGBTQs in these states who are also of color and/or poor and/or trans.)
For those of you who do live in the more intolerant states, are the numbers misleading or spot on? For all of us — what does this mean for the future of the gay rights movement in America? There's a long tradition in America of people who feel like "outsiders" — artists, geeks, atheists — leaving homogeneous towns for more embracing futures (a possibility that's been significantly dimmed during economic recessions.) But is it fair to expect immutably gay people to follow the same paths? (I've never known as many Texans as I did while attending my boarding school for the arts in Michigan.) Do we focus on helping the tireless activists fighting for their civil rights in The Bible Belt — who have made significant, triumphant progress over the years — or do we focus on helping people relocate altogether? Or is there another angle altogether we should be looking at?