We told you a few weeks ago about Lisa Howe, the women's soccer coach from Belmont University in Tennessee who came out to her team and then was forced to resign a week later because open homogayness goes against the (private Christian) school's very serious commitment to the stupidest part of the Bible. Apparently Belmont University is going to find a heterosexual women's soccer coach and a few Unicorns and bring them back to campus to properly lead successful kicking/scoring sans Gay Agenda.
Although Howe's team suspected she was a homo, this pre-Thanksgiving meeting was the first time Howe discussed it openly. See, Howe's ladypartner done got herself pregnant and Howe felt that "continuing to hide" was "the wrong message to send." Furthermore, she told The New York Times, "I thought maybe they assumed I was ashamed or that I was doing something wrong because it wasn't coming straight from me."
ESPN's "Between the Lines" did a segment at the school, including interviews with Howe's team members, who are all super supportive and un-phased by the homosexuality.
Students did not take Howe's resignation quietly. Almost immediately, some ambitiously awesome students organized protests of Howe's forced resignation:
Students cheered as passing vehicles honked their horns in support of their demonstration.
"The reason we are all out here today is to support Coach Howe, and we simply don't think it's right for someone to be fired for their sexual orientation,wp_postsBelmont alum ('09) Guy Farmer said.
"We're here to show support for the freshmen who are 17, 18, even 19 years old, and seniors who even feel like they can't come out of the closet, because if they do, they'll be persecuted."
Farmer—along with roughly 40 students, alumni, and supporters—braved temperatures in the low 30s and snow flurries to get their point across.
"I think this is really important for us to show our support as a community and to show that not all of Belmont feels the way they their trustees do,wp_postsBelmont senior Becca Stone said. "For us, firing Coach Howe because of her sexuality was not the Christian thing to do."
First of all, I wish I could tattoo "firing Coach Howe because of her sexuality was not the Christian thing to do" into the forehead of every dumbshit who thinks firing Coach Howe because of her sexuality IS the Christian thing to do.
Secondly, YOU ROCK, KIDS OF AMERICA. Thet even got Reverend Melvin Talbert, a retired bishop of the United Methodist Church, at the protest providing Jesus-approved "words of hope," such as "Even though we live in a society where institutions have constructed laws to exclude people, within my heart, and I think in the hearts of these young people, we know that such laws are unjust."
The day after the protest, the children put together a Sit-in outside Belmont University President Bob Fisher's office, and it looks like all the coolest kids in school were there:
Meanwhile, Belmont's faculty senate unanimously approved a resolution which states that "The Senate believes that the sexual identity of individuals should not impact that person's standing on campus."
Then! On December 8th — this is like Spirit Week or something — the kids held another protest, probably wearing cute mittens.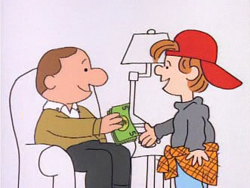 But a bunch of ambitious budding Christian activists are one thing but as we all know from Schoolhouse Rock, MONEY TALKS.
So when the dude who gave Belmont 10 million dollars to build an event center thinks it's time to change, A CHANGE HAS GOTTA COME.  Trustee emeritus Mike Curb, president of Nashville-based Curb Records, emailed the school demanding they change their policy. He told reporters:
"It's time for Belmont to change and to recognize that we have gay students, faculty and staff. I want to see this board and the school leadership act like Christians."
Curb also said that Belmont was "out of touch with the reality of life on campus" and that there's tons of gay students at Belmont particularly in the music program. (The flaming homosexuality of the school's prestigious music program is a common refrain in articles about the Belmont LGBT situation). Curb also pointed out that "no matter what their sexual orientation, Belmont's music school graduates will work with gay colleagues." Furthermore, "we are trying to pretend that something doesn't exist when it does."
After Curb made his comments, School President Bob Fisher was forced to make a statement, in which he proudly announced that "sexual orientation was not a consideration in hiring, promotion, salary or dismissal decisions at Belmont." That's more or less bullshit though it could be argued that yes, LGBT teachers are allowed at Belmont, they're just not allowed to ask anybody or tell anybody anything.
Marty Dickens, the chairman of the board, said "there could be" a conflict with the university's Christian character if the school were to accept homos on staff.
Which brings me to The Catholic News Agency's fantastic aricle "When the Coach is a Lesbian." For starters, the header for this section of the CNA's website is not to be missed:
In "When the Coach is a Lesbian," the Wise 'Mary Hasson' asks, "does it matter if the coach is gay or lesbian?"
Yes, in my view. A coach's sexual orientation matters because of the nature of coaching itself. Parents who sidestep the issue, politely demurring comment in the name of "tolerance,wp_postsrisk sending their children confusing and contradictory messages.
An anecdote about a probably imaginary soccer team called "The Comets" follows, in which an entire team was subjected to an all-you-can eat buffet and then an announcement from coach that she and her lesbo partnerfriend were gonna have a baby. This anecdote ends with a weird metaphor which compares lackadaisical attitudes about viral homogayness vs. complacent heterosexuality to a choice in pizza toppings.
Athletes "tend to idealize their coaches," says Hasson, and often coaches "mentor their athletes in life, not simply sports":
But when an impressionable athlete admires and seeks the approval of a coach whose lifestyle embraces "intrinsically disorderedwp_postssexual behavior, it's a confusing situation, at best. The situation becomes even more confusing when parents say nothing negative – perhaps nothing at all – about a coach's open homosexual relationships.
The message shouting across the silence is that homosexual behavior is moral, even normal. When a coach says, as Howe did, that she and her partner are expecting "theirwp_postsbaby (a bit of biological fiction, by the way, that LGBT advocates conveniently gloss over), parents who remain silent legitimize the claim that gay/lesbian partnerships, plus children, are the equivalent of heterosexual married family units.
Although Mary's piece is really fun to read, it's safe to say at this point that she's in the minority here.
Because EVERYBODY wants Lisa to get her job back and nobody seems happy with the school's lack of protection for LGBT employees.
The Belmont faculty is currently pushing to add sexual orientation to the school's non-discrimination policy.
Local government is taking a stand too — two Metro Council members plan to file a bill that would prevent third-party vendors from using Metro facilities unless they have nondiscrimination policies which cover sexual orientation and gender identity — in other words, they aim to "essentially carry Metro's nondiscrimination clause to companies that do business with the city." Mayor Karl Dean called on the city's boards and commissions to adopt a nondiscrimination policy as well.
Although Lisa's future is still unclear, this story is, surprisingly, quite heartening. Everybody is fighting for Lisa. Students, teachers, administrators, donors, gay people and straight people — and none of these people HAVE to fight for Lisa. They are all choosing to.
This is encouraging because it means we're heading towards a world in which adults can no longer rely on their faculty, peers or the youngsters that are supposedly under their purview to share their outdated values, or simply fall in line with ancient moral policing. 'Cause we're angry as hell, and we aren't gonna take it anymore.