It's the holiday season. Do you know where your drink is?
IT'S RIGHT HERE.
I asked a strategically selected group of Autostraddle team members to share their favorite holiday cocktails. Gabby was the only one who sent photos, which is one of the reasons she was unanimously voted Team Member of the Month by me and Eli.
+ Skinny's Spiced Pear & Ginger Punch: Fit for a Femme
+ Poinsettia: Fit for a Femme
+ Spiced Pear Sangria de Cava: Fit for a Femme
+ Peppermint Snowflake Mistake: Rachel
+ Candy Cane Infused Vodka: Rachel
+ Coquito: Gabby
+ Nightly Standard: Stef
+ Bloody Caesar / Mary / Ohio / Whatever Who Cares: Laneia
from Fit For a Femme:
SKINNY'S SPICED PEAR & GINGER PUNCH
Ingredients
1/2 bottle of white wine (not-too-sweet Riesling or Pinot Grigio ought to do it)
12 oz. or so of pear nectar
a couple of ounces of Domaine de Canton French Ginger Liqueur w/ VSOP Cognac
a couple of ounces of Hendrick's gin
few dashes pumpkin spice (typically nutmeg, cinnamon, cloves, ginger)
fresh-squeezed lemon juice (1-2 large lemons)
muddled basil
Get a big ass pitcher. Fill that bitch with hella ice. Pour the wine and pear nectar over the ice. Put the basil and lemon juice into a shaker. Muddle. Add ice, Domaine de Canton, Hendrick's. Shake. Pour into pitcher. Either shake the spice into the pitcher and mix, or sprinkle atop each drink and serve (or a wee bit of both for added fanciness). Booyah. You're welcome. Of course, as I did, you'll have to tinker with it to get it just right, but I'm not Martha bloody Stewart, so godspeed and good luck!
Poinsettia
Just pour a little cranberry juice or cranberry cocktail (my favorite is a cranberry apple blend) into a champagne flute, fill the rest with cava, Prosecco (Ruggeri is my favorite) or champagne and you're all set!
Spiced Pear Sangria de Cava
This one is definitely more luxe than the other two, but it's divine.
Add a healthy (very healthy) pour of Hangar One Spiced Pear Vodka to a pitcher of cava that's been allowed to sit for awhile with chunks of pear, apple, slices of orange, lemon, and a handful of cranberries. Sprinkle in some ginger, nutmeg and cinnamon for spice. Serve over ice with a lemon wedge. Enjoy!
from Rachel:
PEPPERMINT SNOWFLAKE MISTAKE
Ingredients
vanilla ice cream (1/2 cup?)
4-6 peppermints, the gross pinwheel kind your grandma always has
rum (a lot) (or peppermint schnapps if you have that, whatever)
Put the ice cream in a blender. Add the peppermints. If your blender isn't that strong, you might want to put the peppermints in a ziploc bag and hit them with something heavy first, like a cast iron pot or your L Word DVD box set. Add rum. Add roughly the same amount of rum as you would add milk if you were making a real milkshake. Blend. Remember that you don't really like peppermint and the ice cream will be really sweet because you bought the discount supermarket brand, so add more rum. Really, the key here is a lot of rum.
Pour into a tall glass and drink. It should taste gross. Continue drinking until you don't care that it tastes gross.
Candy Cane Infused Vodka
The day I found out you could "infuse vodka" just by putting vodka in a jar with some other stuff and walking away was a real turning point for me. The day I found out it didn't even have to be classy stuff like raspberries or lemon – Skittle vodka exists, people – was maybe what I would pinpoint as the beginning of my downfall. If you pick out some stuff you think tastes good and put it in some vodka right now, it will be done right around Christmas! Or if you don't remember til your great-aunt shows up on Christmas day and her gift is a "Becoming Heterosexual in 12 Easy Steps" DVD, that's fine too, maybe it will be ready for New Years or the Epiphany or something.
Anyways, what I would recommend doing is putting some candy canes in a Mason jar with a bunch of vodka (the nice stuff, if you can afford it) and sealing that shit up, then leaving it for 2-3 weeks. After that, open it up, take out the candy canes and strain it. DONE. DRINK. Maybe in some hot cocoa. Aunt Mavis can't touch this shit.
from Gabby:
COQUITO
Coquito pronounced (koh-key-toe) is kinda like Puerto Rican Egg Nog.
My beautiful and awesome cousin Gloria seriously makes the best Coquito I've ever had. Thankfully she agreed to share her recipe with me and all of you lovely Autostraddlers.
Estimated Prep Time: 30 mins. Works best if you get some of your cousins or friends to help you open the cans, taste test to make sure you have enough Bacardi and swap stories about how drunk you got off Coquito last Christmas.
Ingredients
1 can of Bordens Egg Nog (or like any kind of egg nog you like)
1 can evaporated milk
1 can coconut cream
1 can condensed milk
1 egg yolk
1 tbsp cinnamon
1 tsp vanilla extract
Bacardi (or whatever rum)
ground clove and nutmeg for garnish
Tools:
can opener
whisk
two large mixing bowls
one blender
two large empty liquor or wine bottles (cleaned out)
Separate egg from yolk. Empty contents of all cans into one large mixing bowl along with the cinnamon. Add the separated yolk and one liter of rum, feel free to be heavy handed. Stir it all up.
Slowly pour mix into blender. You may need to repeat this step in three or four batches to blend all your mix. Don't want the damn thing to spill everywhere. Blend.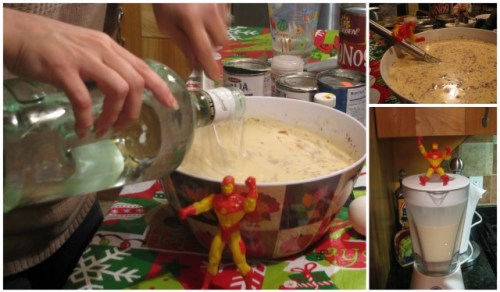 Whisk all blended contents into final mixing bowl. Add sprinkles of nutmeg and ground cloves.
Pour the mixture into empty liquor bottles or, if you're fancy and have a nice container, feel free to use it. Serve over ice.
One sip and you are officially Puerto Rican for the holidays. Also, feel free to edit and alter the recipe to make it your own. No two coquitos are alike.
from Stef:
NIGHTLY STANDARD
Bourbon. Garnish with ice. Serve generously.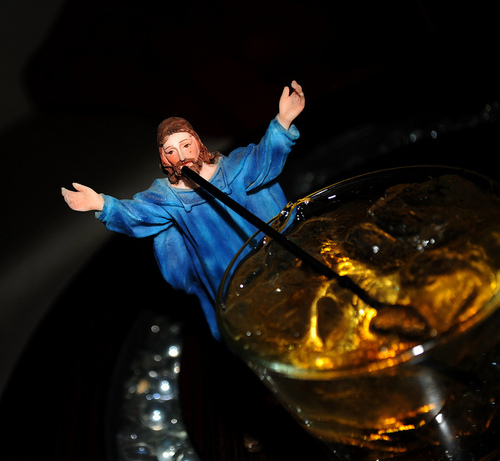 from Laneia
BLOODY CAESAR / MARY / OHIO / WHATEVER WHO CARES
A) What Stef said.
B) Bloody Mary! It is vegetables AND LIQUOR. It's essentially the most perfect combination of any two things.
This recipe is from my newest chef crush, Chuck Hughes, who could quite easily be my next boyfriend if he'd just come and get me. I obviously omit the giant crab claws here because who the fuck has money for giant crab claws? Not me! Ridiculous.
Ingredients
lemon wedges
steak spice
worcestershire sauce
hot sauce
fresh horseradish (I've used horseradish from a jar and lived to tell the tale)
tomato juice (Clamato is SO GOOD; V8 works in a pinch.)
vodka
salt & pepper
celery stalk
snow crab claw if you're covered in money / live near the sea
ice
straws from Dunkin Donuts
Put the steak spice on a plate like you would for margarita salt. Wet the rim of your glass with a lemon wedge and then stamp it into the steak spice plate. Yay you just rimmed your glass. Hot damn.
Fill your rimmy rimmed glass with ice. It's really important that you FILL the glass with ice. Lots of ice. Now add a few dashes of worcestershire and hot sauce. Grate some horseradish into the glass. Don't go overboard or anything – like a quarter teaspoon or less (or more, whatever). Salt the ice! Pour in some tomato juice until it's about four inches from the top of glass. Fill the rest of the glass with vodka.
Stir that shit with a celery stalk. Garnish with a lemon wedge, which you'll immediately squeeze into the Bloody Ohio and then add more salt and pepper and stir. Just keep stirring and stabbing the ice with the celery stalk until you're getting on your own nerves. Put a straw in it and drink it. As you drink, adjust all ingredients as necessary. Like it probably needs more vodka. Maybe prepare a second Bloody Jimminy Cricket while you're drinking your first one. Glasses come in sets of at least four right? Just go ahead and make three more drinks now while you can still count.
Think of this as your Holiday Libation Open Thread. What is your go-to holiday cocktail / punch / flask-filler? Low-brow / high-brow / whathaveyou etc. — tell us how you self-medicate through I MEAN CELEBRATE the holidays! Prosit! Peace be with you!