Back in July, California officially passed SB 48, a bill which required the state of California to include the contributions of gay, lesbian, bisexual and transgender people to our nations in its textbooks. Since California is the biggest market share of textbook buyers of any US state; this is a big deal; it could significantly influence the curriculum in textbooks nationwide. Of course, initiatives to reverse the bill's passage started immediately — but repeal efforts faced an uphill battle.  As of Wednesday, the repeal of SB 48 has finally failed.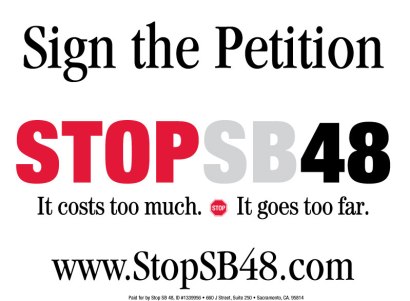 Groups that opposed SB 48 were circulating a signature intended to demand a vote on the bill and call for its repeal. They needed 505,000 signatures by Wednesday, and they didn't have them. Even more telling as far as how unfeasible a repeal apparently was, "Traditional Values Coalition spokesman Benjamin Lopez earlier said the groups had decided not to file regardless of whether they reached the threshold." That doesn't mean everyone's given up, however. Some are convinced that the petition was effective in sending a message, if not actually accomplishing what it set out to do.
Brad Dacus with the Pacific Justice Institute, which spearheaded the 'Stop SB 48' campaign, says whether they rounded up enough signatures or not — it won't stop their efforts. "We're convinced that this sends a loud signal to the legislators in California that if they're going to adopt this kind of anti-parent, anti-family legislation, they can expect to hear about it one way or the other," said Dacus.
The plan now seems to be to punish Democratic legislators for passing the bill the next time they're up for reelection, bringing up the issue in terms of a lack of family values and "respect for parents" as a vote draws nearer. At the same time, some are planning to go back to the drawing board with a petition strategy, creating a ballot proposition that would deal in general with children being taught curriculum of any kind in school that their parents didn't endorse. (Although California has a law that ballot initiatives have to stick to a single subject, so that might be tricky.)
It's a nice coda to what's really a pretty long story. In 2008, Prop 8 passed in large part because voters were goaded into a misguided fear that legal same-sex marriage would somehow lead to "gay marriage being taught in schools." In 2011, a law is passed that confirms those fears as much as any actual real-world legislation will, and its most vitriolic opponents can't manage to drum up even a full petition to try to oppose it. Having SB 48's safety won't fix everything, and it can't ensure safety at school for queer kids or respect for their families. But for queer kids in California and maybe across the nation, it can at least give them something to be proud of.