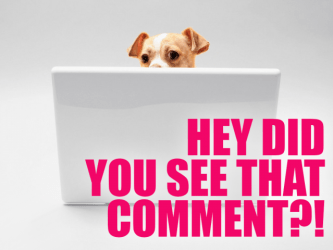 Hello there, chicken wings! Does anyone living in a warm climate want to trade apartments for a month or forever?
Things are looking a little brighter on the Texas gay marriage front this week and Arizona also came back from the brink of an outrageously discriminatory law.
Now let's talk numbers. We have 10 reasons Michelle Rodriguez and Cara Delevingne are the gayest couple ever, Nicki Minaj has 8 really gay songs and openly gay or bisexual athletes won 6 medals in Sochi!
In other news, Jason Collins signed with the Brooklyn Nets,  Beyonce's "Kitty Kat" video is must-see material and Mal Blum is coming to A-Camp! Speaking of camp, one lucky international camper will be heading to A-Camp in May thanks for to a generous anonymous donor!
---
On We Won A Thing: Judge Rules You Can't Take The Same-Sex Marriage Out of Texas:
The Deep In The Heart Award to Audrey:


On Kate Leth And Comics Alliance Give Us A Peek Inside The World Of Comics:
The Call To Action Award to AnnaY:
On A-Camp May Campership: We've Got A Plane Ticket AND Tuition For One Lucky Overseas Camper!:
The Jet Setting Lez Award to Tyla:


On OPEN THREAD: Give Us The Gif That Describes Your First Queer Sex Experience:
The And It Was Right After The Catwoman Panel Award to Josie:

The Gettin' Squirrely Award to Caroline: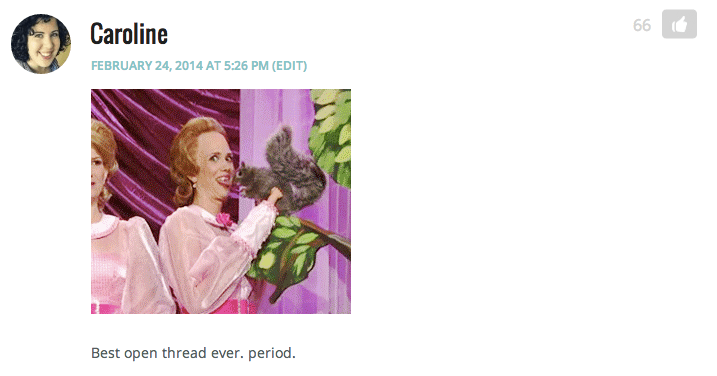 The Also Applies To Lesbian Bars Award to Alexa:
On Jason Collins Signs With Brooklyn Nets, Becomes NBA's First Openly Gay Player:
The Queer Cheering Section Award to Sarah Alicia: 

On 10 Reasons Why Michelle Rodriguez and Cara Delevingne Are Already The Gayest Couple Ever:
The Yes Indeed Award to Nora mave:


---
See a clever, hilarious or thought provoking comment around this website-ship? Email it to me at: carrie [at] autostraddle [dot] com!