Huge news was made in the world of sports today as Jason Collins has signed a 10-day contract with the Brooklyn Nets, making him the first openly gay player to have an active contract in one of the the four big men's professional leagues. This is the time of year when teams like the Nets, who are currently holding onto the last playoff spot in the Eastern Conference, try to bolster their rosters in order to make a final playoff push. If Collins plays well and fits the Nets system, he could be signed to another 10-day contract, or signed to a contract for the rest of the season. Collins first came out nearly a year ago, but he hasn't played at all this season, and this is the first contract he has signed since he made the announcement.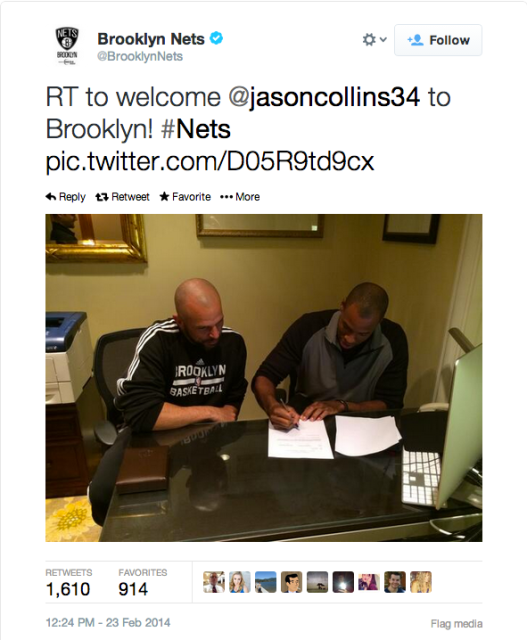 Several sports news outlets reported that Collins had been working out with multiple teams, including the Nets last week. Although this move is certainly going to draw a lot of attention from the media and will certainly be praised by gay rights advocacy groups, Billy King, the Nets' general manager said "The decision to sign Jason was a basketball decision. We needed to increase our depth inside, and with his experience and size, we felt he was the right choice for a 10-day contract."
As Sports Illustrated reports, the Nets have been hoping to sign a big man since their starter Brook Lopez is injured and they want to make sure they can secure a playoff spot. When Glen Davis signed with the Los Angeles Clippers, that made Collins the best choice for the Nets. His familiarity with the team and several players on it, as well as his playoff experience are said to be large factors in the Nets decision. Collins had some of his best years as a pro playing with the Nets, having his highest points per game and rebounds per game averages, as well as going to back-to-back NBA Finals in the 2001-2002 and 2002-2003 seasons. One of his teammates during those seasons was current Nets head coach Jason Kidd.
Several players on the Nets, as well as other out athletes have been offering their support to Collins. Nets forward Kevin Garnet, who previously played with Collins on the Boston Celtics, praised Collins as a "great competitor, plays team basketball, is for the team, great guy, great character." He then said that the fact that Collins is gay wouldn't cause any problems at all, "I think it's important that anybody who has the capabilities and skill level [gets] a chance to [do] something he's great at. I think it would be bias, and in a sense, racist, if you [were] to keep that opportunity from a person."
Currently, the next game scheduled to be aired on national TV is their game against the Denver Nuggets this upcoming Thursday, February 27th on TNT. However, given the attention Collins is sure to draw, it wouldn't be surprising if the NBA and TV networks flex their schedule and decide to show more Nets games this season. ESPN reports that Collins is expected to play his first game with the Nets tonight against the Los Angeles Lakers. It will be the first time Collins has played since spring of 2013 with the Washington Wizards.
Collins' signing with the Brooklyn Nets is a big moment for men's professional sports. Things have been moving rapidly in the direction of progress in this one area recently. It started almost a year ago when Collins announced he was gay after his NBA season ended. Then, more recently, NFL hopeful Michael Sam announced that he is gay before even entering the NFL draft, and now reports are showing that NFL teams actually look like they'll be more welcoming to a gay player in the locker room than we previously thought. With Collins signing a contract and playing professional basketball again, we actually get to see what this talk of acceptance looks like in public.
Collins has been openly gay for almost a year now, and before that he was a well respected NBA veteran. He's also joining a veteran team with players and personnel who are familiar with him, so his story isn't going to be typical of every queer male athlete who wants to play professional sports. However, it's still a remarkable occasion. It's one thing for a professional athlete to announce that they are gay when they aren't in a locker room, when they aren't out on the court. It's one thing for politicians, other athletes and analysts to say that they're proud of athletes for coming out and that they support them 100%. It's a completely different thing to see this all in practice. So far, the NBA has been pretty good at talking the talk when it comes to being a good ally, now it's time to see how well they can walk the walk.