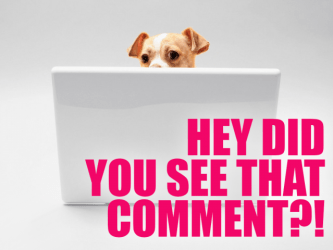 Hi there! This week I visited my hometown with my girlfriend and we went flying in a hand-made airplane only slightly larger than a boxcar. Now we're on an island in Maine with the world's slowest internet. What have you been up to?
It's been in a delectable week here with recipes for lobster citrus salad, O.C.-themed ice cream and Laneia's thoughts on potato soup and orgasms (also animal crackers!). We reclaimed the glory of sandwiches with a nostalgic open thread, a playlist, an ode to my pantry and predictions about what your most treasured sandwich says about you (hint: club sandwiches = threesomes). Then Riese took us behind the scenes of her bake sale, Lizz liveblogged the Emmys and Meredith told us how she went queer for craft beer. Drink up and read on!


---
On OPEN THREAD: Coming Out In The Sciences, Let's Discuss!:
The Good Job Award to Piidle:

The Another Reason To Get Regular Checkups Award to ayllie:
On Pope Francis Extends Message of Tolerance for LGBT People, Women and Abortion:
The Doublespeak Award to Andreea:

On NSFW Lesbosexy Sunday Is Cliterate:
The Sexistential Crisis Award to red she said: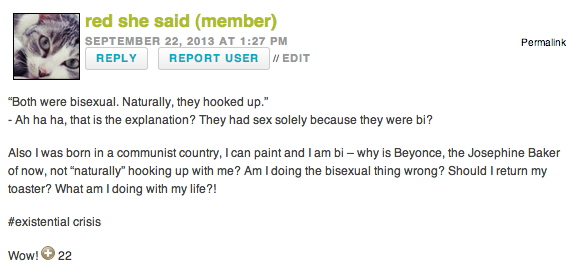 The Best/Worst Use of "Magic" Award to Tievan:


The Marathon vs Sprint Award to Marika and difficiledame:
On Get Baked: Birthday Bake Sale Cookies and Brownies and Bars:
The The Oven Is Hot Award to Hannah:


​​
---
See a clever, hilarious or thought provoking comment around this website-ship? Email it to me at: carrie [at] autostraddle [dot] com!