It's Take Back the Sandwich day on Autostraddle! Because our sandwiches aren't about pleasing men or getting bitches back into the kitchen, they're about sandwiches. We're fucking the patriarchy and celebrating the sandwich, purely and without political context.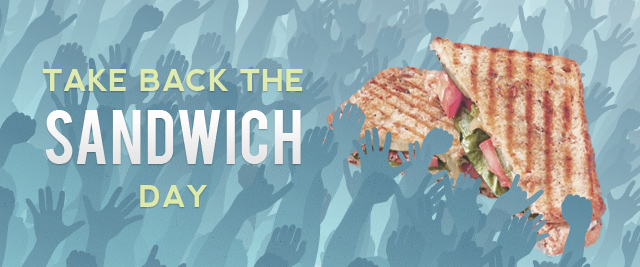 In the spirit of Take Back the Sandwich Day, we hereby pretend to know what you're really thinking about when you grasp those bread slices between your fingers and take a big, messy bite.
**Disclaimer: This is all in fun and is not meant to yuck anyone's yum, sex-wise or sandwich-wise. You do you, you chew you, you screw you.
What Your Favorite Sandwich Says About You (IN BED)
Peanut butter and jelly: With the crusts on? You have daddy issues. With the crusts off? You have mommy issues. With some kind of strange jelly, and/or fluff? You're kinky as heck.
Grilled Cheese: If it's closed-faced, you tend to get attached. If it's open-faced, you're an exhibitionist.
Tuna: You will be single forever and have a lot of cats.
Tuna Salad: You will be single forever and have a lot of houseplants.
Bologna: You are down for anything.
Club Sandwich: Threesomes.
Fast food breakfast sandwich: You only do one-night stands.
Vegetarian Wrap with Bacon: You are full of surprises.
Pressed Sandwiches: You have a Babeland frequent shopper card.
Whatever the special is at the deli that day: You're submissive. If it's wrapped in that weird waxed paper, you're probably also into bondage.
Pastrami with vegan mayo on gluten-free bread: You know what you want and aren't afraid to ask for it.
Cucumbers and cream cheese: You're into role play. Also maybe corsets.
Party sub: Orgies.
Tongue Sandwich: Come on, guys.
Sardines, sriracha, and pickles, stacked between one slice of white and one slice of wheat (both heels) and liberally sprinkled with goldfish cracker crumbs: You have cleared out the cupboards in your apartment, either because you haven't been grocery shopping in weeks OR because you're moving in three days. Either way, you're about to dial all of your exes in alphabetical order. Good luck.
Peanut butter straight out of the jar: Pretty sure you're masturbating.
feature image via shutterstock