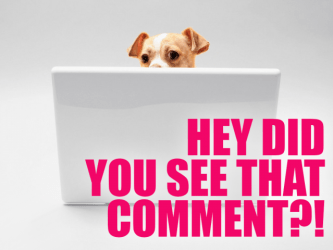 How goes it, teddy bears? This week I learned that Witchita State athletes are known as "the Shockers" (thank you, March Madness) and tamales make for the most delicious breakfast food (thank you, adult spring break in Mexico). Also breakfast buffets are the best of all buffets, right?
Anyway, what have you been up to? This week Lizz and Vanessa hobnobbed with fancy queers at the NYC GLAAD Awards and Gabby interviewed Michelle Tea.
Though many of us are still thawing out from a long winter, Malaika's Prairie Homo take on spring and Hansen's playlist give us hope that warmer days are on the way. There were also pocket squares, DIY pet beds and a survey that said ladies who love ladies love older ladies (we agree). Other tasty morsels included Nutella three ways and creamy dranks — which sounds like the best weekend ever.

---
On Lesbians Love Older Women, Says Survey And Our Hearts:
The Age of Reason Award to Digger:

The He Wants To Make Tater Tots With Her Award to Kathryn: "He actually said 'my future wife'?? That's some major Gaston shit, potatbro."
The Seriously, No One Gets That Right The First Time Award to Monique: "Love how Ryder can spell conscience but not bear."
The Can Figure Skating Judging Work Like This Too? Award to Freddie and Lexi:
On Brittani's Video Party Aubrey Plaza Watches The Office with Calvin and Hobbes on the Death Star:

The Voice Inside Our Head Award to Elinor: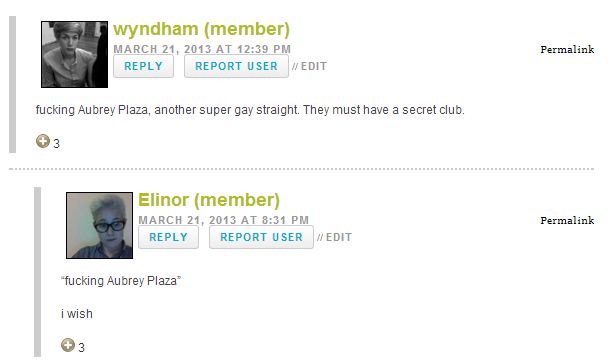 On GLAAD Awards NYC 2013: Madonna, Degrassi Lesbians, and Trans* Representation:
The Mom of the Week Award to Joanie:

On Call and Response: On Body Snarking and The Word Tr*nny:
The Best Monologue Award to kazzy:

See a clever, hilarious or thought provoking comment around this website-ship? Email it me at: carrie [at] autostraddle [dot] com!