In a semi-regular segment entitled Liquor In The ______ that can't be too regular because I'm probably drinking right now, I'm going to write to you about all the different ways you can liquor. I recognize that it's weird, especially for those of you who have actually had a drink with me, because I am what the frat boys would call a "two-beer queer" (what I would call a "no-beer queer," as I'm gay all the live long day). But I get drunk very easily, is the point. Still, I really really like beer, wine and liquor and want to share that love for the artistry of alcohol with you all, my favorite queers. Let's lift a pint to alcohol and our Autostraddle community– they go together like wine and soft cheese.
Header by Rosa Middleton
---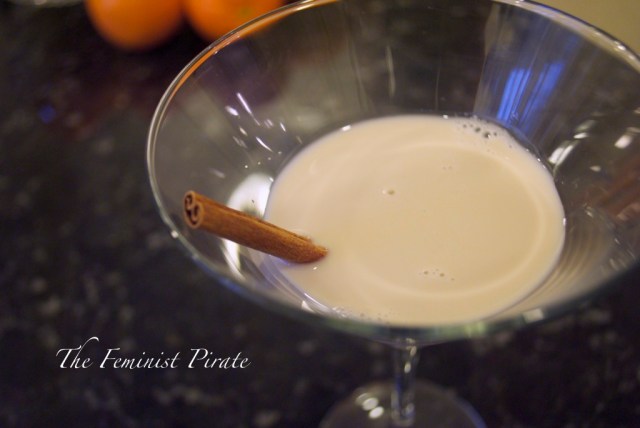 This is a cocktail that I made up out of my mind brain in an effort to use Bittermen's Xocolatl Mole Bitters.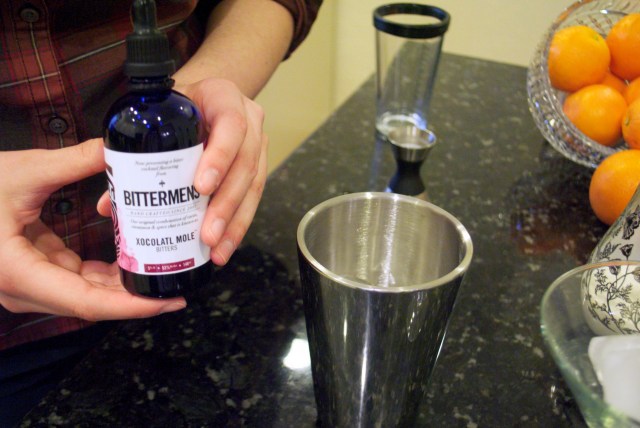 I've had them for, what, three weeks now? And I've been in search of a very simple cocktail to try them out with. Most of the recipes I've seen that use it have a lot of other ingredients. And I love complicated cocktails with a lot of ingredients! But I just wanted to see how these bitters tasted and mixed, which is hard to pin down if there's a crap ton of other stuff layered in with it. So I invented The Feminist Pirate – a dessert drink that let's you taste just a few ingredients, while still being super dessert-y. This is definitely not a cocktail hour drink – this is an after dinner, in place of ice cream drink. It has the look and consistency of a coffee milkshake, but it tastes like rum. Also the name relates to pirates because I turn into Jack Sparrow when I'm drinking rum.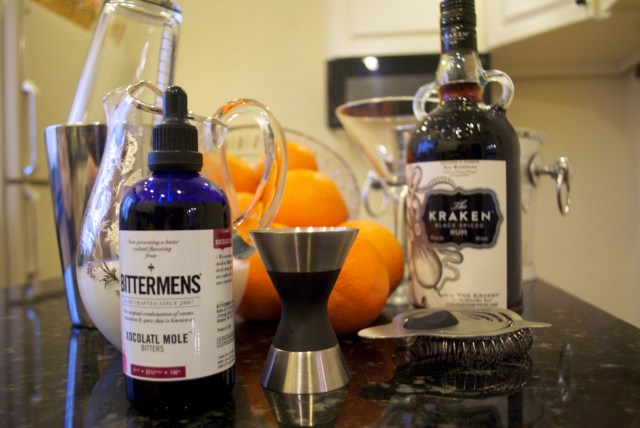 You'll need:
Dark Spiced Rum (I used The Kraken, which also contributed to the nautical name of the drink)
Cream (or half and half, if you want to lighten it up)
Bittermen's Xocolatl Mole Bitters
a jigger
a Boston shaker
a Hawthorne strainer
a martini glass
a cinnamon stick (for garnish)
coco powder (optional garnish)
Now for the steps:
1. Chill your martini glass with ice.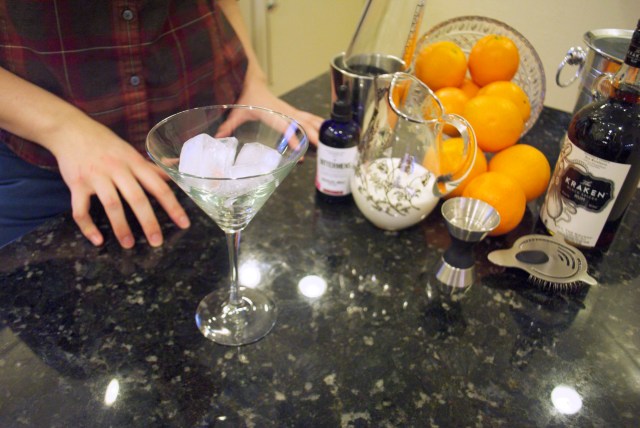 2. Fill the metal tumbler bit of your shaker half way with ice.
3. Measure out 1 1/2 oz of The Kraken. Pour it on into the tumbler.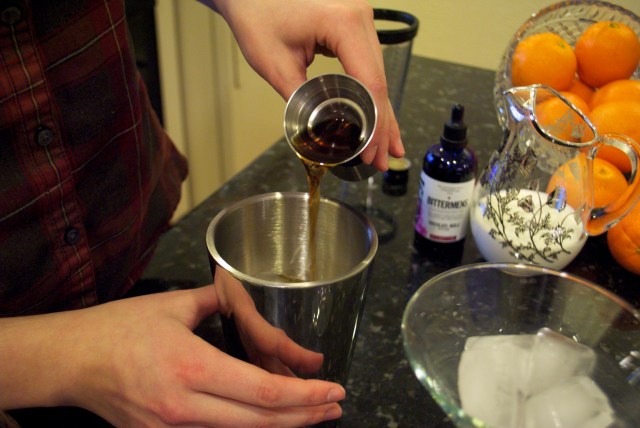 4. Measure out 1/2 oz of the cream. Add that as well.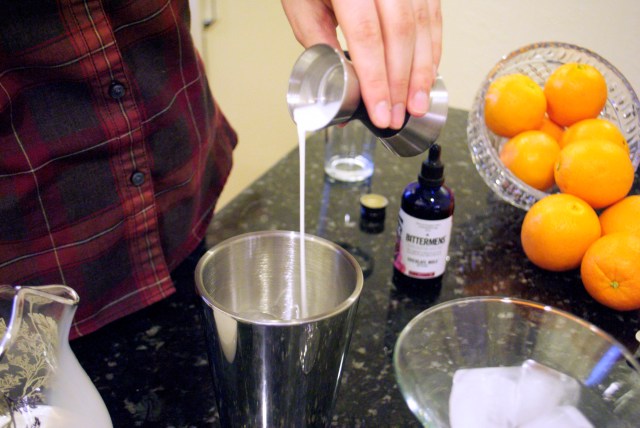 5. Go with one dash of bitters. One dash is 3-5 drops with the eye dropper that it comes with. You actually might be able to go more on this one if you're so inclined. Add that to the tumbler.
6. Put the pint glass into the Boston shaker at an angle and smack it to create a good seal. Shake vigorously.
7. Strain into a martini glass. Garnish with a cinnamon stick.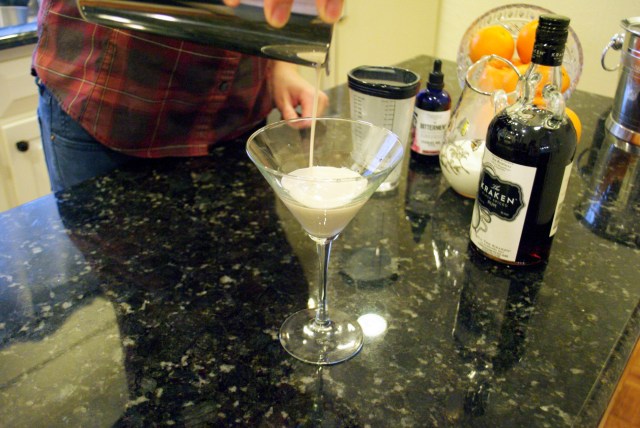 8. Optional – if you want a hearty whiff of chocolate when you're taking a sip, sprinkle the tiniest bit of cocoa powder onto the surface of the drink. The teeniest, tiniest bit.
And here you have it! A very simple, very rum-y Feminist Pirate. It's kind of in the same vein as a mudslide except less sweet, more bitter.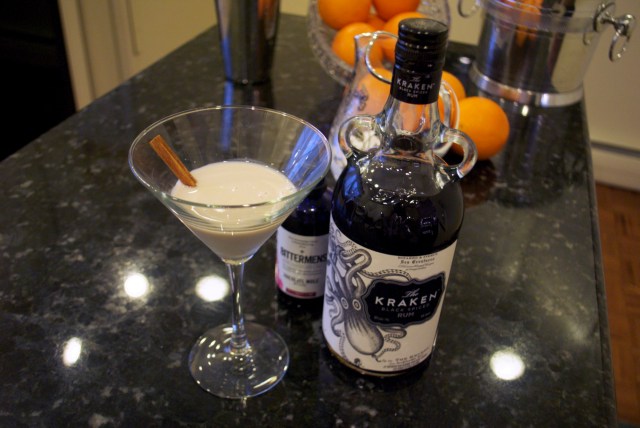 P.S. Some runners up for the name of this cocktail were St. Elmo's Fire, Deck Swabber, and "something with mermaids" because Laneia likes mermaids. Just thought y'all might like to know. I'm gonna go sleep off my Jack Sparrow now.