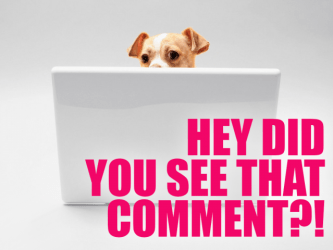 Let's face it; toast is really little more than a Nutella delivery method. There, I said it.
Also, it's Autostraddle Birthday Week! Perhaps you noticed? We just turned seven! To celebrate Riese wrote about seven queer girl tv shows and Heather wrote about seven lesbian movies.
There was also ANOTHER live podcast with the editors and a roundtable of the writers writing their feelings about their writing. They also wrote about what it's like to work at Autostraddle. Spoiler alert: It's pretty freaking great.
Riese got a dog recently, which is a life decision I'm fully behind, and then googled everything related to dogs. I'd never heard of Mary Berry until this week. I feel like from this point forward, this post-Mary Berry life, will be much more fulfilling.
Erin did the impossible and made us care about anything related to The Bachelor with her in-depth investigative journalism into its relationship with the Illuminati.
Also Camperships! And Comments!
---
On Every Girl Scout Cookie Ranked on a Scale of 1 to 5 Mary Berrys:
The Reader's Choice Award to Sally:
The 5 Mary Berrys Award to Chloe:
On Bottoms Up: Sex and the Single Sub:
The It's Not Your Brains She Wants to Eat Award to m. teerexington.:
On The Seven Most Influential Queer Girl TV Shows Of The Last Seven Years:
The 4th Wave Award to Maddy:

On 31 Things I've Googled In My First Month As a Dog Owner:
The Puppy Love Award to Lindsey:

On A+ Inbox LIVE! #2: Did You Get to Make Jam?:
The Mission Accomplished Award to Sally:

On Saturday Morning Cartoons: Girlfriends:
The Safe Space Award to QuinnC and cb:
---
See a clever, hilarious or thought provoking comment around this website-ship? Email it to me at: bren [at] autostraddle [dot] com!