How is your day? They had an animal rescue organization on campus today. And that means I got to pet so many dogs. That's how my day is going. Did you get to pet sweet dogs? I hope so.
This week on Autostraddle dot com there were so many things.
National Coming Out Day happened. Kristen Russo came up with a care package for parents who are having a hard time with their kids, ya know, coming out and stuff.
If you've ever wanted to buy interesting things from queer people on the internet, Cecelia has a rundown of the best, most interesting super queer Etsy stores.
Are you new to feelings? Me too. The Feelings Rookie column is here to help us work through it all.
Audrey came up with some naughty lesbian scenes. Anna Archie illustrated them. 'Nuff said.
Another debate happened. I didn't watch it because I knew Rachel would.
Halloween is my favorite holiday of all time. And there's no shortage of costume ideas around these parts. Kayla has some costume-within-a-costume ideas for those of us who want to get really complicated with it this year. Erin, in true Erin fashion, has some costume ideas that subvert the patriarchy.
Also lesbian and bisexual YouTubers! And Comments!
---
The SEO Award to queer girl:

On OK Fine: Are Kristen Stewart And Annie Clark Dating Now Or What?:
The Way That We Live Award to Blanche, Roddikins at home & Carmen SanDiego: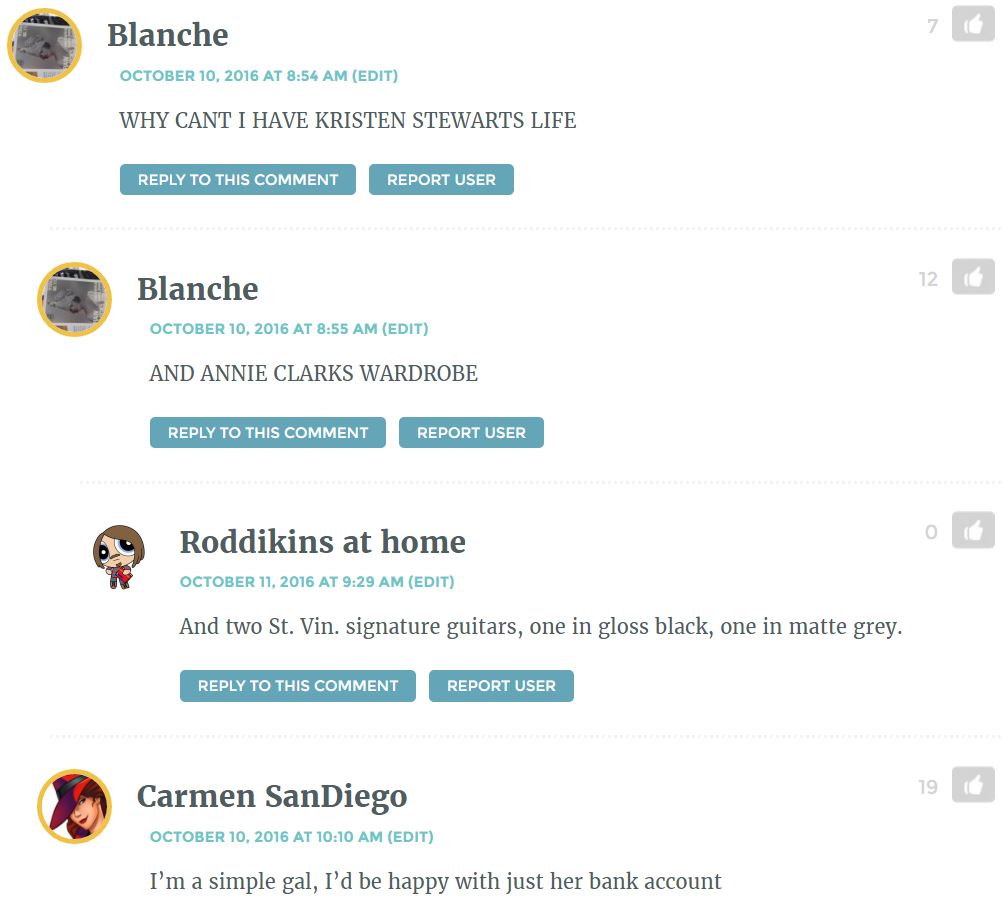 On 7 Halloween Costumes That Subvert the Heteronormative Patriarchy:
The Lofty Dreamers Award to Blackmar:

The Best Costume Ever Award to Chandra:
The Real Life Award to Dani Z:
On The Second Presidential Debate: Hillary's Passionate and Trump is on the Prowl:
The Worst Student Award to Snaelle:

The Best Actress Award to Jen:

---
See a clever, hilarious or thought provoking comment around this website-ship? Email it to me at: bren [at] autostraddle [dot] com!