I take Halloween extremely seriously. I always have. In my childhood journals, I wrote exclusively about Halloween for the entire month of October. I usually filled the pages of my composition notebooks with extremely detailed accounts of what I ate, summaries of my favorite musicals, amateur movie reviews, and Olsen twin fanfiction, but come October 1, it was all Halloween content all the time. I outlined my trick or treating strategies, listed the neighborhoods with the best candy, the houses that were known to give out full-sized chocolate bars. My younger sister and I weren't that invested in our much older brother's dating life, but when he started dating a girl who lived in one of those neighborhoods with the best candy options and agreed to take us trick or treating there, we immediately worshipped her. I made sure to write that Betsy was taking us trick or treating for several days leading up to that Halloween and that she would be dressed as Glinda the Good Witch.
Costume planning was a big part of these journal entries. And yet somehow, throughout elementary school, I was always one of two costumes: a witch or Sandy from Grease. Despite my grand ideas for who I should be (Liesl from Sound Of Music! Harriet the spy! Carmen from Spy Kids!), I somehow always ended up defaulting to my two favorite costumes. One year, I asked my parents if I could be "Bad Sandy"—a moniker they had come up with for the leather-clad, permed, high-heeled version of Sandy who shows up at the end of the movie. They said no, and I donned my poodle skirt and saddle shoes yet again.
Then, middle and high school came around, and I finally had the tools and skills to become the Halloween costume wizard I was born to be. This also coincided with my exceptionally nerdy phase, so my closet filled up with arc reactors, lightsabers, Spider-Man masks, and handmade wands. By the time I was in college, I was an expert in last-minute DIY costumes. I was also thrilled to learn that in college, Halloween is just another excuse to party all weekend, so the holiday gets stretched into a multiple-night event. Halloweekend. Multiple Halloween parties meant multiple costumes. Every year in college, I wore at least four.
It was during this blissful era of Halloweekends that I took my costume strategy to the next level. I decided that mere costumes were no longer sufficient. I wanted to create costumes-within-costumes. The costume-within-a-costume approach is very extra but also super simple: Pick a television character you like from a show that has a Halloween episode. Wear the same costume as them, but act like the character. So yes, this requires a little more work than just dressing up, but if you aren't putting on a full performance on Halloween, then what the fuck are you doing?
Think you have what it takes to try out a costume-within-a-costume this year? Here are some ideas from someone who has zero chill about this very important holiday.
1. Monica Geller as Catwoman
I did this one my junior year of college. Even though I wasn't 100% accurate in the costuming details (Monica doesn't wear a mask or gloves for her interpretation of Catwoman in "The One With The Halloween Party"), I was still very dedicated to acting like Monica Geller whilst dressed in my catsuit. Given everything that you've just learned about me from this article, it shouldn't come as much of a surprise that being Monica is not too terribly different from being myself…
2. Buffy Summers as Little Red Riding Hood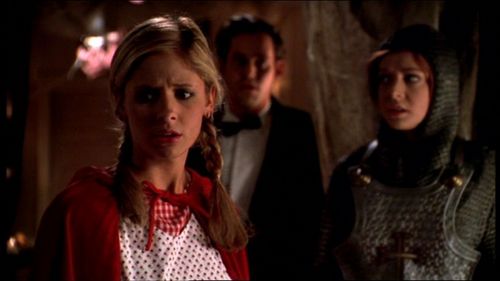 This is another one I did in college, but I can't find a pic. I do remember whittling a branch I found outside my dorm into a stake, which I kept hidden under my red cape.
3. Willow Rosenberg as Joan Of Arc
While we're at it, the Buffyverse provides all kinds of costume-within-a-costume ideas. Willow's sexy ghost from season two was pretty good, but her Joan of Arc costume from season four's "Fear, Itself" is even better.
4. Chloe from Don't Trust The B—- In Apartment 23 as a sexy bus driver
This is a costume-within-a-costume where pretending to be the character is significantly more fun than the costume itself. Now is a good time to remind you of Chloe's approach to the holiday: "Every Halloween, I pick a person who annoys me, I figure out their deepest, darkest fears, what would psychologically break them and ruin their lives forever, and then the next Halloween, I do it." But if you're not quite willing to commit to playing such a horrible person, you could also go with June from Don't Trust The B—- In Apartment 23 as a hobbit. I, for one, really get June's commitment to Halloween: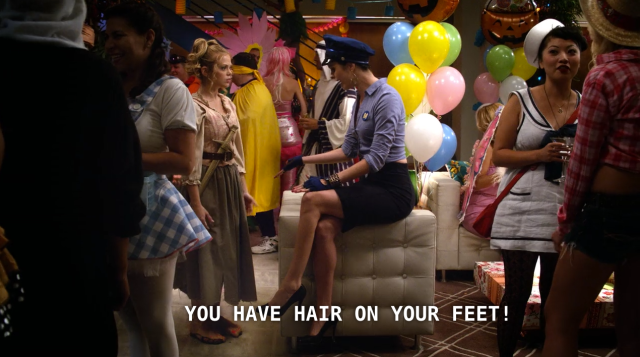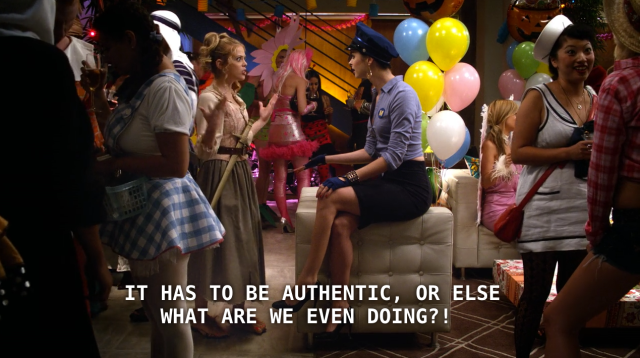 5. Emily Fields as a…mob boss? I think?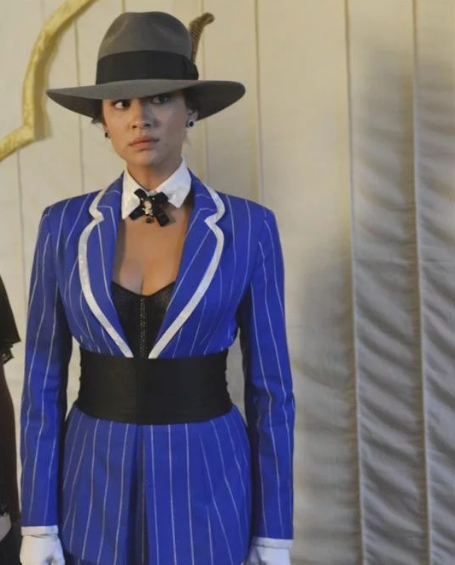 Okay, Pretty Little Liars has done a million Halloween episodes, so there are plenty of costume-within-a-costumes to choose from. But remember season four, when the liars all wore Victorian garb and Emily showed up in a fabulous pinstripe suit?! I think she may have missed the Victorian memo, since she's looking a lot more 1920s, but alas, this is a very good look.
6. Bonnie Bennett as a witch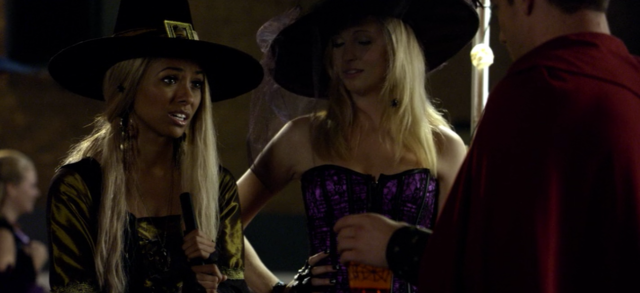 If you're a witch year-round, then the last thing you want to do for Halloween is dress up like a witch, right? Think again. Take a page out of The Vampire Diaries, and be a witch dressed as a witch.
7. Britta Perry as a T-rex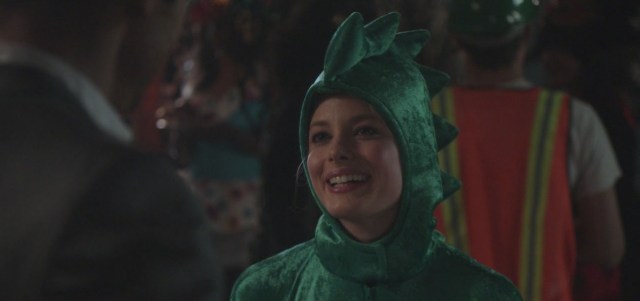 Lecture people on the importance of recycling while dressed as a dinosaur. Again, Community has a ton of costume-within-a-costume possibilities. I just love this T-rex suit.
8. Rayanne Graff as a vampire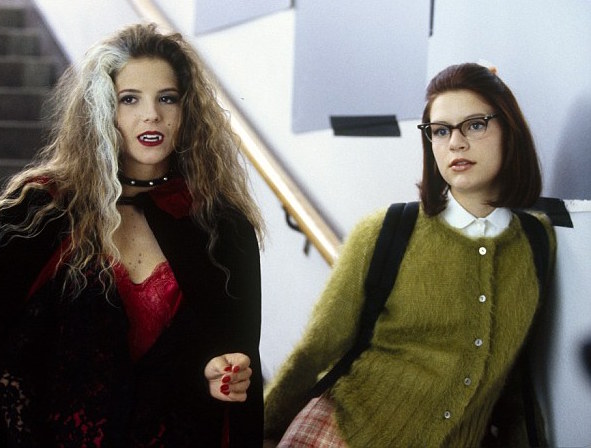 My So-Called Life's Rayanne is a fun costume in and of itself, but why not add some red fishnets and fake fangs to that 90s teen angst?
9. Mindy Lahiri as Tinkerbell Tailor Soldier Spy
This is practically three costumes in one, so I'm DROOLING.
10. Louise Belcher as Edward Scissorhands
Don't forget the hat!
Have more ideas for a costume-within-a-costume? Please share in the comments! I only have one costume locked in for this year so far, and that is simply unacceptable!