Who Knew? Women Who Seek Out An Abortion Actually Want An Abortion!
+ New research from the University of California's Advancing New Standards in Reproductive Health (ANSRH) shows women who decide to get abortions are just as confident as anyone else making other kinds of health care decisions. The research directly debunks the idea that women are conflicted about having an abortion — an assumption which has contributed to GOP-led laws that make it extremely difficult to get an abortion by implementing extended waiting periods, extra counseling visits and more ultrasounds.
"Our finding directly challenges the narrative that decision making on abortion is somehow exceptional compared to other health care decisions and requires additional protection, such as state laws that mandate waiting periods or targeted counseling, and whose stated purpose is to prevent women from making an unconsidered decision," Lauren Ralph, an epidemiologist at ANSRH and the study's lead author, told ThinkProgress.
The researchers used the Decisional Conflict Scale for their study and surveyed 500 women at four Utah locations. They asked the women to complete the scale before meeting with a provider and then followed up with the patient three weeks later to see if they went through with the abortion. Overall, the women had a high certainty of their decision. In fact, 89 percent of the women surveyed received abortions.
Think Progress reports:
Because the Decisional Conflict Scale is a standard measure, the researchers were also able to compare their results to other studies of health care decisions. Women, they found, were as certain or even more certain about their decision to seek an abortion as men and women were about the decision to get reconstructive knee surgery, undergo prenatal testing in pregnancy, and move forward with treatment for colorectal and breast cancer.
---
Election 2016
+ Michelle Obama spoke at a campaign rally for Hillary Clinton in New Hampshire on Thursday. Her speech is killer and so inspiring too! She calls out Trump for bragging about sexually assaulting women and his treatment of women.
"I can't believe that I'm saying that a candidate for president of the United States has bragged about sexually assaulting women," Obama said, adding that the comments "have shaken me to my core."
"Too many of us are treating this as just another day's headline," she told the hushed crowd. "As though our outrage is overblown or unwarranted. As though this is normal, just politics as usual. But this is disgraceful, this is intolerable… None of us deserve this kind of abuse."
+ Angela Davis didn't endorse Hillary Clinton during her speech at Black Matters: The Future of Black Scholarship and Activism conference at the University of Texas, Austin, points out The Root writer Kirsten West Savali. Instead Davis said she's voting against Trump while still recognizing she has some "serious problems" with Clinton. In a March interview with Democracy Now!, Davis told Amy Goodman she doesn't endorse candidates:
I believe in independent politics. I still think that we need a new party, a party that is grounded in labor, a party that can speak to all of the issues around racism, sexism, homophobia, transphobia, what is happening in the world. We don't yet have that party. And even as we participate in this electoral process, as it exists today, I think we need to be looking ahead toward a very different kind of political process. At the same time, we put pressure on whoever is running. So I'm actually more interested in helping to develop mass movements that can create the kind of pressure that will force whoever is elected or whoever becomes the candidate to move in more progressive directions.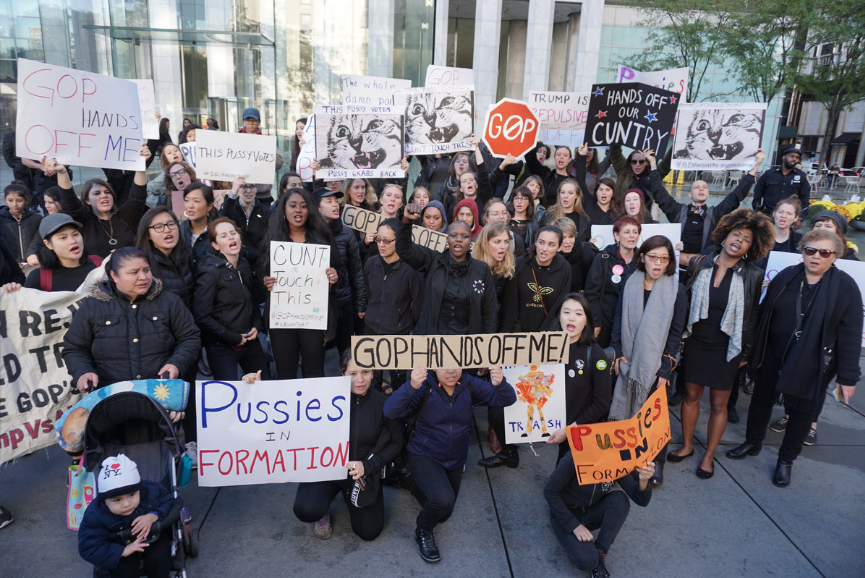 + A group of 60 women protested outside of the Trump Tower on Wednesday morning as they condemned Trump and the GOP for having "anti-women, anti-immigrant, and anti-black policies." They held signs that said "Pussies In Formation," "Pussy Grabs Back," and "Cunt Touch This" in direct response to Trump's deplorable comments in a recently released video and also chanted "If Trump thinks he runs this town, pussy came to shut it down!"
+ While Christian members of the Religious Right are still endorsing Trump after The Video surfaced, Mormons have abandoned Trump. Think Progress reports:
Rep. Jason Chaffetz was one of three Mormon representatives from Utah who either disavowed or un-endorsed Trump, saying his comments were "abhorrent and inexcusable" before adding, "I'm out." Utah Gov. Gary Herbert, who had not endorsed Trump so much as admitted he would vote for him, fully backed away mere hours after the news broke, tweeting, "While I cannot vote for Hillary Clinton, I will not vote for Trump." And perhaps the most unexpected condemnation came from Glenn Beck, a famously conservative talk-show host — and Mormon — who announced that electing Hillary Clinton could be the result of "moral, ethical choice" made by conservatives who stand against Trump.
---
On The Dakota Access Pipeline
+ A federal appeals court denied the Standing Rock Sioux Tribe's request to halt construction of the Dakota Access Pipeline, which would transport 470,000 barrels of oil a day across four states. Construction will resume of a section of the pipeline that runs about 20 miles of Lake Oahe in North Dakota, a sacred area for the Standing Rock Sioux Tribe and a mile and a half of the Standing Rock Sioux Tribe reservation. The tribe argues the pipeline could potentially threaten the Missouri River, their sole water supply. The decision was made a day before Indigenous Peoples' Day. The Standing Rock Sioux Tribe and many other Native tribes and environmentalist groups have vowed to keep fighting to stop the construction of the pipeline.
+ Water protectors and members of Mississippi Stand successfully stopped construction of a site by camping out along the Mississippi River in Iowa. 31-year-old Krissana Mara stopped construction by locking herself to equipment.
---
Police/Violence
+ The U.S. Department of Justice's Office of Community Oriented Policing Services released a 414-page report detailing how the San Francisco police department disproportionately targets people of color. The investigation centered around five main areas: Use of force, bias, community policing practices, accountability and recruitment, hiring and personnel practices. The agency will work with SFPD for the next 18 months to implement 272 recommendations they cite in the report.
+ According to the American Civil Liberties Union, Twitter, Facebook and Instagram provided user data to Geofeedia, a company used by law enforcement agencies around the country to monitor Ferguson and Baltimore protests.
+ Maricopa County Sheriff Joe Arpaio and his department have a record of racial profiling Latinos and darker skinned people in the name of federal immigration law enforcement. The U.S. Department of Justice officials say they'll file criminal charges against him because he wouldn't stop targeting immigrants and Latinos even after a judge ordered him to stop.
+ A judge declares a mistrial of two Albuquerque, New Mexico police officers who fatally shot James Boyd, a mentally ill homeless man.
---
Law & Order
+ Illinois will reform its juvenile shackling policies. The new policy calls for the least restrictive restraints and is only issued after a special hearing to determine if the young person is a threat to safety or flight risk.
+ A federal judge ruled on Wednesday to extend voter registration in Florida for six days. The Democratic Party filed the lawsuit after Governor Rick Scott urged residents to evacuate for Hurricane Matthew and then refused to change the registration deadline.
+ The German government will make reparations to men imprisoned for sodomy which was outlawed in 1994.
---
Grab Bag
+ The Oregon bakery that refused to make a cake for a lesbian couple three and half years ago is now closed. The Advocate reports:
After being fined $135,000 by the Oregon Bureau of Labor for violating the state's 2007 Equality Act, the Kleins refused to pay and appealed to their supporters, who showered them with over $500,000 in donations. The Kleins still appealed the Bureau of Labor's decision and the Bowman-Cryers said that, as of last month, they haven't received a penny in restitution.
+ Devan Faraci, a well-known movie critic has resigned as as editor-in-chief of Birth.Movies.Death after a woman talked about her sexual assault on Twitter. Faraci spoke out against the Trump video on his Twitter and then the woman, who's only been identified as Caroline and who also identifies as a lesbian, asked him if he remembers grabbing her by the pussy.
When you're woke online but you have a past… pic.twitter.com/vEDQgz0cqx

— Followers For Algernon (@bonerhitler) October 9, 2016