Fall TV is finally in full swing, and that means Boob(s On Your) Tube is returning to your loving arms! For me, personally, this TV season hasn't really started until Jane the Virgin comes back next Monday, but Shondaland and The CW's superhero line-up are rolling and so it's time to Get Serious. It's a weird world right now for queer TV characters. All of the lesbian and bisexual women on fall TV are either supporting or recurring characters who don't show up in every episode, or main characters whose queerness doesn't really factor into their shows regularly.
So here's my plan: This week, we introduced a new column called the Superqueero Roundup Recap, in which Valerie Anne will be recapping (and wee-capping, depending on the queer content each week) Supergirl, The Flash, Arrow, and Legends of Tomorrow. That gives us Maggie Sawyer (and hopefully Alex Danvers), Nyssa al Ghul, and Sara Lance, and anyone they hook up with and any appearance in any crossover. That post will go up on Tuesday, after Supergirl airs, and be updated throughout the week. Make sure you're following us on Twitter so you'll know right away when Valerie adds new gay words to her column.
On Fridays, I'll publish Boob(s On Your) Tube with a run-down of all the queer shenanigans that happened on TV during the week. We're going to try a new thing this season. If you're live-tweeting a show and you tag your post with #AutostraddleTV, I will round-up some of the best tweets of the week and include them in Boob(s On Your) Tube. I'm also going to work to bring you one standalone TV piece every Wednesday. Not a recap, but a place for us to discuss the queer and feminist things dominating our DVRs. Some of them will be written by me and some of them will be written by other humans and it's going to be a good time.
We've got a super special Scream recap coming at you next week (the Halloween special airs next Tues., Oct 18). I'll have a full review of the first season of Tig Notaro's One Mississippi then too. Lucy Hallowell will be joining us to recap The Fosters when it returns this winter. I'm working with Dorothy Snarker to find a good recapping fit for her here at Autostraddle. Stef's going to keep us up to date with Tara on The Walking Dead. And Ashley is going to bring us a review of the first season of Queen Sugar. I'm excited about the future, friends. Everything feels possible.
So, hey, let's talk about television!
---
Grey's Anatomy
Thursdays on ABC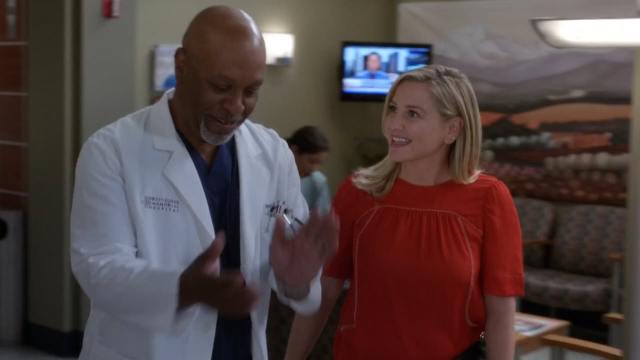 I'll tell you what, it has been a real roller coaster of emotion with Grey's Anatomy these last few months. First there was Callie's hurried and bizarro storyline that ushered her off the show last season. And then there was the news that Sara Ramirez decided not to re-up her contract so the writers were scrambling to write her off in the way she deserved. Then Sara Ramirez came out as bisexual. And Jessica Capshaw had a baby IRL and was absent and finally returned last week.
When Arizona bebops off that elevator, Webber practically squeals with glee. He's ready to be her lesbian wingman again, yes he is.
I'll spare you the case of the week. The main thing you need to know is Arizona was visiting Callie in New York City and she's fine and Sofia's fine and they have an apartment overlooking Central Park (which is hilarious because those apartments will cost you about ten hundred billion dollars and there's no way all these doctors make that much money; they sleep on top of each other like sardines). Arizona spends her first day back saving a mom and a baby and also saving Alex from himself. Everyone's glad she's home.
Okay, one thing about the case of the week. The mom Arizona saves, she had a car accident because she smashed into the funeral procession of her own father, and while everyone else in the family was mostly okay, her mom went into cardiac arrest and died when she saw her husband's dead body in the hospital morgue. OKAY BUT THEN she came back to life. It's called Lazarus Syndrome. It's very very very rare, but sometimes it happens for real. Like 30 times in the last 30 years. And I'm telling you that because the guy who wrote this episode, Andy Reaser, is a former Pretty Little Liars writer from the first few seasons. HE LOVES THE LAZARUS SYNDROME. (Andy is also a good friend of mine, in the interest of transparency. I think he writes very good lesbian/bi TV characters and he's never killed one.)
---
How to Get Away With Murder
Thursdays on ABC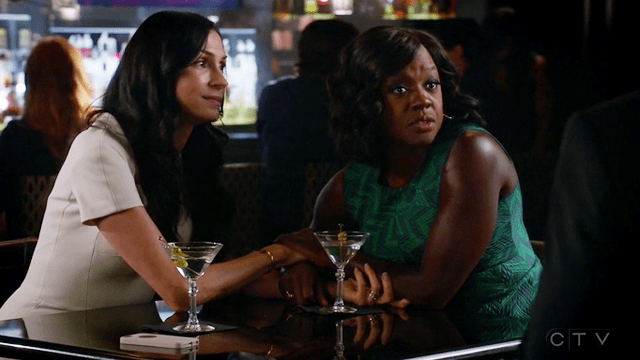 Famke Janssen landed her own show, a spin-off of The Blacklist that sounds like the fourth title in a first person shooter video game series. THE BLACKLIST: REDEMPTION. Which means she won't be around too much on this season of How To Get Away With Murder, which means my heart is broken. The plot of this show is impossible to recap, or to even explain out loud to a person, but, like always, season three revolves around a huge, traumatic mystery that is revealed through flash-forwards as the characters work through cases of the week that advance them toward the ultimate drama. This season's big mystery is some kind of monster fire where people close to Annalise get burnt into crisps.
This week's case is irrelevant; the main thing is it's being tried by an unlicensed lawyer because Annalise smacked a guy in the face in court last week and her license was suspended. There was a tape. The Pennsylvania Bar Association received it anonymously. Eve shows up to help because Eve is the person Annalise loves the most and respects the most and the person least likely to ever judge Annalise for any decision she makes (hiring a hit man, just for an example).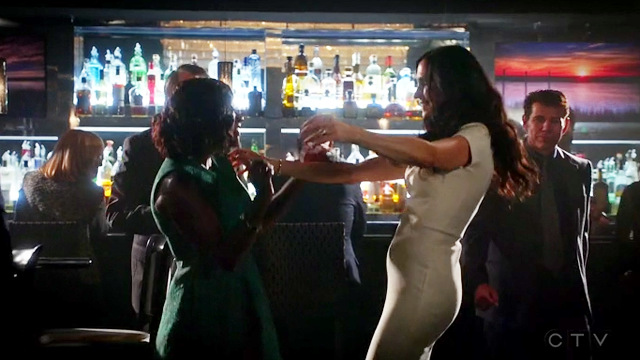 They're enjoying cocktails in a bar when these two white dudes, litigators, show up asking to buy them a drink. Annalise rolls her eyeballs nearly out of her head and Eve tells the bros they're together, as girlfriends. The litigators call it "the lesbian Heisman," posturing being gal pals with a gal who's really just your pal to stop dudes from hitting on you. So Eve and Annalise decide to go on ahead and let these dumbasses buy them all the free booze and cheese sticks they want. Annalise and Eve's bar-dancing montage is one of the best moments in this show's history and literally the only time I've ever seen Annalise really, truly happy. Viola Davis has the most radiant smile.
Eve helps Annalise deal with her suspension woes, much to Nate's chagrin. He wants to know if Eve and Annalise are sleeping together. Annalise demurs, and mostly they're not, but I'm not sure Nate would have loved the answer Annalise gave Eve when she asked about him moving in.
Annalise: I'd give anything for a boring life.
Eve: You let Nate move in; that's pretty boring … but hey, as long as you're happy.
Annalise: I didn't say I was happy. Stressed out, lonely, pissed off, sure, but not—ugh.
The ugh was when the two dudes showed up at their table.
Annalise decides to confess to being an alcoholic, because it's a medical condition, which protects her from being disbarred for walloping that guy. She'll enter a treatment program and then her license will be reinstated. She wants to scissor it out with Eve to celebrate, but Eve confesses that she met someone who loves her and Eve loves her back. Annalise hugs her so tight and cries and tells her to go to California (with stupid Vanessa) (my words, not Annalise's) and let herself be loved.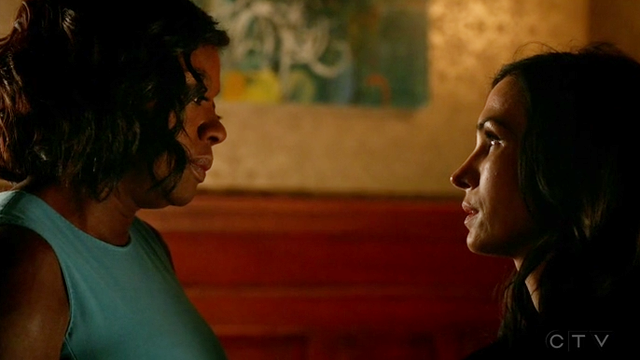 These two are endgame, I don't care. Eve will be back.
---
Rosewood
Thursdays on Fox
Hey now here's a surprise: Pippy and T's relationship on this season of Rosewood is tugging at my heartstrings in such a real way! You'll remember last season ended with Tara cheating on Pippy and Pippy breaking off their engagement. Okay, so this season Pippy has left her job at Rosie's lab and is making a go of it as a recording artist. She's pretty great, actually, but mostly just singing about starting over again and whole new worlds and whatever, which is a clear indication she's not over T.
Adding conflict into their whole boring deal (even though I hated the way it happened) was a very good choice. Their relationship is already a thousand times more interesting than it was last year, which means that even though they're still supporting characters, they're doing emotional stuff and not just saying toxicology words and body parts out loud every time they're on-screen. Last week Pippy jumped in front of Tara when a man with a gun barged into the lab, and this week Tara got super attached to this fish whose owner had died. "Lucy's going through a lot right now, okay, and she needs her support or she's gonna die. What? She's all alone. She just lost the most important person in her life. And she's trying to move on, you know, but it's all very confusing." Pippy is also trying to date; it's a real hoot.
Tara says jumping in front of a bullet is the kind of thing people do in movies when they're crazy about each other. Pippy says, "I'll always be crazy about you. But T, you gotta let me go; so I can maybe find my own way back."
Finally, a procedural to keep on in the background and rewind when you hear gay stuff happening!
---
Younger
Wednesdays on TV Land
Even though Younger has spent the first few episodes of this season building up a love triangle between Liza and her boyfriend and her boss, it's still worth your time. The cast is mostly women and they're always doing and talking about stuff that doesn't center on men. I mean, sometimes they talk about men, but, this season at least, some of that talk is about Kelsey's horrible fiance getting smashed in the head with a steel beam and dying last season. Like, the show played that for kicks! A little misandry from TV Land goes a long way with me.
Maggie is still Maggie and Lauren is still Lauren. They were together a little, but loosely, and then Lauren cheated with her childhood sweetheart (bisexual cheating with a dude; too cliche to deserve even an eyeroll), but when she came to Lauren's to confess it, Lauren was definitely hosting an afternoon lesbian orgy, so it was all fine and dandy. The first three episodes of the season only feature Maggie or Lauren for about five minutes, total, but this is still a fun and mostly feminist show. Plus it airs right after Everybody Loves Raymond re-runs and I love the idea of everyone's parents accidentally seeing a lesbian orgy because they fell asleep with the TV on.
Also, I have to confess something to you: I never thought I'd be one of those people who lives in New York and hollers at the TV when it's set in New York, but when Liza and Maggie left their apartment in WILLIAMSBURG and then rolled up to CENTRAL PARK five minutes later with some luggage, and they were smiling, it was just one step too far for me. I did it. I snapped at the TV, as a New Yorker. That would take an hour on the train and after navigating the subway with a wheely suitcase, you'd be ready to murder someone. Forgive me, dear readers.
---
The Real O'Neals
Thursdays on ABC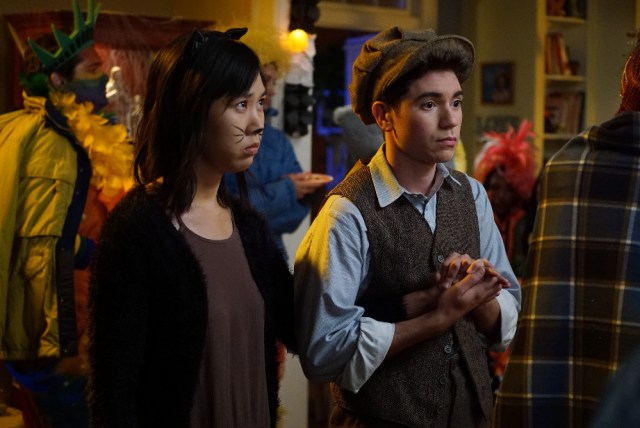 The Real O'Neals' second season premiered last night with the promised lesbian character in tow. Lesbian sidekicks on sitcoms never get the love they deserve, but Allison is a different kind of character. When Kenny came out last season, he did so in a post-Modern Family world. He barely got any pushback at all, except from his grandma, and his parents stood by his side through that whole thing. Now he's started a GSA at his school under the impression that every gay kid on earth is moving through life as easy as he has so far. For Allison, that's not true. He guilts her into coming out, then finds out that coming out is going to destroy her home life, then rushes to convince her not to come out. It's a little too Finn Hudson-y for my taste (the man makes the decision when and where the woman will come out), but Allison's going to be around for a while, so it'll be interesting to see how that dynamic — and the juxtaposition of their different experiences in the same world — plays out.
In a weird meta moment, the kid who plays Kenny trashed Eric Stonestreet in an interview with Vulture and then went after Colton Haynes for the way he came out. Kenny's post-Glee gay world seems very similar to the actor who plays him. ABC let him know that not every gay person shares his privilege.
---
Code Black
Wednesdays on CBS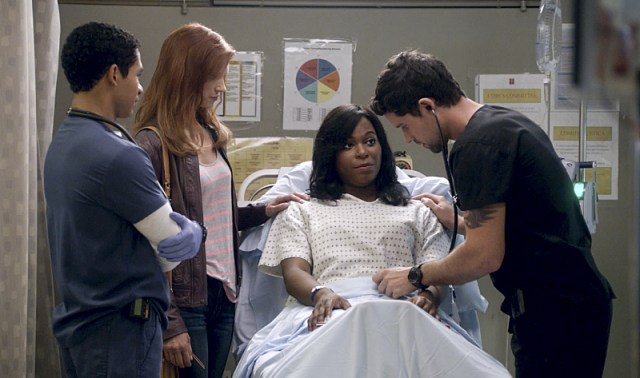 This is just to say that trans actress Alexandra Grey has been on both Code Black ("Life and Limb") and Chicago Med ("Natural History") this season. Neither Mey or I have had the chance to watch the episodes yet, but I'll let you know once we do. HOWEVER, you absolutely must watch Grey in her episode of Drunk History from earlier this week. She plays Marsha P. Johnson and it is so good I want to punch a hole in the sun every time I watch it. (I've watched it like six times.) Hey, showrunners, writers, and producers: trans women can play more than medical patients and murder victims.
---
American Housewife
Tuesdays on ABC
Whoo boy, this show is a mess. One one hand, you've got a real life average-sized woman playing the lead role and her two best friends are women of color, one of whom is a lesbian. On the other hand, the show used to be called The Second Fattest Housewife in Westport and the pilot episode is nothing but fat joke, fat joke, fat joke, fat joke. It just premiered this week, so I can't say if there's any decent queer content. Angela was in the pilot for a nanosecond and casually mentioned she's going through a bitter lesbian divorce, but that's all I know. The Atlantic explains why the "weight problem" on this show is probably going to sink it.
---
Next week we'll catch up with the queer women on Gotham (same old tripe), Empire (Freeda's free, I think?), Masters of Sex (Betty and her partner had their baby), and the new gay detective on NCIS: New Orleans. I also heard there was a "trans-racial" character on last night's episode of Atlanta, and several of our commenters in this week's Pop Culture Fix asked to read the opinions of trans women of color about the episode, so I've reached out to some of the Black trans women who write for us to ask for their feedback.
I love you guys! It's good to be back!