It's your Friday queer TV round-up! Welcome to the weekend and Aja's glorious disgust with Grey's Anatomy's Penny!
---
UnREAL' The Faith Diaries
On Lifetime.com
Written by Riese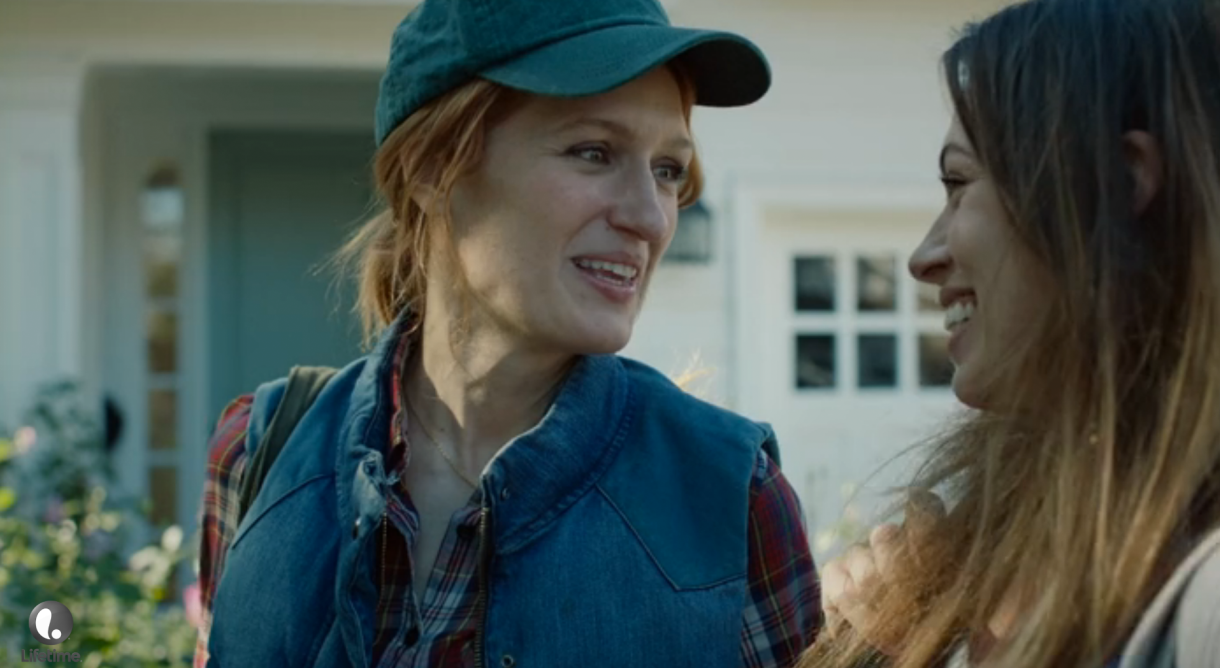 If you're anything like me, you binge-watched an entire season of the Lifetime series UnREAL because you heard there was a lesbian character and boy were you surprisingly not disappointed! I believe it was merely two weeks ago that I dropped mention of "The Faith Diaries" into the Pop Culture Fix having no idea what I was talking about, and now there is nothing I care about more than "The Faith Diaries"! Y'all Faith was the cutest part of UnREAL season one and for some reason LIFETIME of all networks decided that in the off-season, they'd give the lesbians a gift of a little web-exclsuive series JUST ABOUT THE LESBIAN. AND! AND! In this little web-series, the lesbian moves in with an old butch lesbian couple and one of the women in the couple is played by actual lesbian Dot-Marie Jones, and there's even a phootshoot scene where our very own actual lesbian Haviland Pekor Stillwell plays an important fancy person. Look I'm not gonna recap it for you because I think it's totally within your power to go out and witness the whole damn thing for yourself and I'd encourage you to do so. Go. Do it.
---
Empire
Wednesdays on Fox at 9:00 p.m.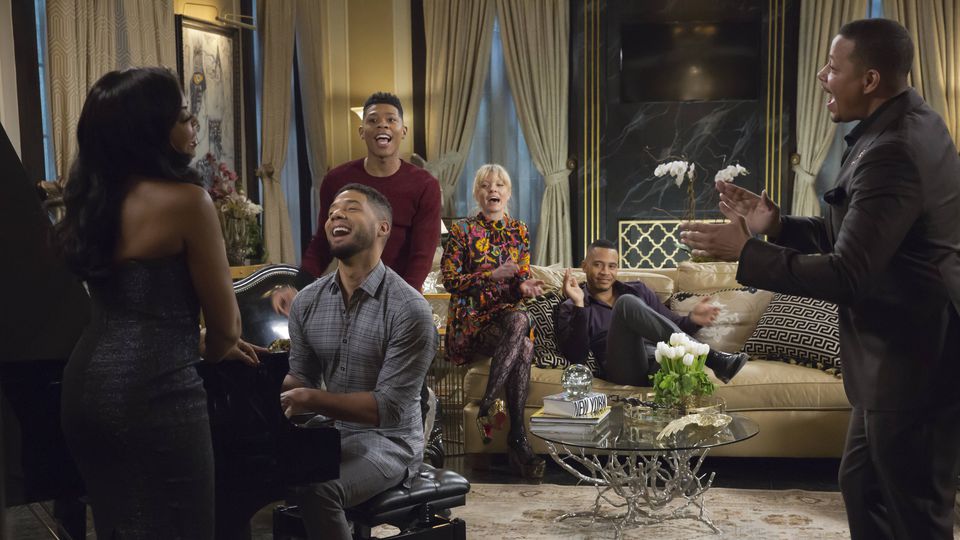 Here is my deep dark secret.
I did not hate this week's episode of Empire. Out of the two episodes that have aired in the second half of the seasons I have only disliked one and that was because they killed the lesbian couple. Otherwise, I have had a hard time playing my designated role as Empire Grinch. I am still angry about killing the evil lezzie couple. I mean they could have shipped them off to prison or put them in identical season-long comas. That would have been very nighttime soap of them. However, the Lawd hid a ram in the bush of our on-screen queer existence in the form of Love & Hip Hop: Atlanta. This week Mona Scott added two Trans Women of Color to the LAHH cast. One came out with her guns blazing calling out transphobia amongst the cast. The show is still over the top dramatic but I always encourage support of QWOC visibility. (Look for a standalone post about the show from me soon here on Autostraddle.)
Back to Empire. Hakeem is holding the most dramatic memorial service for Camilla. He makes a commitment to keep her fashion brand alive with Andre's wife Rhonda as the head. Meanwhile, the Empire writers keep up their commitment to giving Cookie at least one horrible gay slur per episode. Referring to Camilla and Mimi as a "carpet munching Romeo and Juliet." It's interesting that Lucious is supposed to be the evil homophobic one but Cookie is the one that does the most damage with her words.
After the memorial, the Lyon clan gets together to talk shit about the demise of Camilla and their return to power at Empire. Lucious accuses Hakeem of killing Camilla and Mimi. I truly believe that if the police ever initiated a murder investigation Lucious would absolutely try to sell them on Hakeem as the killer. What an ass. Cookie reminds the family that her birthday is Sunday and it will be her first birthday outside of prison in 17 years. All she wants for her birthday is a peaceful dinner with her family. That's pretty wishful thinking.
Later, Lucious and Cookie take a trip to their native Philadelphia where they are going to film a video for "Boom, Boom, Boom." The video will be based on his life as Dwight Walker and his relationship with his mother. We see the concrete lion he slept under as a child when he ran away from his mother. This is the first time you ever see Lucious with visible anxiety, but it won't be the last.
Jamal and Hakeem come up with the bright idea to do a track with Freda Gatz. I won't be condescending about the idea because she is the most musically talented of the cast so this is a smart move. Hakeem is certain she won't go for it because the bad blood between them runs deep. I will also remind you about that telling moment last week where they gave Freda a brief cameo before offing the lezzie couple. I'm certain a major story-arc featuring Freda is coming. There are some additional signs pointing to this later in the episode.
Tiana's tour has started and so has the drama between Tiana and Laura. Tiana feels that Mirage a Trois (yes I spell it different every episode because I can't figure out how to spell this made-up-ass name) is slighting her by going over their time every night. Tiana and Becky lay into a clueless Laura as soon as she gets off the stage. Tiana gives her the side-eye of death and then takes the stage.
Hakeem and Jamal make another super smart decision to go to the hood looking for Freda Gatz. This is actually hilarious and illustrates a commonly held vision of what happens when modern day rappers visit the hood. Their driver even suggest that they tuck their chains, which Hakeem scaredy-ass does with the quickness. But this is Empire. The place where wack Hakeem beat Freda Gatz in a rap battle with wack lyrics. Instead of them getting hilariously getting run out of the hood, we got a cute rap cypher with a little kid. That's cute for you Empire. Freda finds them in the cypher circle and asks them what they are there for. They bring up the idea of doing a song together but she shoots it down reiterating that Lucious has been like a father to her. Ya know, after her murdered hers and such. Jamal warns her that he always turns on his own kids but she isn't hearing that and sends them away warning them not to get jacked.
Upon their return Becky lets them know about the beef brewing on Tiana's tour. "It's bad. Like Keyshia Cole vs Black Twitter bad." HA! That's not bad; that's HORRIBLE! Hakeem thinks sleeping with his artists is the point of being a CEO. Perks and such, ya know? So he decides to join the tour so he can smooth things over with his two boos. Which is him trying to sweet talk them both with a little extra for Laura. Unfortunately for him, Tiana witnesses him booed up with Laura. Ain't nothing smoothed over there. This storm is just getting started. But what happened to Tiana's girlfriend, though? Hmm?
Lucious is on set at his music video trying to explain his life to the little boy playing him. Freda walks in with her crew and asks about the changes they have done to the video. It was originally supposed to have castles and dragons or something. Lucious lets her know that they concept has been changed and that her verse has been taken out of the song. A song that she ghost wrote most of. Who warned her that would happen? Jamal. Who does she immediately run to? Jamal. She doesn't even have to tell him what happens. They immediately get to work on a track together.
Back on set, Lucious' anxiety over telling his story is building. When he sees the woman that will play his mother in full costume in "their apartment," it's too much for him. He is much more comfortable telling the story of him becoming Lucious, not his home life as Dwight. Cookie continues to push for him to tell his story. I'm sure most people are reluctant to feel any sadness for Lucious, but we know that most people who have the type of narcissism and grandiose personal view that Lucious does has one helluva dark story to tell. He is being forced to confront his darkness. We have seen the flashbacks of his mother forcing him underwater, but we haven't seen what happens next. Lucious shares with Cookie that after his mother tried to drown him, she took a gun and killed herself. After that, he slept in abandoned buildings until a neighbor lady took him in. It was then that he met Frank Gathers (Freda's father Frank Gathers), who turned him onto selling drugs. Remember that Lucious had Frank killed because he had a hit out on Cookie. Don't forget that.
Lucious returns to set and tries to go over the scene with the young actor again and it still doesn't work out. Cookie clears the set so that she can refocus both Lucious and the little boy. She promises the young actor that he will be a hero for a lot of people. Lucious gives Cookie that look he always gives her when she saves his ass and shows she has his back. It's a look of love and admiration. Too bad it only appears when he is at his lowest point.
Tiana's song is terrible. I'm sorry; it had to be said. It goes up there with "Drip Drop" as songs that should never be heard again. We are forced to suffer through it twice this episode and that's more than one person should be forced to handle. After this second performance, Hakeem and Laura join her own stage for this really weird collaboration. I wonder when they hell they were supposed to have recorded it? Before or after they started hating each other? And why does it stink like that episode where Lucious and Mimi had that horrible threesome?
Jamal joins Cookie in the editing room as she works on Lucious' video and she begs Jamal to come to her birthday dinner. He refuses and then accuses her of falling for Lucious again. She doesn't deny it. She says that they have is very deep and it must be since it seems that he is the only one still coming to her birthday dinner. It seems that he is but actually the whole family is there and they join in a half-ass version of Stevie Wonder's Happy Birthday. After dinner, Cookie screens Lucious' video. This is the sons' first time learning anything about their grandmother. It doesn't take long before they make the connection between their grandmother and Andre. Watching their grandmother shoot herself triggers Andre's memory of trying to kill himself in the studio. Andre turns off the video and confronts his father by asking straight up if their grandmother was bipolar. Lucious loses his shit and says he sent him to schools to try to fix him, but honestly he was ashamed of his mother and ashamed of him. Welcome to the world of black folks trying to talk about mental illness.
Hakeem leaves the party and is waiting for Laura outside of the show. He needs a loving family like hers 'cause his is crazy and he asks her to marry him. Tiana sees this and all I can say is something is about to go down.
Rhonda leaves the party and the only person waiting on her is crazy Anika. She, too, needs time away from the Lyon family and Anika offers her time away at her house. Lawd, say no, girl! (Of course she says yes.)
Hakeem and Jamal are working on his track in the studio where Cookie joins them. She is shocked when Freda Gatz joins them. (Sidenote: I know I'm a little older than your average Autostraddle reader and I remember when finger waves were actually in style. Are they coming back? Or is this just another hairstyle fail for Freda's glam squad?) Anyway, Freda and Jamal go into the booth to lay down their verses. In her verse Freda mentions her father's murder. Cookie hurries to stop the track and ask her if she knew Frank Gatz. Apparently, Cookie didn't know that Frank was Freda's father. Cookie tries to keep it together when Freda asks if she knew her father. But she ultimately runs out of the studio like she saw a ghost.
I told y'all. It's goin' down.
---
Grey's Anatomy
Thursdays on ABC at 8:00 p.m.
Written by Aja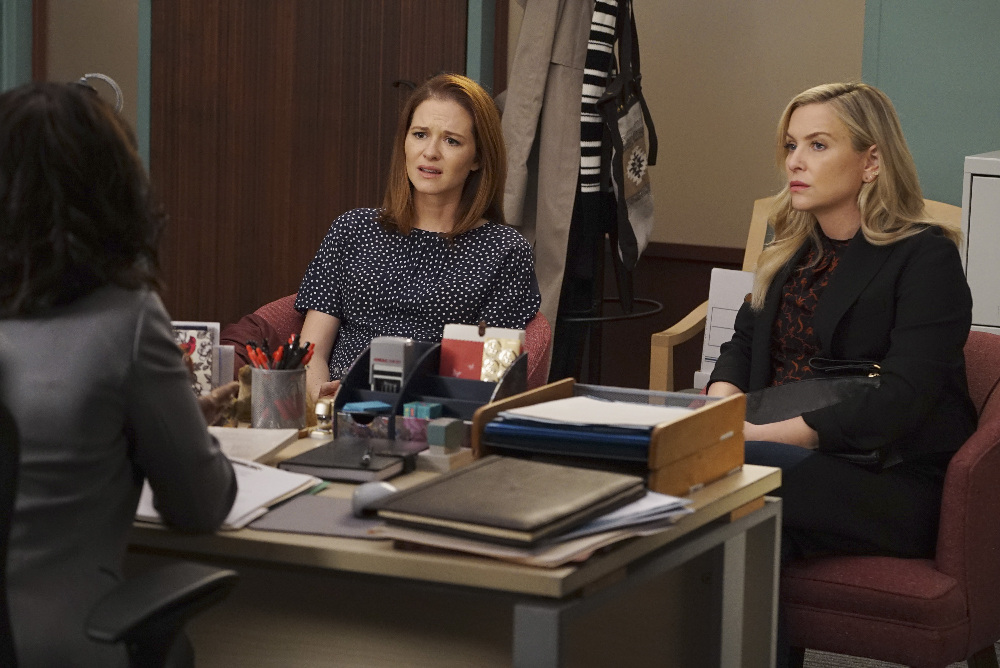 This week's theme is All bleeding will stop…eventually.
It's a two-hour doozy in which a whole lot goes on in the first hour between the Chief and her husband, Ben Warren. Long story short, he made a call during a Code Pink lockdown that cost not only a premature, hack job cesarean baby its tiny little expired life, but the mother's as well. Not only did Bailey brazenly ignore a patient's DNR in a risky gamble herself, but at the end of the day, she's the chief and Warren's still just a resident. An older resident with years of prior experience as a doctor, sure, but a resident surgeon, nonetheless. The whole thing made me physically ill, and my wife and I debated for a good long while whether the punishment she doled out was fully warranted.
Has Warren learned and experienced enough to truly and accurately measure that kind of medical risk? Clearly, no. Does he have the best intentions and believe utterly in his own ability and purity of his desire to save lives? Of course he does (and of course Bailey does). Did the advisory panel clear Warren of any wrongdoing? Yes, unanimously. Have 84,000 other characters on this show survived suspensions and career-threatening setbacks? Yes, yes, yes. Did he shit all over Bailey both before and after they made up their Church & State rule? Absolutely, and I can't abide a double standard in which one person's semi- or straight-up abusive outbursts aren't okay, and another person's are. It's a tough one, and I hate seeing them torn apart and at chasm-wide odds. I think the scene where she didn't wake him like they always do when of them's been paged to the hospital wrecked me the hardest — they do that to make sure little Tuck doesn't get lost in the on-call shuffle, to keep his daily life and routine stable, and watching that small symbol of their love and care stumble so badly broke my heart.
Elsewhere, the Riggs plot thickened to a molasses-like slog, and Jackson and April go a few more rounds before finally making peace, but not before Arizona accompanies April to a custody lawyer for emotional support. Why is this relevant? Because Sofia suddenly reemerging in the show's last few episodes hasn't been for naught; that walking discarded dorm mattress of a human being, Penny, and her stupid little award are moving to New York, and guess who's going with her? Yup. Nope. YUP. NOPE. I cannot even with this, you guys.
For one thing, Callie has lost her goddamn mind. She's known this train wreck for all of what? Like three months, maybe four? Penny just met Sofia. By accident! An actual accident, for god's sake! Callie's all about family (chosen or otherwise), and home, and having a village. She will absolutely bend backwards, sideways and inside out to accommodate or shift or make a thing work when it comes to the humans she loves the most, she never takes the easy way out of things, she'd never just up and leave the way Grey does without thinking twice. This makes no sense whatsoever, nobody buys this! There is no reality in which Callie would be so breezy and careless about arbitrarily moving Sofia 3,000 miles away, especially not without consulting Arizona about the possibility — the possibility! — let alone just deciding. For everyone. Also? Penny doesn't know fuck-all about, like, winning at life, to say nothing of raising children or coparenting or what life away from home doing an intense grant thingee looks like, never mind winning at the grant thingee and a lover you scarcely know and their small human in the most notoriously fast-paced, brutal, overwhelming city this country has to offer. This is BULLSHIT. It doesn't compute. You don't have serious heart-to-hearts with your ex/baby mama one week, giggle together about her running into you making out with the idiot mash mouth resident in a supply closet the next, and then immediately and unequivocally shut her out of this massive and disruptive life-altering change without sitting her down to discuss it first. Come the hell on.
So there you go. Arizona's all lawyered up, and I'm so pissed and disgusted at this whole thing it took my all just to write about it.
Give me a break when IRL we just talked about what superior parents we are.
SHONDA, DO YOU NEED ME TO CONSULT ON YOUR SHOW? I'M AVAILABLE.