feature image via shutterstock
Study Shows Same-Sex Parents Are Good At It, Duh
+ Whenever a new study comes out showing once again that children of same-sex parents have the same or better outcomes as children of different-sex parents, there's usually criticism that something was off about the methodology, and that if the study had been done with the correct, conservative-preferred methodology, the results would have been different. Well, now a study has been done with the conservative-preferred methodology, and it shows that same-sex couples make great parents and great families. In fact, families with same-sex parents are healthy in spite of the factors they have to work against.
The study found only one difference between the families: same-sex couples had more stress than their different-sex peers. But even with that distinction, there was no difference in the outcomes for their children, including their general health, emotional difficulties, coping behavior, or learning behavior. This juxtaposition actually lends more credence to same-sex parenting. The higher stress rate should have correlated with less favorable outcomes for the children, but it didn't. This suggests, the researchers reason, that the lesbian mothers might be using additional support systems like parenting groups or counseling services, and likewise, their kids may also develop greater resilience skills having to defend against the stigma of having same-sex parents.
The conservative criticism of studies that have found LGBT parents to be good parents is generally that the participants in those studies have volunteered for them, making the sample a self-selecting one (the underlying implication perhaps being that only stable, happy families would volunteer, and that there are other, unhappy families lurking in the shadows). So the Williams Institute studied families based on same-sex households identified by the National Survey of Children's Health, not ones that volunteered, and focused on families with two moms, since there were more of them than families with two dads. This study's results suggest that negative outcomes from conservative studies have come not from their using more correct methodology, as conservatives have argued, but in fact from their methodology being sloppy. Whereas the Williams Institute study compares married same-sex couples with children against married different-sex couples with children, studies like Mark Regnerus's compared many different same-sex family structures, including families with divorced or separated parents, with all married different-sex households.
Law & Order
+ In central China, a judge has ruled against a gay couple who sued authorities in Changsha in the Hunan province for their right to marry each other. The plaintiff, Sun Wenlin, says that police have come to his house to pressure him to drop the case, and also that he plans to appeal the ruling.
"Now, as the first person to do this in China, I feel it is not just my own business anymore. It has turned into a case with social significance," Sun said, according to the newspaper. "Standing in this position, I hope to go ahead even further, so that those who follow will find the path easier." He told the Times that he believes Chinese law does not explicitly bar same-sex marriage. "As I understand it, our law does not say that same-sex marriage is illegal. It never mentions if same-sex marriage is legal or not," Sun said. "People just see the law as only allowing heterosexual unions."
+ Donald Trump's campaign manager, Corey Lewandowski, will not face prosecution on charges that he assaulted reporter Michelle Fields.
+ In what seems like an attempt to look more equitable when compared with states like North Carolina, Louisiana's governor signed an order "barring discrimination in state services based on sexual orientation." However, the order leaves room for discrimination if it's by "churches or religious organizations," which seems like a fairly major exception.
+ In California, two white high school students have been arrested for threatening the life of a Black student from the same high school over Snapchat with images of a noose and a gun. School officials were informed of the snap, but did not take action to discipline the students who sent it.
+ Kentucky's governor, Matt Bevin, cut $41 million from the state's education budget without going through the channels of the state legislature, and now he's being sued for it.
+ A map that illustrates what voting rights look like in America without a functioning Voting Rights Act — not great, it turns out! If you're feeling like, whoa, this is news to me, I knew that lots of states (like Wisconsin!) had suppressive voter ID laws, but why don't we have a working Voting Rights Act anymore? — this piece from 2014 at Mother Jones is a pretty solid explanation. (Also, there's a new lawsuit against the Wisconsin voter ID law, so that's good.)
+ The New York State Senate has unanimously approved a bill that will remove the sales tax on tampons.
+ An update plus analysis on the status of Zubik v. Burwell, the current Supreme Court case about religious objection to healthcare access and contraception, and the Obama administration's growing frustration with it.
Police/Prison/Violence
+ The report from the task force assigned to investigate Chicago's police force after Laquan McDonald's murder and its subsequent coverup came to light has found some unsurprising results: Chicago's police force is racist and disproportionately shoots and kills Black people, as well as disproportionately targeting them for street and traffic stops that don't even lead to arrests.
"The community's lack of trust in CPD is justified," the task force wrote. "There is substantial evidence that people of color — particularly African-Americans — have had disproportionately negative experiences with the police over an extended period of time."
+ Kevin Robinson and Sean McKnight, two white Philadelphia cops, have been acquitted of beating and falsely prosecuting Najee Rivera, whose injuries after his arrest required stitches.
+ A bill that would stop trans people in public schools and universities from using the correct bathroom in Tennessee — allegedly to protect cis women from sexual harassment — is being sponsored by a man with a history of pervasive unending sexual harassment.
Considering proponents of the bill claim that it's necessary to protect women and children, one of its other sponsors, Rep. Jeremy Durham (R), has ironically been exiled from various House offices because of accusations of recurring sexual harassment. House Speaker Beth Harwell (R) announced last week that she was moving his office and limiting his access to committee rooms and the House chamber because of a "pattern of conduct" toward women that allegedly includes sexual comments and inappropriate physical contact. The move follows an investigation of Durham's conduct by Attorney General Slatery. "Representative Durham's alleged behavior may pose a continuing risk to unsuspecting women who are employed by or interact with the Legislature," said in his memo to Harwell. Durham denies any wrong-doing.
+ A look into the shooting deaths of three black men at the hands of police in Chicago — and how the administration worked to protect them.
The city government and police have been caught in high-profile lies before. After a police raid killed Black Panther leader Fred Hampton in 1969, local authorities falsely claimed that officers opened fire in self-defense. Police commander Jon Burge tortured dozens of suspects from the 1970s to the 1990s: The city and the department denied allegations, in at least two court cases, that Burge oversaw the beatings and electrocutions, and the denials continued for years before the city apologized in 2015, reaching a $5.5 million settlement with more than 50 victims. There was the Laquan McDonald shooting in 2014: For more than a year, Mayor Rahm Emanuel and State's Attorney Anita Alvarez withheld from the public video footage that conflicted with the statements given by every officer at the scene, who all claimed the 17-year-old lunged with a knife before Officer Jason Van Dyke opened fire. "You couldn't have the code of silence here if the higher-up police officials, the state's attorney, and assistant state's attorneys, and the judges all didn't work together in one for this to keep going," said Flint Taylor, a longtime civil rights lawyer in the city.
Research & Data
+ Right now, students of color make up the majority in public schools in the US, but research says that 66% of Black parents felt their kids received a lower quality education than white students, and 45% of Latino parents agreed.
+ A new poll finds that anxiety about race relations in the US is the highest it's been in a decade, and has doubled since 2014. 53% of Black respondents reported concern compared to 27% of white respondents (poll numbers for people of other races aren't noted).
+ Surprise! 97% of climate scientists agree that we're seeing human-caused climate change right now.
+ A report from the Southern Poverty Law Center and Teaching Tolerance says that the "Trump effect" of the candidate's Islamophobia and xenophobia is leading to increased bullying, harassment and intimidation of immigrant and Muslim students.
+ New research from the UK finds that 60% of trans employees have experienced discrimination int he workplace, and 36% have left work because of it, with 53% feeling like they needed to keep their trans status a secret. (And this is among the trans people who were able to access employment at all!)
Health & Reproduction
+ Northern Ireland's biggest trade union has come out with criticism of the country's restrictive anti-abortion laws, saying abortion access is a class issue and the laws criminalize working-class women.
+ There's an ongoing mental health crisis in Canada's Attawapiskat First Nation community, and on Saturday 11 different people in the community attempted suicide. All just on Saturday night, in a community of only 2000 people. Indigenous Canadian peoples already have higher suicide rates than the general population — it's the leading cause of death for First Nations people under 44. In the US, Alaskan Native men between 15-24 have the highest suicide rates of any demographic in the country. The Attawapiskat First Nation mental health workers have been asking for support and resources from the government for months, but say it took this week's tragedy to get their attention.
+ Oh for the love of baked potatoes, a law meant to protect women who could be injured or killed by the progression of their own pregnancies is being blocked by a federal district judge. The legal issue in question is whether a group of Catholic hospitals, which refuse to provide abortions because of their religion, should have to provide medical care for injured, ill or dying pregnant people that could involve terminating the pregnancy, a crucial question for pregnant people who live in areas where these are the only hospitals available.
Grab Bag
+ Lincoln Parkin, a Utah-based LGBTQ youth advocate, died by suicide this month.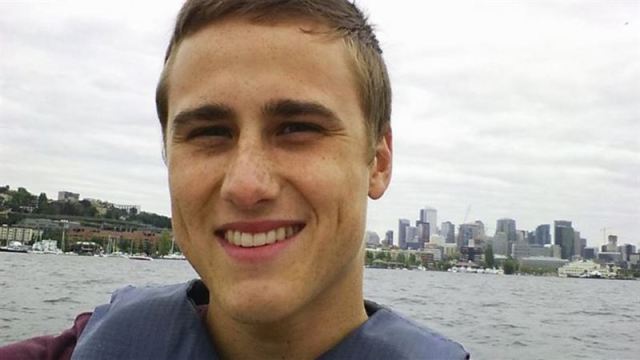 + The women's US soccer team has already filed a federal complaint with the EEOC about the wage discrimination they experience, and now they're suggesting they might boycott the Rio de Janeiro Olympics if they aren't paid fairly. Although the women's team is much more visible and celebrated than the men's — and has a better record — they're still paid less than them.
+ Scott Walker, Wisconsin's governor and astonishingly unlikable person, is leading a group of Republican governors in a campaign to test SNAP recipients for drugs so that he can cut off food stamps for anyone using, a plan which has already proven to be a spectacular waste of money elsewhere.
+ On Wednesday morning nearly 40,000 Verizon workers went on strike in an effort to stop Verizon from sending more jobs overseas.
+ Students at Mormon university Brigham Young say that they avoid or delay reporting rape and sexual assault on campus because repercussions end up being so harsh for victims who report, with some saying they've had to undergo Honor Code investigations because they've reported being assaulted.
+ An investigation into how even when corporations take their business or events out of North Carolina after the passage of its dangerous transmisogynistic bill, many of them are still giving money to Governor McCrory.
+ Laura Jane Grace talks about why she isn't going to cancel Against Me!'s show in North Carolina, and is going to have it anyway: "I'm going to create an event around the show as a form of protest to say that despite whatever stupid laws they enact, trans people are not going to be scared. They are not going to go away."
+ The Porcellian Club, an all-male club unofficially associated with Harvard University and founded in 1791, saw the president of its alumni group say this week that the club won't admit women because they feel like those women would end up victims of "sexual misconduct." Charles Storey — who is also president of Boston's Harpoon Brewery — has since walked back his remarks, saying "I chose my words poorly and it came out all wrong."