I've been playing a lot of video games the last few months to keep from lying in bed and staring at the ceiling and worrying myself into an anxietyball about the election. Sometimes it's nice to lose yourself in a world where the only thing standing between an imperfect but evolving society and the end of the world is you, and you can actually do something about it. You know, like slaying dragons and closing demon portals and blasting aliens. It's also nice to think about how four of the last five Games of the Year have gay romance options! So with that in mind, I made a list of my six favorite video game wives. Just a few years ago I'd never even been married once! Progress is happening even in the face of this backwards-facing voting season.
---
Uthgerd the Unbroken, Skyrim
Uthgerd was the very first woman I ever married. I didn't even know you could get married in Skyrim! But one day Uthgerd and I were exploring a cave (not a euphemism) and I found an Amulet of Mara and put it around my neck and next thing I knew we were saying "I Do" at the temple in Riften. She was a grumpy broad, that Uthgerd. Sometimes, out of the blue, she'd say, "Keep walkin', softgut! I'm more woman than you can handle!" Sadly Skyrim followers don't level up with you so even as I became a legendary archer, known throughout the lands, Uthgerd never sharpened her skills. When I left her at home in Whiterun to keep her safe, I'd always return to the Bannered Mare to find her drunk at 10am, slurring along to with the bard to a song about decapitating insufferable men. She died fighting a couple of low level draugr, and I loved her too much to loot her Orcish armor. My curmudgeonly two-handed misandrist.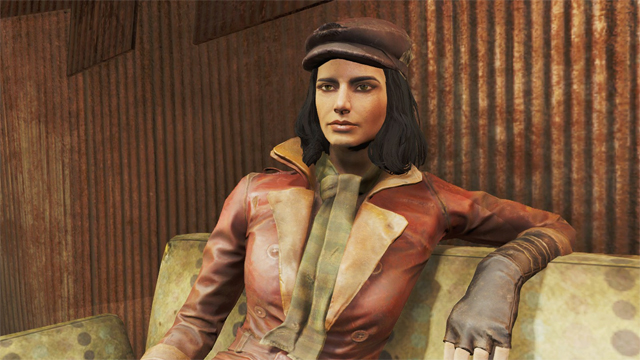 Even though it was a literal wasteland out there, Piper still wanted me to Do Right. And not in that chaotic good way, either; she wanted me to fix the world without picking locks, stealing stuff, or letting people die (even if it was for the good of the Commonwealth!). She was a little clingy; she hated it when I flirted with Cait. And she made it impossible to navigate tricky situations with force because she got mad at me every time I was even a little bit rude. But gosh, I love me some do-gooders. Falling in love with Piper in Fallout 4 was like falling in love with an apocalyptic Lois Lane. It was perfect.
I started playing Stardew Valley because Rachel played Stardew Valley and also I loved Farmville so far beyond what was cool that all my Facebook friends hated me. But it's not just harvesting corn and fighting angry slimes in the mines; you can also romance half a dozen women in this game! There's Haley, the prom queen with the secret heart of gold; Maru, the brilliant scientist; Leah, the artist with the ex-girlfriend who had a terrible alternative lifestyle haircut and never believed in Leah's dreams; Penny, the depressed schoolteacher; Abigail, the goth gamer with an adventurer's heart. And there's Emily. Emily works at the pub and makes her own clothes and rescues/rehabilitates wounded magical birds, and on our first date she astral projected me into her dreams! She held a town-wide fashion show to protest gender norms and empower self-expression! We got married in the fall and she set up a meditation field on my farm and wakes up early to put water in the cat's bowl.
Josephine, Dragon Age: Inquisition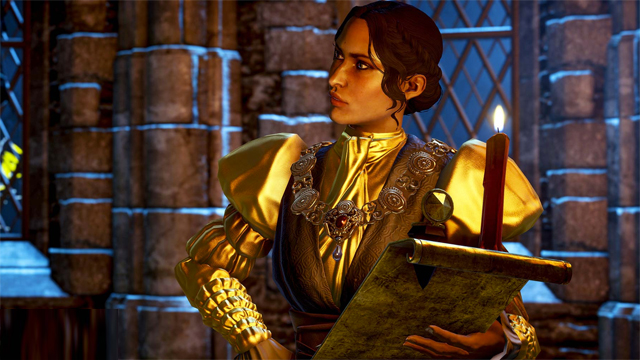 Josephine may seem like a cool-headed diplomat who never tips her hand, but after I saved her from her arranged marriage, she sure did run to me and wrap herself around me and dance with me like nobody's business at the Winter Palace. I mean, okay, at first she was like, "Why are you trying to rob me of my agency and also why are you risking your life in a dumb duel when you're the only one who can close the fade rifts and save the world?" Which: fair. But then after I told her I loved her so much, that's when she ran to me and smooched me right on the mouth. I twirled her around. The music was like, "OMG, happily ever after!" And, reader, it was.
Mjoll the Lioness, Skyrim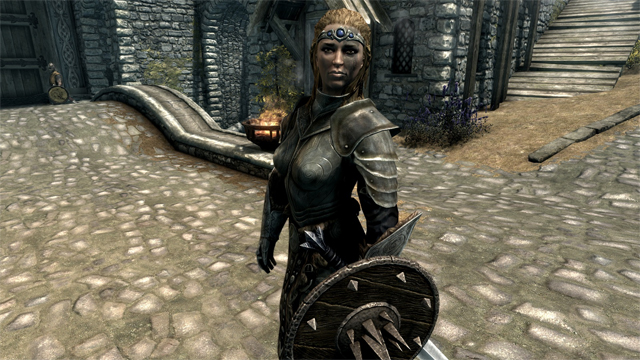 Mjoll was my best Skyrim wife. A complete teetotaling, self-righteous flibbertigibbet who spent half our battles yelling that she'd never been a sellsword. The problem with Mjoll was her ex-boyfriend Aerin, just your average Nice Guy. He followed her everywhere in Riften, begging her not to leave town, reminding her every second of the day that he saved her life that one time. One night I returned home to find that Aerin had walked all the way to Solitude to watch Mjoll sleep. She would never have abided me running him through with my sword, so I waited until he left and sneaked behind him all the way back toward Riften, until a dragon descended from the sky and burnt him to a crisp. Mjoll never even mentioned it.
Liara T'Soni, Mass Effect 3
Okay, so Liara T'soni and I didn't exactly get married, but we totally fell in love and went on down to Scissor Town. It was a very typical lesbian romance: I stopped by after every mission and processed all the details and my feelings with her, asked her to help me with a "special mission," invited her to my quarters and told her I wasn't over her (from Mass Effect 1), and she kissed me real good. Youngster specialists Traynor and Allers tried to turn my head, but it never bothered me that my elegant babe Liara T'Soni was 106. Sarah Paulson and I have that in common.