Warning, extreme spoilers for The Magicians up to and including the season four finale ahead.
While I was reading the book series that the show The Magicians is based on, whenever someone asked me what it was about, I would respond, "If assholes had magic." I've seen people call it "grown-up Harry Potter" but I don't think that's fair. Harry Potter got pretty grown up by the end. It's only real similarities to Harry Potter are that it's a world filled with magic and there's a school that teaches magicians. In my opinion, that's where the similarities end. The Magicians is grounded in a grittier reality more similar to our own, where trauma is trauma and actions have real, lasting consequences.
We don't write about The Magicians much here because frankly it doesn't get explicitly lady-gay very often. (Though Marina is currently off gallivanting with her girlfriend somewhere in the multiverse.) But the thing about a world where a shirt button can transport you to a magical land from your favorite childhood fantasy story and rabbits are a preferred method of communication is: nothing is quite as binary as our society sometimes tries to make it seem. Everyone has a bit of sexual fluidity to them, whether or not it's explicitly realized on screen.
Last night's finale really encapsulated a lot of what I love about this show.
I started writing about it because of the women. They're strong and broken, brave and impulsive, somehow both overconfident and terrified. They're perfectly imperfect. Julia is a sexual assault survivor trying to regain her power, Kady is an outcast trying to prove herself, Alice is so fucking smart but can't get out of her own way because of it, and High King Margo is one of my favorite archetypes: the hard, rocky outer layer decorated with quips and barbs galore, all protecting a soft and gooey center.
Even the secondary and tertiary female characters are complex, from Fen's evolution from mousey maiden to acting queen, to Zelda, the once-stubbornly-firm-in-her-values to realizing she'd break any rules to save her daughter. (Her daughter is also played by the incomparable Marlee Matlin.)
And while the books were very much "Quentin & Friends," the show evolved a little more to feel like a true ensemble. They had an entire episode called "The Side Effect" that was exclusively about the "side characters" though they are far from just that. Every character gets their time in the spotlight, every one of them a piece in this magical puzzle.
The themes of the show are dark and are usually about power. Some of the magicians are struggling to find their personal power, learn their own strength, battle their own demons. Season Four was a combination of that and struggling against institutional power, who has it, who controls it, who decides who else has it.
The show also has a lot of themes — some metaphorical, some literal — surrounding mental health. In Season One, Quentin (and in a lot of ways, Julia) struggles with disillusionment when he realizes that the world he grew up loving, the fantasy he used as an escape, was actually kind of horrible. The joy that came with the realization that he was a magician and that he got accepted to Brakebills and that the magical world of Fillory is real was tainted by the fact that the stories about Fillory were sugar-coated, to put it mildly. But luckily, to soften the blow, at Brakebills, Quentin found a group of people who got him. They were a messy bunch, on paper completely incompatible, but they became a family regardless.
In the Season Four finale, Quentin says explicitly that he was depressed and suicidal until he found Brakebills. His time there was by no means easy, but he wasn't alone anymore. He had something to live for, he had people to fight for. They all did. Julia would never have survived her trauma if she didn't have her friends by her side, even when she didn't want them there. If she didn't have Q checking in on her, or Kady orchestrating a literal bank heist for her. Eliot would have never survived being possessed by a god if Margo hadn't gone on a desert quest for him.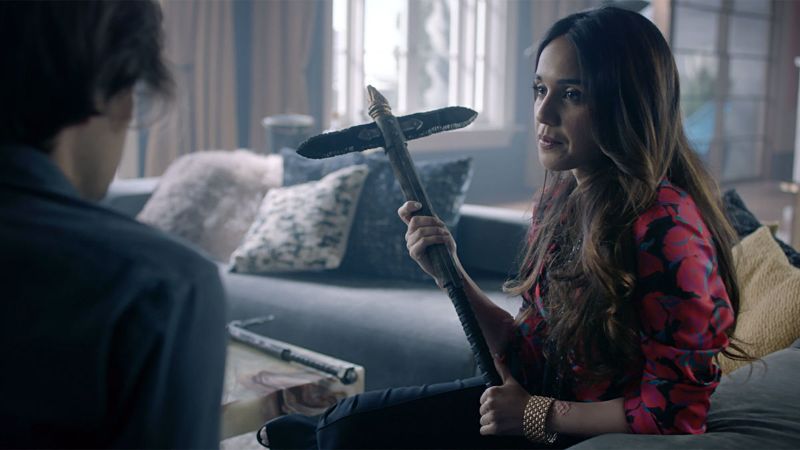 And all throughout this, all the dark and fucked up things they had to endure, the show never takes itself too seriously. There are gods pooping in magical rivers, and dragons in the Hudson. There are pirate ships that have feelings and musical numbers galore.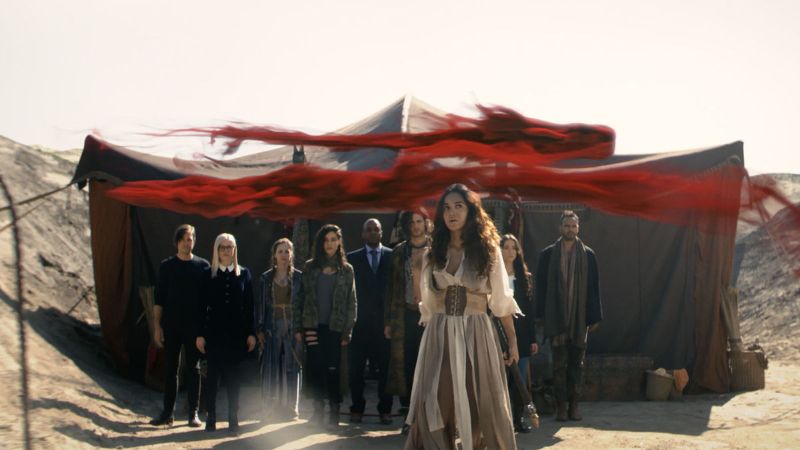 The Season Four finale went in a direction I never expected: Quentin Coldwater died. He sacrificed himself for this family he made. Which goes back to what I said before; he's not the focus of this story anymore. No one person is the most important. But they're all connected. Quetin's friends all sat around the fire and couldn't find the words to mourn this person they've been through so much with. Every other time someone died, it never really stuck, but this time it seemed pretty permanent. So Kady cast a spell and their feelings came out in song. Quentin watches over them as they sing and can't help but smile; his family will go on being a family, their mutual loss just one more thing that binds them together. His sacrifice was not in vain.
While my favorite character changes three times an episode, Julia is always very high on the list. Her journey has been about losing and regaining her power over and over again. Trying to find the balance, trying to figure out who she is now. She got her power taken away from her without her consent yet again at the end of this season, but when Quentin was having his final afterlife meeting with Penny and asking about his friends' fates, Penny assures him she'll be okay.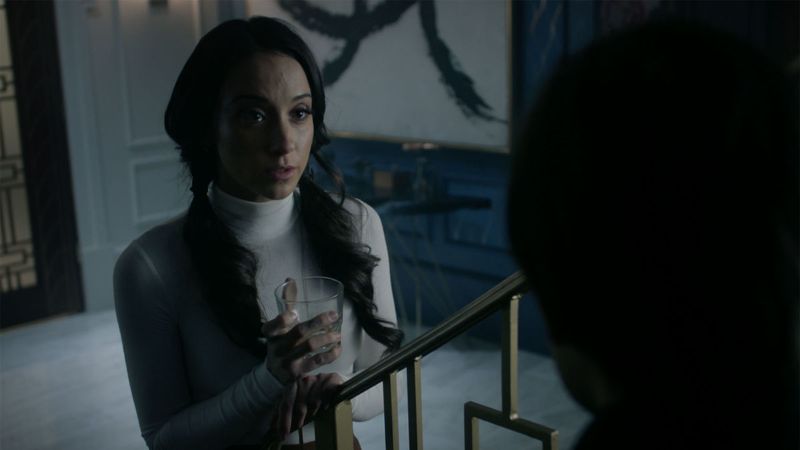 Then Quentin said maybe my favorite non-Margo line of the series, "Magic comes from pain."
As someone who suffers from anxiety and depression, and whose depression has been worse than it's been in a long time recently, this really wrapped around my heart and took hold. People who have never suffered don't need magic. They are happy just living their lives, and that's great. But people like me, people like us, we have to make our own light when things get dark. And against all odds, we do. (Though often, not without a little help.)
I think Quentin's quote sums up how I feel about this series. As wacky and absurd and hilarious as it can be, it's really about finding your magic. Fighting for it if you have to. Besides the singing found family cryfest that reduced me to a heap of emotions, my favorite part of the finale was when people across the world all had to do a spell at the same time to stop the monster possessing Eliot, and to save Eliot himself. Not everyone understood what kind of danger was afoot, most of them didn't know Eliot personally, but they knew that to protect their own magic, they had to work together, to fight for each other. It's how I feel about the queer community; it doesn't matter if I don't know you, or your fight isn't directly related to my fight. If your magic is going to be taken away, it's less magic for all of us. If gay rights are taken away in Brunei, they're taken away from all of us. If the trans community is failed, we've all been failed. We have all been through Some Shit, but we have each other. We are all magicians, and we need every drop of magic we can get.
So I'm going to fight like hell to keep it.