Chag Pesach sameach!
Passover is my favorite Jewish holiday. I like it even more than the festivities of Purim. Autostraddle has published seven articles by seven people about Passover, so I get the sense that I'm not alone.
If you need a refresher on the holiday, I recommend The Prince of Egypt, which includes an obnoxiously catchy soundtrack. The traditional observance is to host at least one seder (a festive meal that takes unfolds in a particular order) and to not eat chametz – products of wheat, spelt (farro), barley, oats, and rye that aren't made into unleavened matzo – for eight days. For many people of Ashkenazi (Eastern European) descent, the tradition also includes avoiding kitniyot – a broad category of things possibly similar to grains including rice, beans, lentils, and soy.
Yup. No grains, legumes, or rice for eight days. Add being a vegetarian and… ouch. The annoying thing is that kitniyot don't even have a good justification – a 13th century Rabbi called it a "stupid customwp_posts(translated, I assume), and Mizrahi and Sephardi Jews don't have a practice of avoiding them. It's absurd!
And yet. I can't imagine Passover without those restrictions, for all that I would never impose them on anyone else. I rant about it annually, and while writing this article, decided to see if there are any other secular Jews who are keeping this up, and found a great article from Dara Lind:
"Maybe it's just that "kvetching about it" is my preferred way of responding to this particular set of illogical rules: I've managed to learn how to follow them, how hard can it be? What I suspect, though, is that I'm worried about maintaining the upside of orthopraxy: the way an action forces your attention to a thought, or a value."
I had never heard the term orthopraxy before, but I like it: the idea of a behavior or action forcing your attention to a particular value or thought, for eight days, through intentional restrictions or choices, at every meal. It's so far outside my normal routine that it's impossible to forget that it's Passover, and it's an excuse to cook lots of delicious food because buying lunch at work that isn't a plain salad becomes pretty impossible.
So, on to the recipe. No grains, no legumes, no rice: yes, we're going to find something delicious, savory, and vegetarian following the Ashkenazi traditions.
This recipe for vegetarian chopped liver is actually a mushroom-and-walnut pate. I grew up eating chopped liver (even as baby food!) and genuinely love the taste. I don't eat meat anymore though, so I've made this recipe for a few years and it feels really homey and comfortable and hearty and celebratory. There are many vegetarian chopped liver recipes that are based on green beans and walnuts, but green beans are kitniyot, so I adapted Deb Perelman's mushroom pâté recipe with roasted walnuts.
Vegetarian chopped liver
Ingredients:
1 ounce dried mushrooms (preferably porcini, about as much as fit into a cup)
1 cup boiling water
1/4 cup olive oil
3 tablespoons butter or earth balance, divided
1 1/2 cups diced onion
Salt and pepper to taste
1 1/2 lbs fresh mushrooms (2-3 packages in my supermarket), preferably of two or more different types – I tend to use one of white button mushrooms and one of baby bella; if you can afford nice wild mushrooms, I'm sure they'd be delicious
1/2 tsp dried thyme or 1 tsp fresh thyme
1/2 cup white wine
1/4 cup chopped walnuts, roasted and ground in a food processor (optional)
Directions:
1. If using walnuts, roast in a 350°F oven for 8-10 minutes, until lightly toasted and fragrant. Let cool, and grind in a food processor until natural oils are released. If having trouble getting it to stick together, add a small amount of neutral vegetable oil (1-2 tsp, in increments).
2. Place dried mushrooms in a small bowl with 1 cup of boiling water and let soak for at least 30 minutes while other preparations occur.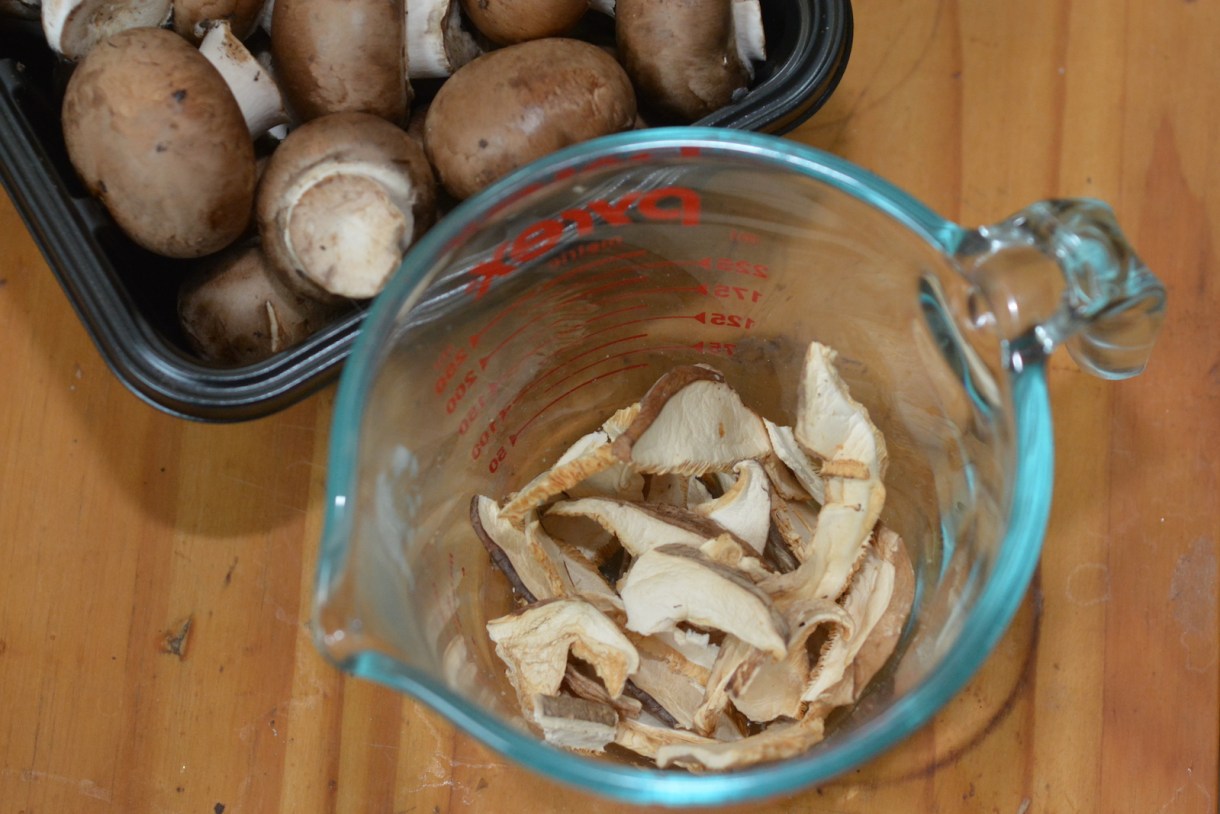 3. Wash fresh mushrooms thoroughly, remove rough stems and chop or slice evenly.
4. Heat 1/4 cup olive oil and 2 Tbsp butter or earth balance over medium heat in a pan large enough to hold all the mushrooms. Yes, it's a lot of oil, and it is delicious and the correct amount. Add onions, and cook for 7-8 minutes until slightly brown at the edges.
5. Raise heat to high and add the fresh mushrooms, thyme, salt, and pepper.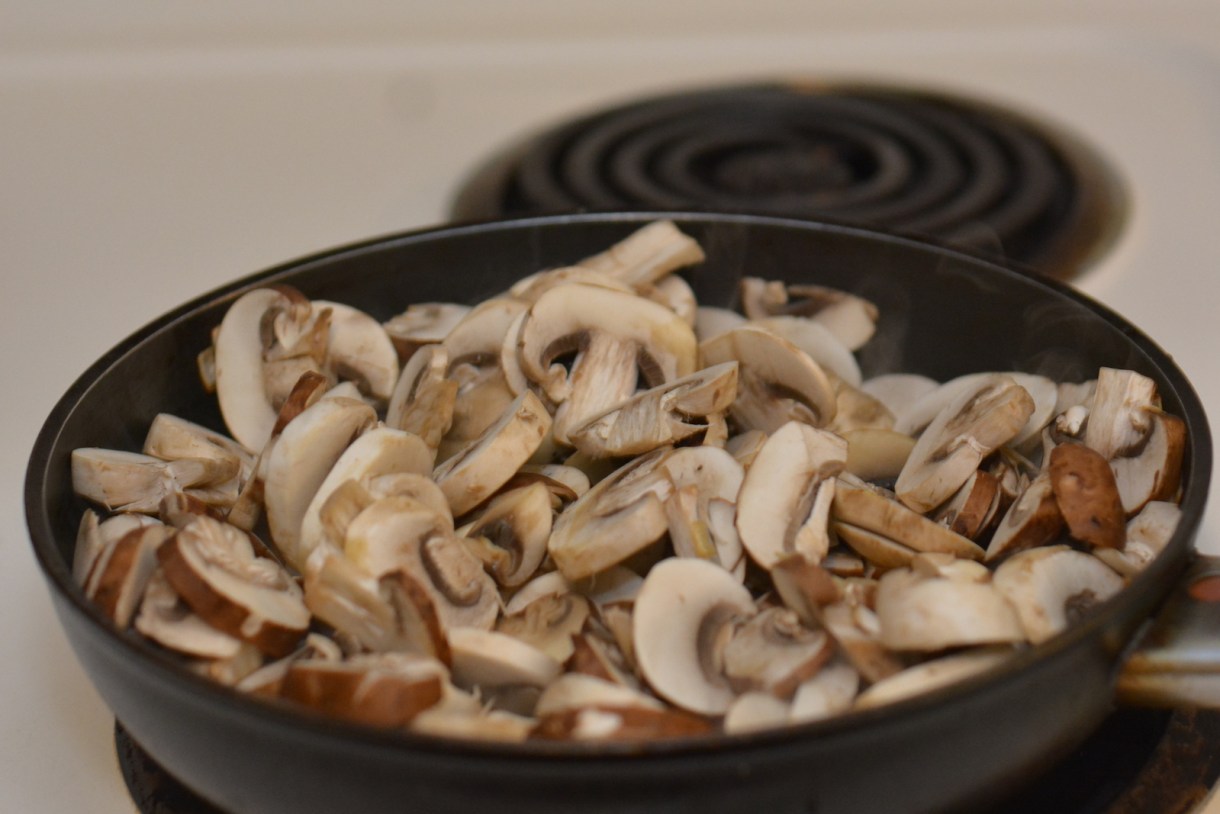 6. Cook, stirring regularly, until mushrooms shrink, brown further, and release their liquid. There will be a surprising amount of liquid. Continue cooking until no more liquid is left, and then add the wine. Again, cook until dry.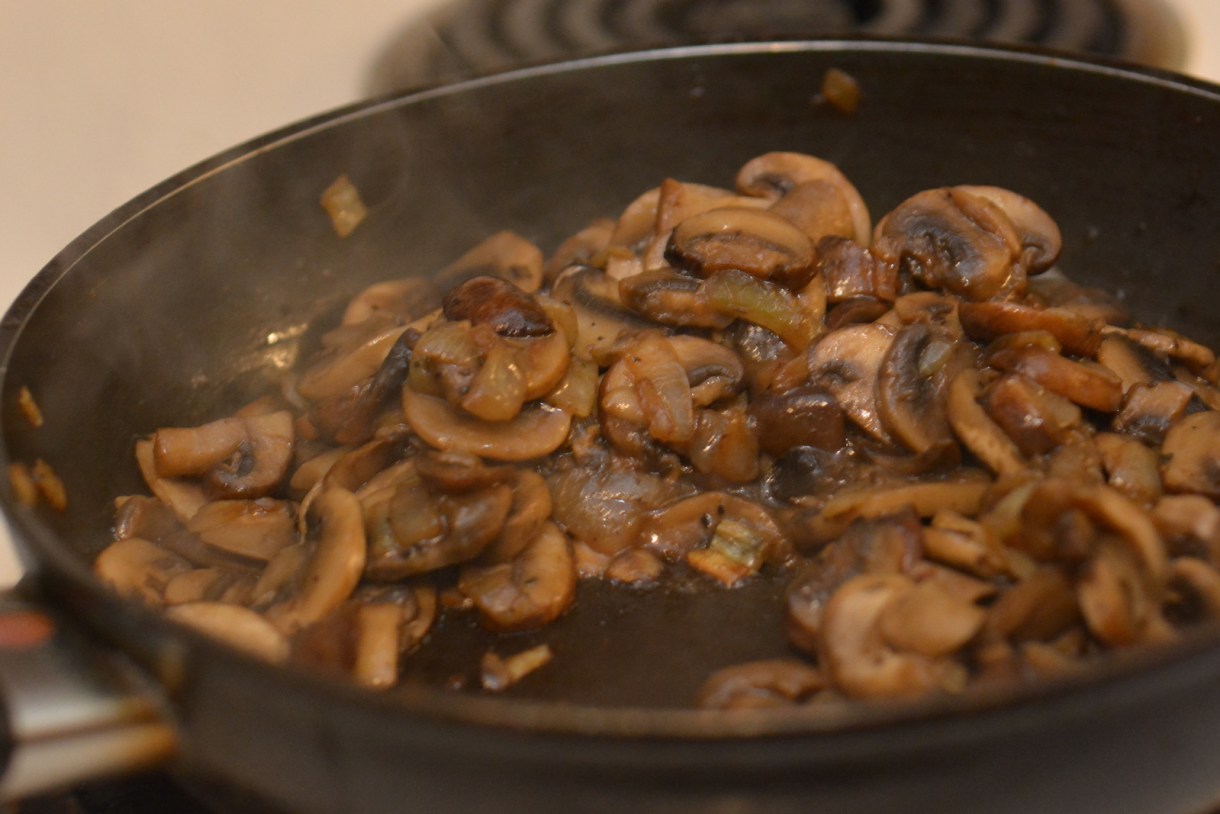 7. Remember the soaking, dried mushrooms? Add them and the soaking liquid, but holding back the last bit with all the grit. If you want to be extra careful, strain the liquid before adding. Cook the mushrooms back down again, until there is no liquid on the pan when you drag your spatula through the mushrooms.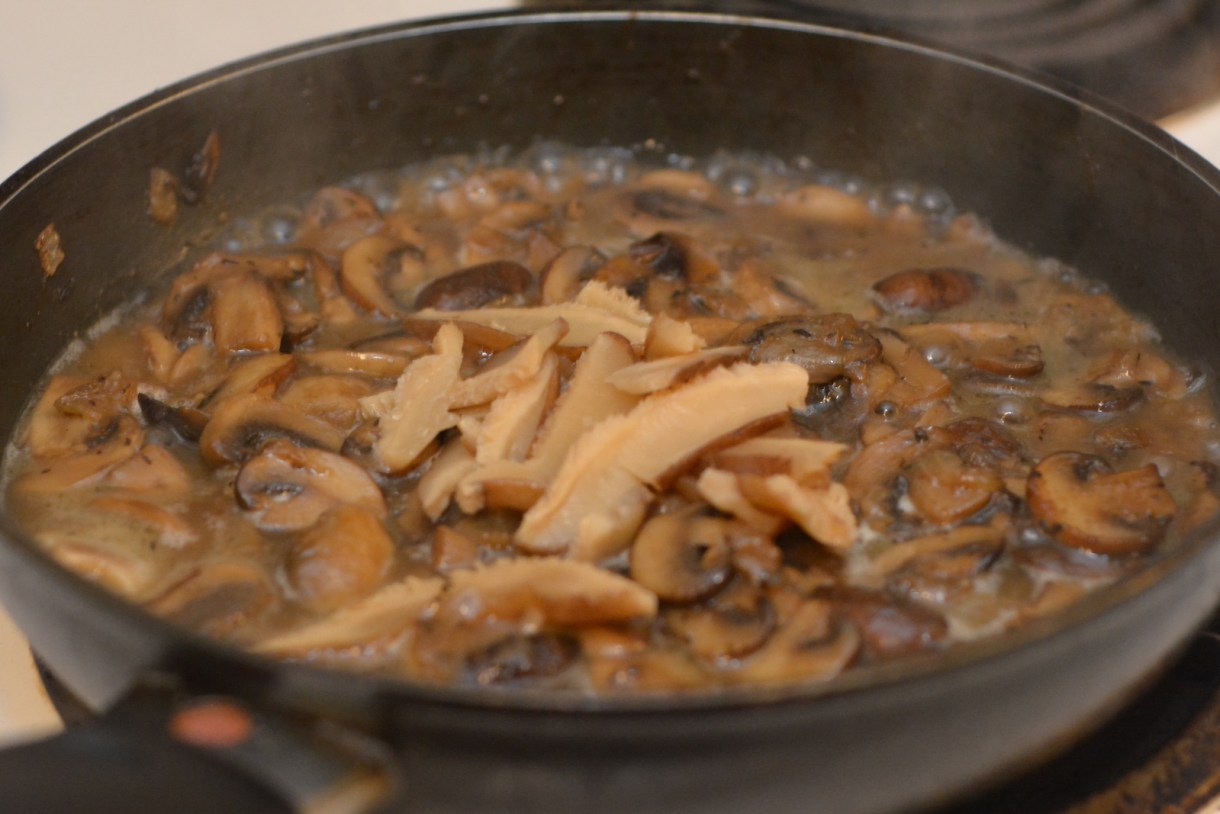 8. Taste the mushrooms – add more salt, pepper, or thyme to taste. Add the last tablespoon of butter and stir again.
9. Let the mushrooms cool a bit, then blend in a food processor. While waiting, see if the cat has climbed into a grocery bag. Pick up the bag at your own risk.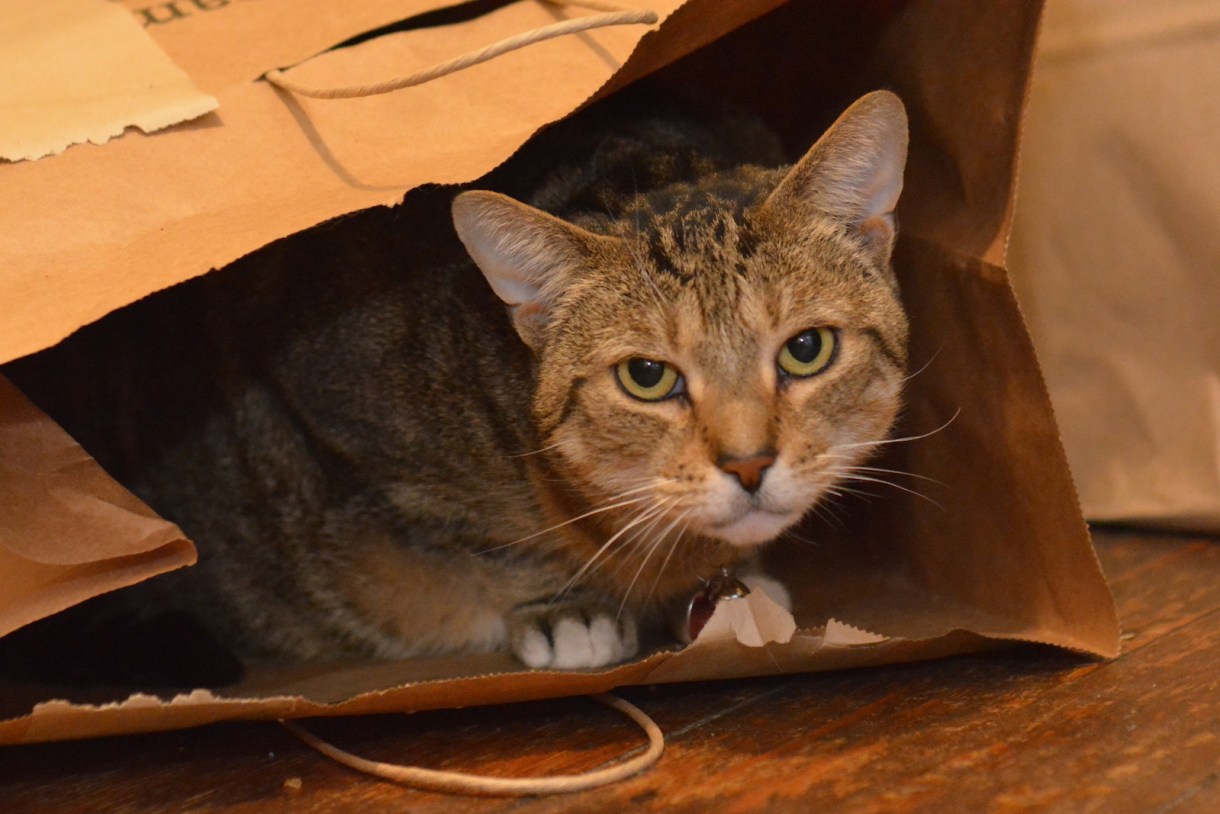 10. You have two options here: the more work-intensive but flexible option is to do the walnuts and mushrooms separately, and add them in a ratio that feels right to you (I tried 3 different ratios with my taste-testers, and got three different preferences, although this was our consensus). Alternatively, throw it all in at once. The mushrooms are fairly dense, so you may have to use a spoon to get the larger bits back in. I blend until mostly smooth but slightly grainy, like what I remember liver to be. You can go completely smooth if you like!
11. Let cool in the fridge for at least a few hours before serving.

I like to eat it spread on matzo, with a beet-pickled egg and some pickled onion.
Pynk Pickled Eggs
Yes friends, this is a two-for-one recipe post! These beet-pickled eggs are as beautiful as they are delicious, and would probably be great for folks who do other spring holidays as well. This recipe was shared with me by Traci L. and Ian K., and I make it mostly as written.
Ingredients:
6-12 hard boiled eggs
1 cup vinegar
1 cup water
1 tablespoon pickling spices
1 teaspoon salt
3-4 cloves of garlic
4-5 sprigs of fresh dill
1 can of beets (original recipe calls for fresh beets, boiled for 30 minutes, but I'm lazy)
3 onions, preferably red, sliced into strips
Directions:
1. Boil eggs. Feel free to use your preferred method, but the strategy I use for easy-to-peel eggs – a must at Passover – is to put eggs into cold water, bring to a boil, cover, and leave to cool until the water is cold.
2. When cool, peel eggs.
3. If using fresh beets, boil for 30 minutes and remove skins; otherwise open a can of beets and drain about half of the liquid.
4. Thoroughly clean a glass jar and put in peeled eggs, beets and remaining liquid, sliced red onion, and dill.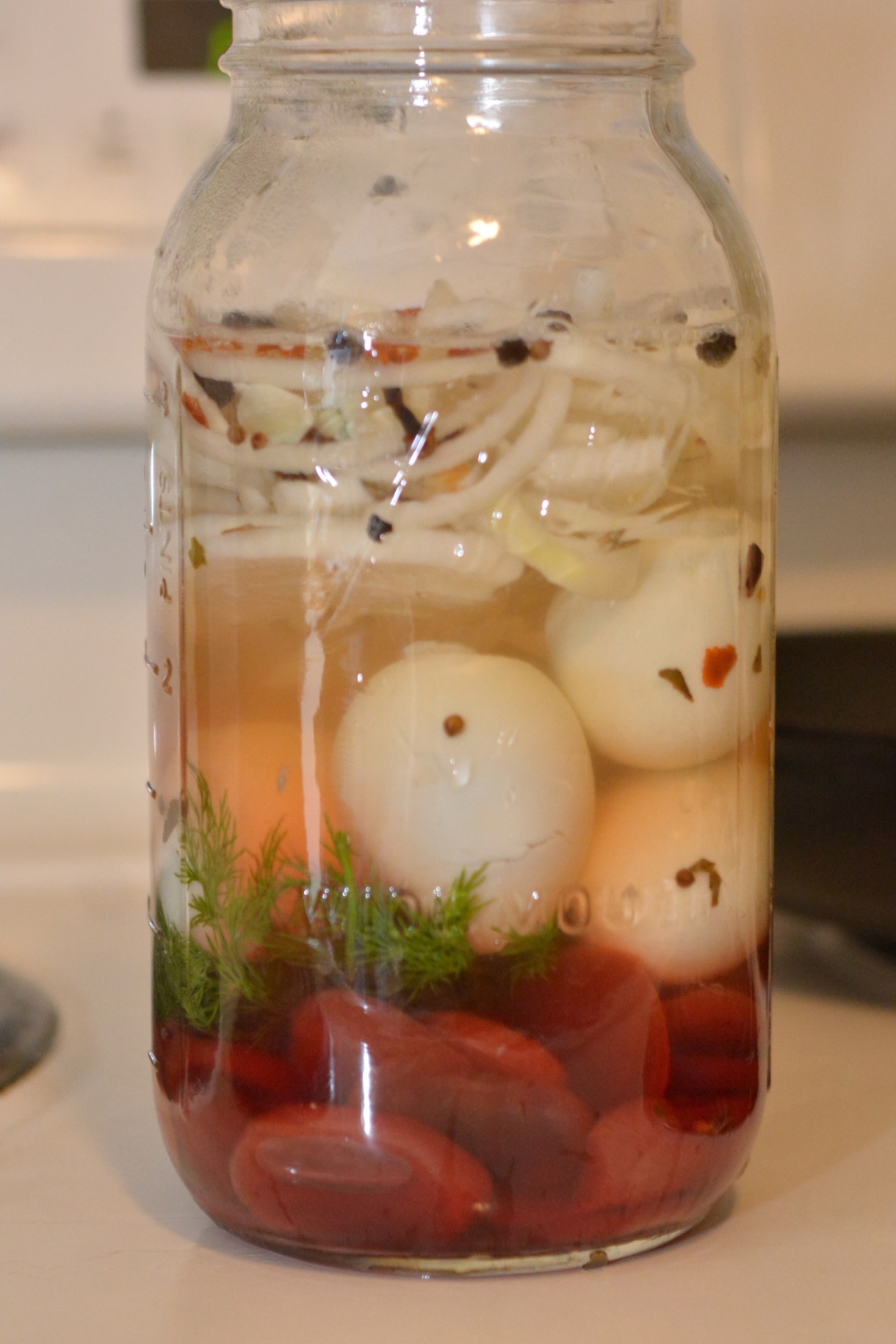 5. In a small pot, bring vinegar, water, garlic, spices and salt to a boil. Pour into the stuffed jar. Let cool, secure lid tightly, and shake gently before placing in fridge. They're edible and tasty as soon as they are cold, but the eggs will turn a stunning pink in 2-4 days, and it's worth the wait.
This year, Passover will begin in the evening of Friday, April 19 and end in the evening of Saturday, April 27.