Drunk History has had some super incredibly on point casting over the years (remember Octavia Spenser as Harriet Tubman??) and so when it came time for them to (drunkenly) tell the history of the legendary Stonewall Riots, they stepped the fuck up. Not only did they actually center the story on the iconic Marsha P. Johnson, but they cast Alexandra Grey, a trans actress, in the role. And she NAILS IT y'all. This is the way the Stonewall story should be told.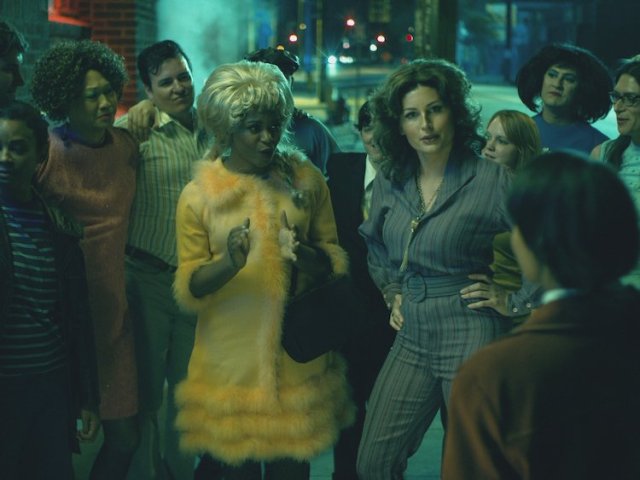 The story is narrated by comedian Crissle West, and unlike a recent movie about this same event, it actually gets the story right. You won't see cis white dudes centered here. Now, you might remember Grey from the first episode of Transparent Season Three, playing Elizah, or from her guest appearance on Code Black recently, but here she's performing like we haven't seen her before. She's hilarious, powerful and has all the appropriate swagger for someone who told the courts that her middle initial stood for "Pay it no mind!" She's everywhere on TV this fall and she totally deserves it. She can do drama and comedy, she can be muted or over the top and she demands the spotlight no matter what kind of show she's on. Please someone give her a starring role asap. Or, hell, give her a ton of starring roles.
Of course, Marsha P. Johnson wasn't the only trans woman of color instrumental in the Stonewall Riots, and Drunk History has you covered there too. Puerto Rican trans icon Sylvia Rivera also has a big role in this episode, played here by the talented, glamorous and gorgeous trans actor Trace Lysette, best known for playing Shea on Transparent and Giselle on Blunt Talk. In this six and half minute clip, trans actors playing trans characters get more screen time than pretty much anywhere that's not Transparent. Good job, Drunk History.
Remembering and respecting our queer history is vital, and Drunk History does a freaking brilliant job of doing that. Trace Lysette looks fucking amazing in a jumpsuit and is hilarious and Alexandra Grey is an all star who's taking over our TVs this fall.