Hello, friends! I'm sorry this Pop Culture Fix is a day late; I'm on vacation with spotty wifi, but I'm here now and very excited to talk to you about my girl Maggie Sawyer arriving in National City.
---
Teevee
+ The trailer for the final season of Black Sails dropped at Comic Con and it's very dude-heavy, but features some nice shots of Eleanor and Max (who's riding up the coast on a horse like a regular old Arya Stark). It seems very unlikely that Anne and Eleanor and Max are all going to make it out of season four alive, but I'm still holding out hope.
https://www.youtube.com/watch?time_continue=34&v=R0UYpfzBFR8
+ Portlandia will mock Men's Rights Activists when the show returns in January, a nice follow-up to my favorite skit from season six, Male Feminist Support Group.
+ Looks like Michelle Williams will play Janis Joplin in her upcoming biopic.
+ BET promised Gabrielle Union 13/14 episodes a year of her critically acclaimed, beloved series, Being Mary Jane. But the network only gave her ten, and now they're trying to force her to film episodes in a way that conflicts with her other projects. She's (rightfully) suing.
+ It's not queer but it's sure as heck feminist and honestly I wouldn't be surviving this election season without it. It's Full Frontal With Samantha Bee and I want to honor you with her takedown of Donald Trump's sexual assault comments from Friday. (Stay 'til the end; it's a Vagina Monologue like you've never seen.)
+ The New York Times is talking about the amazing new thing where trans kids on TV play trans characters.
+ Maggie Sawyer will finally arrive on Supergirl in episode 203 (not next week but the next). The CW released some promo photos of her that also seem to hint that the established character who's going to be exploring her sexuality this season will be Alex Danvers.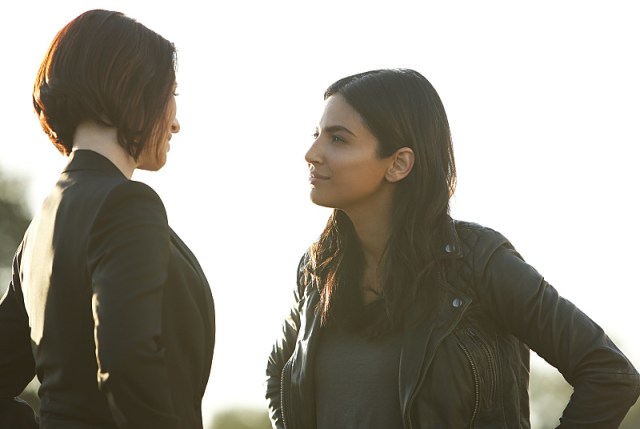 Den of Geek talked to Ali Adler and Sarah Schechter about the addition of Maggie to the cast.
What do we know about Maggie Swayer?
AA: Well, Maggie Sawyer is an amazing character from the DC universe who is a badass, who is a gay character, who we're bringing in who is so cool. The actress, Floriana Lima, is amazing. We're so excited to get started with her. It's just going to be an amazing addition to our cast.
Will she have a romance?
SS: What's important for us in Supergirl is that all the women on the show are really strong. I mean, it's important on all of our shows and I think you see that in all of the shows, on Arrow, Flash and Legends. Supergirl, much like we were talking about if you have a great villain, it elevates your hero, if you have a strong woman, you want to surround her with other strong women. Maggie is sort of suspicious, she's grounded, she's not a superhero. She's a regular real life hero.
AA: She's a hero in life. I think what's cool about this season is we can have an opportunity here to explore more of people's personal lives. Last year was about seeking their professional success. She became an amazing superhero. She became a hero a work and got a promotion. Now everyone across the board's life is being explored behind the scenes of their professional life. I think it's a really cool way to start next season.
My hope are already too high. :(
Movies
+ One thing that's happening on November 4 is the release of a new movie starring Kate Moennig and Heather Graham. It's called My Dead Boyfriend, and here's the synopsis according to the press release Laneia just forwarded me:
Mary's life has been defined by a string of temp jobs and a half-hearted attempt to become a writer. But all that changes when she comes home to find her boyfriend dead in front of the TV set. During her misadventures in trying to get rid of his ashes – accidentally becoming the bassist in a rock band; bonding with the dog he left behind; awkward encounters with numerous ex-lovers; Mary discovers that there was much more to her couch potato boyfriend than she ever thought imaginable.
You know Kate as Shane, obviously, but I don't want you to forget that Heather Graham played gay in that bizarro rom-com Gray Matters. So.
+ For National Coming Out Day earlier this week, IndieWire made a list of five of their favorite queer short films.
Queer People, Out and About
+ Gothamist Interviewed Tig Notaro about One Mississippi and her upcoming show at Carnegie Hall. And, of course, about her "twin boy cubs." It's very sweet.
What about parenthood excites you the most?
Oh my gosh, there's a bazillion things. This coming weekend, we're taking them to a pumpkin patch to pick out a pumpkin. It's those ridiculous things. I can't wait to put my babies in a pile of hay next to a pumpkin. I can't wait to take them trick or treating. I can't wait until Christmas, Thanksgiving, to have a full house with family passing the babies around. We are going to go on a family vacation at some point. There's different parts of the country they're going to be traveling to with us. Just…everything. I can't wait until they can walk, I can't wait until they talk, I can't wait…it's the best thing in the world. I'm happy to report that.
+ Abby Wambach won't stop talking about the "foreign-born" players on the USMNT and it's starting to embarrass and upset fans. She'd like to be the judge of whether or not these guys love the United States enough to play soccer for it.
It feels a little bit odd to me that you have some guys that have never lived in the United States that play for the United States because they were able to secure a passport. To me, that just feels like they weren't able to make it for their country and earn a living, so they're coming here.

But do they have that killer instinct? I don't know. I'd love to sit down with Mix Diskerud and some of these other guys and talk to them about it. I'd love to understand how much they love their country. I believe they can have love for both countries, but I'd love to hear it, and I think so many other people would, too. If this is an ignorant opinion, I'll raise my hand in the end and say, "My bad." But I'd want to have that conversation.
+ In a new profile, Annie Leibovitz's tells the New York Times her work on Women will never be done.