I once read an article that dared to claim, "you can't buy everything at thrift stores." To which I responded: um, actually? I happen to be sponsored by Value Village, with the exception of one good pair of high-waisted black jeans. Although I guess if I'm being honest, sometimes my wardrobe is expanded by late-night, wine-motivated splurges on ASOS. But the point is: my clothes are gay, now what? Maybe you're like me and have denim jackets and Doc Martens a-plenty, but you're thinking: who cares, no big deal, I want more! I have great news for you. There are so many things you can queer your life with: chokers, buttons, zines, prints, coffee mugs, shirts! Everything you can't find at a thrift store, you can find on Etsy. Specifically, on these shops. You're welcome and I'm sorry about your savings account.
---
Jacob Joyce's Femme Supremacy shirt is my favorite piece of clothing and I wear it at least once a week. Also, their zines will make every queer person of color cry, laugh, and rage with feeling. Their Alphabetical Anthology of White Liberal Proverbs is everything I never knew I needed to heal before I heard it, and their QTIPOC Assemble zine is filled with illustrated conversations of "the radical imaginations of people navigating intersecting oppressions of race, gender and sexuality." Who I was before their work graced my life, I truly do not know.
---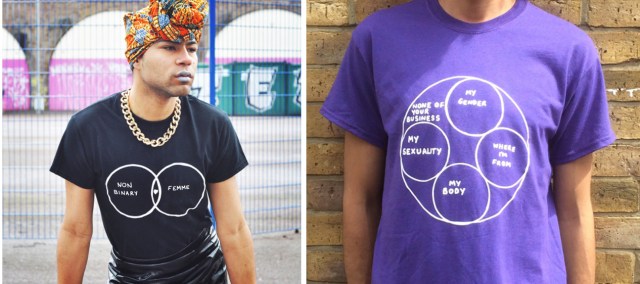 Rudy Loewe is the absolute greatest and, I'm lucky to say, a dear friend of mine. Their shirts are the Venn Diagrams of your soul, mapping inconsistencies such as "Loud White Men / Opinions That Matter," and visualizing what is none of your business: my gender, my sexuality, my body, or where I'm from. Their Etsy shop is currently on hiatus while they adjust after moving, but they plan to re-open shop in early November, so check back then.
---
Everything in this store is designed by Gnat Rosa Madrid who makes glittery harnesses, chokers, leashes, and sequined bow ties. The concept is kitschy but super high-quality "femme-centric fetish and bondage gear." Basically, it's a dream come true. I've tested some of the merchandise myself and I can tell you that if you want to look cute but also get securely thrown around a little, these collars can do that for you.
---
Rebirth Garments are designed by Sky Cubacub, a Gender Queer Person of Color from Chicago, IL. They make binders and "soft armor" with eye-catching designs and vibrant colors. Personally, I want to bathe in a pool of glitter and then put on these patterns under my mesh shirt and go to the club and dance the night away. The shop is actually on vacation, but definitely follow them on Instagram to get the news when it re-opens!
---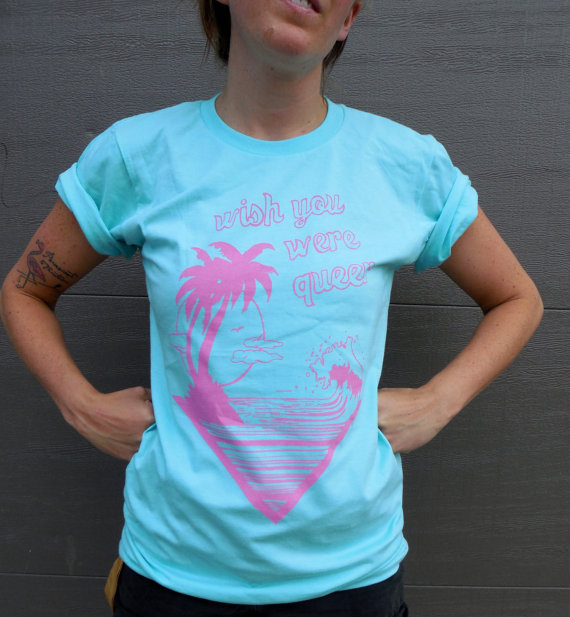 Can you imagine anything better than finding a beach, sipping a beer, and wearing this "Wish You Were Queer" shirt? I cannot imagine a single better thing. Kiernan Dunn has so many amazing things on her site, including this realistic as fuck "Femme Life" print, featuring lipstick stains on a juicy burger. Equally delightful is this Smash the Patriarchy shirt, that shows the best tools for patriarchy-smashing: lipstick and wrenches.
---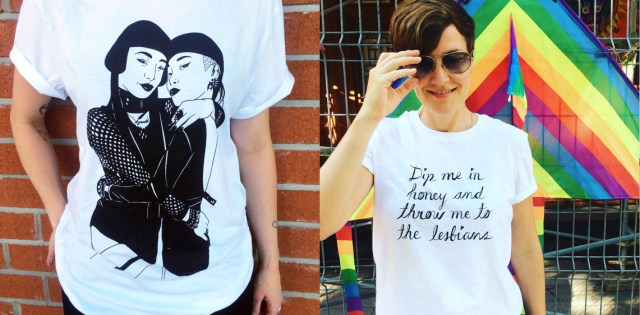 I couldn't get through writing this sentence without buying something from this store, in case you need a stronger endorsement. Do you see these shirts right now? I want so much to be one-half of that mesh and side-shaven illustrated couple. And yes, you're reading the other shirt correctly because it does, in fact, say "Dip me in honey and throw me to the lesbians." Help. SOS. This store has slayed me. Cause of death: fashion.
---
This store describes itself as "Cute Stuff for Quirky Souls," but an equally accurate description is "Everything I'm Obsessed With." I'm gonna hit the top notes here and say that you need this Weed Witch Enamel Pin, and also this Fuck Body Hate glitter pin, or this poster that says "More Riots, Less Diets." Or you could just do what I did and buy the whole store!
---
Do you want Dana Scully on your fingertips? Or maybe you're a witch who needs tiny pentagrams and moons for nail decoration. Or maybe you've wondered the classic gay thought: what if I took the patches on my denim jacket and made them really tiny and wore them on my fingernails? Don't worry, Hannah Daisy has you covered for all of your nail art needs. You can also find some really great self-care stickers that will motivate you with slogans like "Sad Not Lazy" and "Fuck Anxiety." 
---
Everything would have been different for me if I could have earned a Queer Scout Badge back in the day as a young Girl Scout, but now that this badge exists, everything is a little bit better. Another cool thing is this Queer Scouts poster that shows an array of badges saying things like "Self Healing" and "Operation Sappho."
---
Calling all Latinx folks, all the Brujas, Boriquas, Xingonas: this store is for you. Check out these Nopales dangly earrings, this "Por Que" shirt that asks people to account for their white tears, or these earrings of the Goddess Xochiquetzal. From the store, the artist and designer Aubrey describes that "inspiration is drawn from my ancestors, neighborhood, and southern California barrio clothing of the 1940s/50s. Each piece is sewn, painted, and/or printed by me in my home studio in southern California."
---
Finally, a one-stop shop for all of your misandry needs! You've got your classic misandry and machine gun underwear, and a plus-size feminist pro-choice tank top. What more could you need?
---
This store does a few things very well – namely, bow ties, ties, and pocket squares. There are so many shades of chambray to choose from, as well as really fun patterned items as well. If you need something dapper and unique, definitely check it out.
---
I want to give every person I love a delicate hand-stamped piece of brass that eloquently expresses the most important parts of their identity. There's a pin for the witch in your life, or the femme in your heart, the dandy in the streets, and the stud in the sheets. 
---
Maybe you have the gay wardrobe down, and you've got all the buttons and patches to accessorize your gayness, but you're ready to really step it up. Here's how: a really gay coffee mug. Meg Brown is here to help, with mugs that say things like "I'm a person, not a gender," and ask "Am I making you uncomfortable?"
---
So you've got your queer wardrobe and your gay coffee mug. The only thing left is to decorate your apartment! Our very own talented Rory Midhani has a bunch of amazing prints for sale on his Etsy, and putting any of them up on your walls will add instant color and queerness.