It turns out Laura is kind of in the Upside Down, an alternate universe that is dark and scary. J.P. and the library zapped Laura here so that she could get Vordenberg's heart, because in this reality Laura didn't kill him…because Laura was fed to Lophi. LaF and Carmilla are there, but they're different. After Laura died, Perry went to work for the Dean and LaF is all alone in the library, abandoned by all their friends. LaF says they make money selling antidepressants, it's the saddest.
Carmilla is the worst off, though. She never got to tell Laura how she felt about her or stand up to her mother, so she's ridden with guilt and heartache. So this Carm is like a lovesick puppy, following our our season three Laura around and she will do anything to keep Laura in this timeline. Mattie is alive and practically giddy to grab Vordenberg's heart to stop the apocalypse. However, it doesn't go so smoothly. Mattie notices that Our Laura has her locket, but it's broken. She won't give up Vordie's heart until Laura explains why she's dead in the other timeline. As Mattie threatens Laura, the Library zaps her back to our timeline.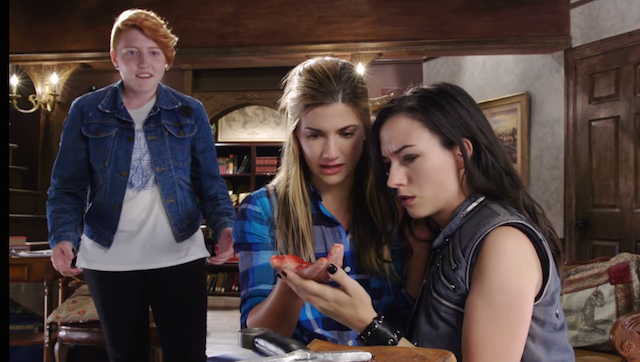 Laura is shaken up by what she saw in the other timeline and LaF is especially disappointed that Laura wasn't able to get Vordenberg's heart. The only chance they have now to stop the Dean is to stab her with the sword of Hastur right after she opens the last seal. She'll be mortal, but that would mean Perry would die too. Now that Laura has been responsible for two deaths (Vordenberg x2), the idea is becoming more and more attractive. Carmilla is definitely for it. But LaFontaine is not giving up on Perry yet.
That leaves Laura and Carm to finally discuss if either of them is going to make it out alive. Carmilla wants to go alone, the blade of Hastur would kill her if she used it again but it would be worth it. Laura doesn't want Carmilla to sacrifice herself, or to be an empty shell of a person if Laura doesn't make it. She wants them to be equal partners. Carmilla agrees: they'll kill the Dean together. I'd say this was a very adult decision to make, except Laura makes a secret deal with the death goddess anyway.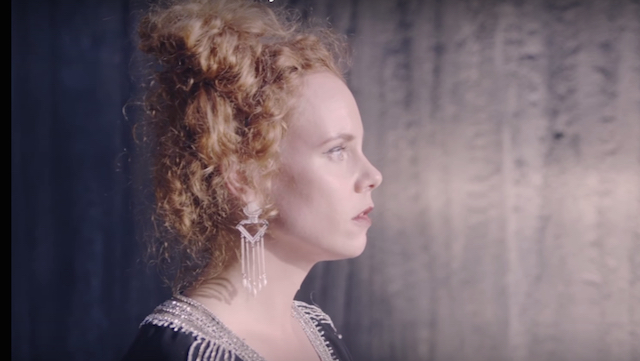 Danny shows up to drop off Kirsch. She has kind of realized that just because you're a vampire, it doesn't mean you have to be just boring evil. So she's blowing this popsicle stand, but wants to make sure Kirsch, the only person who stayed by her, is safe.
So Kirsch gets to be camera man! The next morning in the pit, Laura and Carmilla confront the Dean after she completes her spell. Unfortunately the sword doesn't work. LaF returns because they've scienced the shit out of this by mixing pieces of the four talismans into nanobots, injecting them into the Dean, and using electroshock to control them. But that doesn't work either. Do you remember in the seventh Harry Potter book when the elder wand became a game of hot potato and you just kind of rolled with it? This is kind of like that. Basically the spell needs Laura's heart, so the dDean rips it out of Laura's chest. You'd think this would kill Laura immediately, but no. She is slowly dying in Carmilla's arms and watching the Dean complete her ceremony to bring back her lover from hell. I knew this was all about love! What a Slytherin power move.
The Dean became a beggar and a slave to her love, descending into literal hell and scorching the earth. But her beloved wasn't there waiting for her. It was one-sided, all-consuming, and dangerous. It was pretty romantic and Annie Briggs brings so much power to this scene, but that's not the point. Ultimately, it is kindness from a small human girl that frees her. Leave it to Laura Hollis to feel that everybody, including a murder goddess, deserves better. Laura freely gives her heart to the Dean, who then sheds her mortal coil (Perry) and gets to return to her plane of existence. Heaven? Hell? Who knows. Perry wakes up and she and LaF leave hand-in-hand. I had really hoped they would kiss? Perry went to hell and back and she doesn't even get to be in a canon ship.
Carmilla is devastated of course, and calls out to God!Dean that she is ready to die. Instead the Dean restores Carmilla's mortality. And the first thing Carmilla does is bargain it in a game with Mattie: Carmilla's life for Laura's. The death goddess is a benevolent one, so she gives Carm an easy riddle to solve. Laura wakes up and continues her monologue about going to Paris, thankfully Carmilla shuts her up with a kiss. They crawl out of the pit and walk across the campus holding hands. They'd better travel to Paris immediately.
Carmilla was one-in-a-million, y'all. Very few web series, if any, have really tapped into the zeitgeist of queer fandom the way this one did. When I first heard of Carmilla two years ago I thought I was out of my teen vampire angst phase, and yet every season premiere, every new episode, or every act, I felt the fangirl ache in my belly and love in my heart. While the show has taken lots of inspiration from Buffy and Veronica Mars (and Warehouse 13, I think, with its sentient library and campiness), all of those series weren't made for us. Carmilla was.
This was a deadly year for queer characters, and we really needed a happy ending. I'm sure we all knew that Carmilla wouldn't betray us or bait us (especially when they released a movie trailer ahead of Act 3, in which Laura and Carmilla are on an actual beach together). But it still feels really good to see it: Laura and Carmilla (and LaF and Perry) walking off into the sunset together.