feature image via Shutterstock
Hello and welcome to Friday Open Thread, a place for us all to chill and hang out together, which this week is actually in my living room on my sofa. I saved you a seat right here next to me and made you a hot beverage and I'd love to hear all about your life, your favorite crockpot recipes, the funny thing your dog/cat did, your feelings on the great pumpkin spice debate, your girlfriend/boifriend problems, whatever!
I am coming to you from the depths of new queer parenthood, week six, and wow it's a trip!
Baby stuff is literally everywhere. I'm really leaning in to living in the living room. Up until a few days ago, I was even sleeping on the living room couch at night while the baby slept in her Pack 'n Play. Waffle had to go back to work, so I've been home alone with Baby T. Rex during the afternoons and evening for the last four weeks. I feel like I watch a ton of TV and don't do anything productive, but I also feel like I don't have time to do anything. All my hours are spent taking care of this little human baby leech. Thank goodness she's cute.
Still, it's a full-time job and a lot of it is spent just sitting on the couch or in the living room. It's incredible how much time is allocated to just holding, feeding, changing, and caring for her. The other night, while Waffle was holding Remi, the cat found his way to my lap for cuddles and I involuntarily started crying when I realized I couldn't remember the last time I'd held or pet the cat.
Overall, Remi is great and we're exhausted.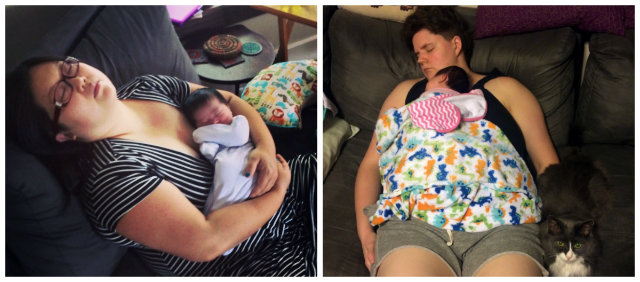 I'd heard that newborns sleep a lot and don't do much else besides eat and poo. It wasn't untrue. Newborns need a ton of sleep. Unfortunately, I didn't get one of those newborns who loves to doze and can barely keep their eyes open. Remi is incredibly alert and doesn't want to miss anything at all. She'd stay up all day if we let her and frequently takes super short 15-minute naps (a.k.a. Crap Naps).
She also hit her super fussy period (a.k.a. monster terror baby) during the last couple weeks, which means she was awake a lot of the time and screaming most of the time she was awake. The silver lining is that she seems to be coming out of the extreme fussiness stage and into regular baby fussiness in the last few days. Thank god. We were starting to regret our life decisions. I've become a black-belt master at forcing a baby-who-is-actually-tired-but-thinks-she-can-stay-awake-forever-if-she-just-tries-hard-enough to sleep. White noise, dude, white noise is the key.
Other new skills I've developed include: making a sandwich with one hand, making a bottle with one hand, peeing while holding or wearing a baby, and swaddling a squirmy screaming T. Rex in under thirty seconds.
So, uh, that's about it for me! I have literally been living in a baby bubble for the past six weeks. I could show you a million more baby pics or bore you with more parenting stories. Otherwise, I have nothing new and exciting to share with you. I'd love to hear what's new and exciting with you! I'm starved for interaction with other non-baby humans! Tell me anything and everything about your life!
What's new at school or work? What did you think of Season Three of Transparent? Do you have any recommendations for movies or TV shows to binge while I'm stuck on the couch? What's your favorite autumnal hot beverage? What're your plans for the weekend? Do you dress up your pets for Halloween (pictures or it didn't happen)? Have you been listening to Solange's incredible new album? What did you eat for breakfast? Have you read any good books lately? Anything! Let's hang out like grown-ups do!
---
How To Post A Photo In The Comments:
Find a photo on the web, right click (on a Mac, control+click), hit "Copy Image URLwp_postsand then…
code it in to your comment like so:
If you need to upload the photo you love from your computer, try using imgur. To learn more about posting photos, check out Ali's step-by-step guide.
How To Post A Video In The Comments, Too:
Find a video on YouTube or Vimeo or WHATEVER and click "embed." Copy that code, paste it, you're good to go!