Hello Light Bringers!
This week exactly seven cups of liquid have been spilt in our apartment. I'm responsible for two and our nephew is responsible for five. Moral of the story: don't play soccer in the living room.
If you've got the time, you should totally come to A-Camp: Midwest Version. There will probs be s'mores. And bring your soccer ball.
The first and last parts of Eat, Pray, Love just took on a whole new meaning now that Elizabeth Gilbert has come out on Faceplace.
As a personal fan of Kristin Russo, Jenny Owen Youngs and Buffy the Vampire Slayer as individual things, you can imagine my excitement that they are all gonna be mashed together in a new podcast.
Do you work with a lot of men? Do you have to deal with them? Laura M to the rescue!
Vote for your favorite comic book type people!
Evan Rachel Wood got the honor of hanging out with Stef for like an hour! We should all be so lucky.
And Comments!
---
On "Eat, Pray, Lovewp_postsAuthor Elizabeth Gilbert Comes Out On Facebook:
The Zyrtec Award to devon:

On Baby-Sitters Club Creator Ann M. Martin is Queer, How Did I Not Know This:
The The Truth About Ann Award to Kris H:

The Just This Award to sarahlouwho: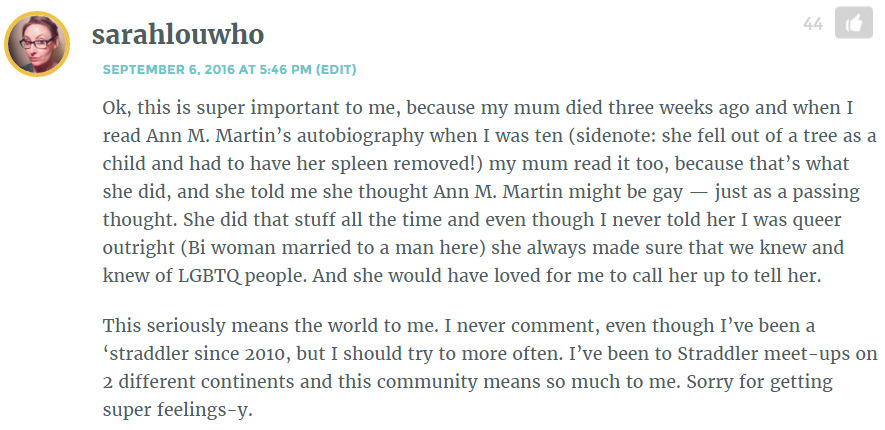 On Listling Without Commentary: Conversations I Had While Watching the L Word for the First Time:
The Vital Social Issues and Stuff Award to Jenrietta:

---
See a clever, hilarious or thought provoking comment around this website-ship? Email it to me at: bren [at] autostraddle [dot] com!