A-Camp Midwest is just around the riverbend (September 29th-October 2nd!) and damn are we so excited we can hardly breathe just thinking about it! Plus we've got good news: if you're interested in being a part of this groundbreaking experiment, there's still time to sign-up. We know there was a waitlist before but some beds have since opened up and also we've finally set up VIP rooms if you'd like one of those instead.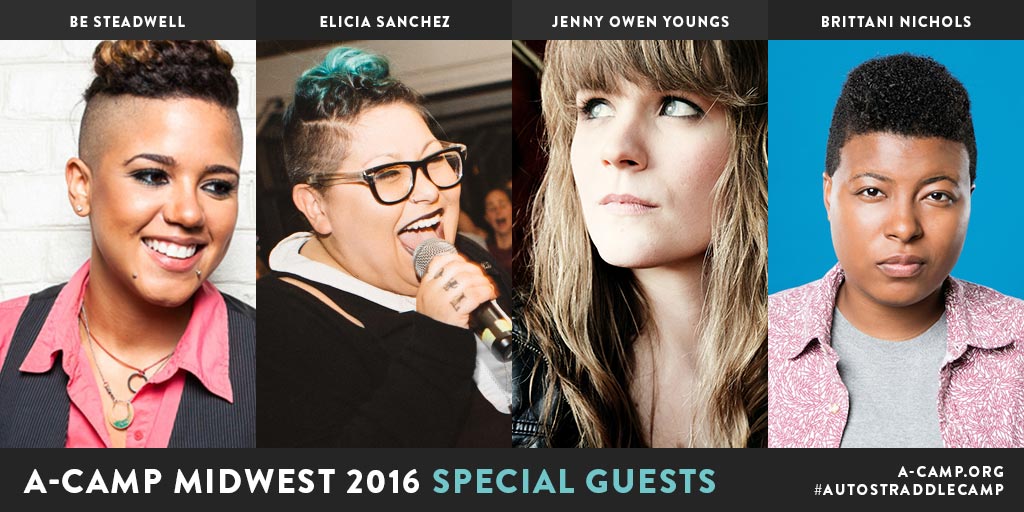 Seriously though, you're not gonna wanna miss this one — we've packed in two days of incredible programming from Apple Hand Pie Baking to DIY Kink to Queer Astrology to Feminist Improv to a Boxed Wine and (Wisconsin) Cheese Tasting and it's gonna be SO F*CKING FUN Y'ALL. You might meet a new best friend, or a new creative collaborator, or a new make-out buddy or somebody who will give you a job or find you an apartment.
So, here's what we've got.
Regular Rooms
Bunk Bed Rooms (3-5 roommates, private bathroom) in Dana, Tara or Lexa
$420 (plus $75 registration fee)
This is the normal room that everybody gets by default! IT COULD BE YOURS, we have some left!
VIP Rooms
All VIP Rooms come with a VIP A-Camp swag bag that includes an A-Camp hoodie.
Dana VIP Four-Bedroom Apartment (two bedrooms w/two beds and a private bathroom each, living room and kitchen) 
$520 (plus $75 registration fee)
This apartment is on the side of The Dana, one of the dormitories where the bunk bed rooms also are. You might have a roommate and two suitemates, but you also might not! It depends on how many people sign up for this option.
Marissa VIP Apartment #1 – 2 twins or queen/full (your choice) with private bathroom, kitchen, living room w/sleeper couch, screened-in porch
Marrisa VIP Apartment #2 – 2 twin beds with private bathroom, kitchen, living room w/sleeper couch, screened-in porch
$545 + $75 registration fee.
These apartments are located in a four-plex of apartments right next to The Maya, one of our programming spaces, which's right next to another dorm, The Lexa.
If you want to have your own room / apartment, e-mail me (riese [at] autostraddle [dot] com) and we can discuss how much that would cost.
You can sign up for any of these options right now right here! And you should.