Welcome back to No Filter, a nature documentary exploring the mating habits of the Komodo dragon. Did you know that the male Komodo dragons use their tongues to assess how receptive the females are to mating? Komodo dragons: they're just like us. Anyway, here are some celebrities doing things and then posting pictures of it on the Internet.
---

Here's Samira Wiley and Lauren Morelli, enjoying a pleasant… OH COME ON YOU GUYS.
---

Laverne Cox and Andreja Pejic, probably talking about how perfect their face bones are.
---
https://instagram.com/p/9zy_Gri4Hj/
"Drapes?!?! You mean to tell me my children are roaming around Salzburg dressed in nothing but some old drapes?!?!?"
Alternative caption: If Kaki King invited you to a red carpet event, this is what she'd wear when she picked you up, and your roommates would be really impressed.
---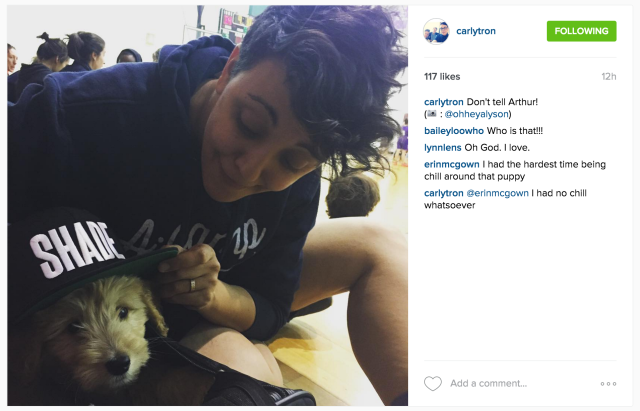 Carly Usdin met a dog, and shared her most prized possession with it.
---

As you may have heard, Janet Mock got married this week, but what you probably didn't hear was that she rode away from the wedding on this inflatable alligator.
---
https://instagram.com/p/74TAEwvVpD/
Lena Waithe, best part of "Masters of None," seen here breaking hearts and taking names.
---
https://instagram.com/p/92978RsZd3/
If Ruby Rose took you and your children to the farmer's market on a Sunday afternoon, here's what that would look like.
---

Ellen Page's Insta feed is 100% dog photos now, so here's her girlfriend Samantha Thomas. Did you know Samantha was offered a full scholarship to the University of Tulsa, but turned it down to pursue art and surfing and ultimately Ellen friggin' Page? Well now you do.
---

If there's one person who truly shines on a red carpet, it's Brittani Nichols – we should know, as we interviewed her on one just last year. Here she is with Jasika Nicole, looking ravishing at the LA premiere of the second season of Transparent.
---
Join us next week, when Brittani squires Judith Light around town, only it's Judith Light the dog from Broad City.