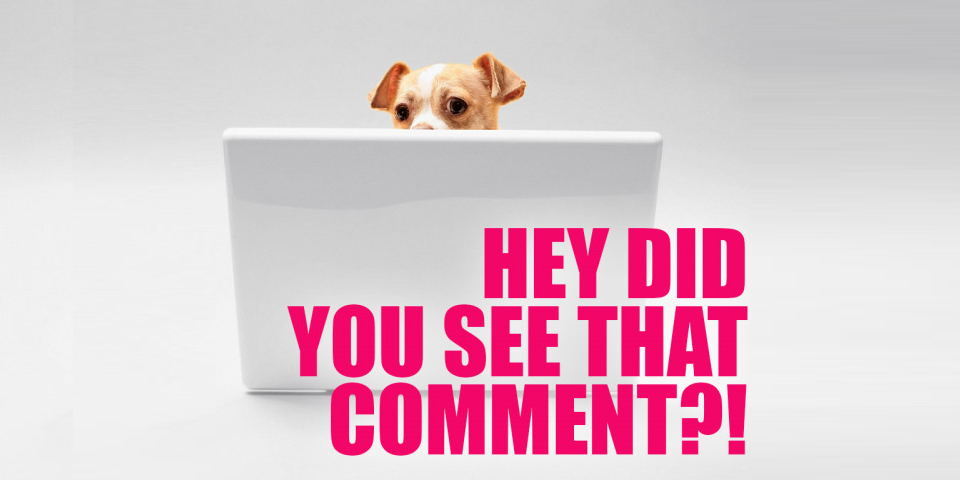 Hi pals! Have you had a drink of water? I love this thing you're doing with your hair! And I love the pants you're wearing – what are they called? Sweat…pants? Revolutionary!
This week, Kayla cordially invites you to high tea – in your own home.
In the latest installment of Dyke Kitchen, Kamala explains that there is NEVER a bad time to eat savory pancakes.
Kai wrote about transformative justice, the apocalypse, and how we can find a new way forward to a better world.
What I Wore's gone topical as Shelli shows us what she wore to bed.
Help ensure Autostraddle's future, if you can! 
Working from home these days? Tiara's got all the tips you need.
Presented without commentary: Stay Home and Squirt: A Preparedness Guide.
And then there were your comments!
---
On You Should Make A Blanket Fort This Weekend:
The Kitty Whisperer Award to Lex:
On Happy Hour at Home: How to Have Afternoon Tea Service at Home:
The Mad Skyper Award to Leora Spitzer: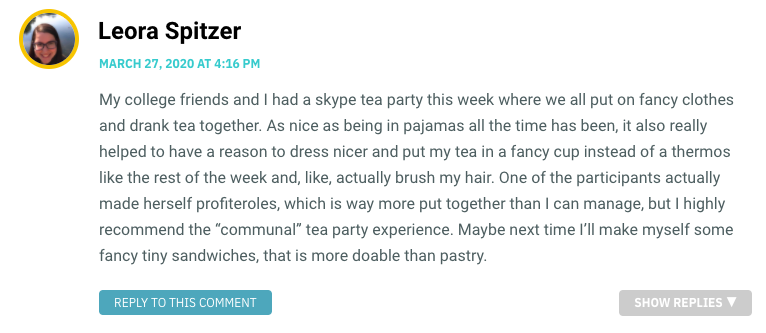 On Welcome to Club Bisexual, Dr. Teddy Altman! You Can Hang Your Scrubs in the Back:
The Teddy Altman Bisexual Award to aj:
On Pop Culture Fix: "Killing Evewp_postsIs Coming Back Early, a Little More Sapphic Stalking as a Treat:
The Error In Judgement Award to Caitlin:
And on "Hitmenwp_postsReview: Mel Giedroyc and Sue Perkins Trade Poached Pears for Contract Killing in This Silly Comedy Series:
The Hats Off Award to Gilbert and Sally: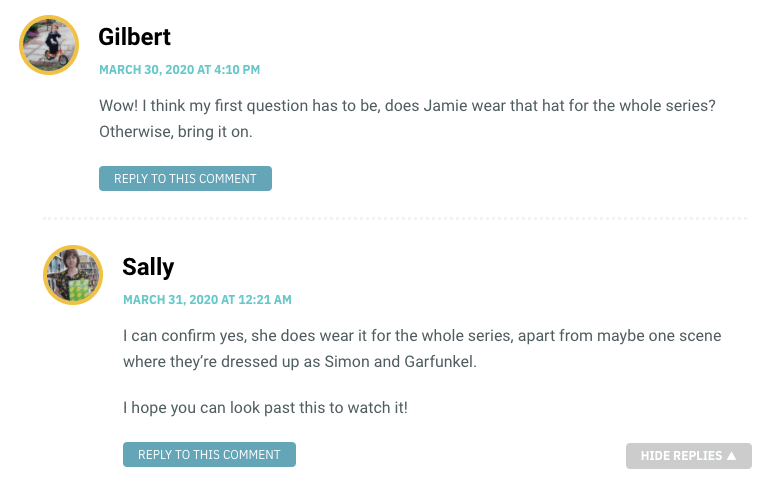 And the 2020 Award to Leora Spitzer:

---
See a comment that needs to be here? Tag me! I'm [at] queergirl.