What I Wore is a biweekly series about living, loving, and celebrating black femme fashion and confidence.
---
My favorite apartment was on a street here in Chicago called Artesian Avenue. It was the second apartment that I ever had and it was nothing short of perfect. It was on the top floor of a three-story walk-up building, a big bedroom, large closets, a sun-filled living room, and my favorite part — a deck that overlooked a park with a view of the Chicago skyline.
The kitchen had two windows that opened up to the deck and I would keep them open, blast music, prop the door open and hang out on the deck constantly. Drinking, writing and just looking at the city. I'd watch people play baseball in the park, watch firefighters tend to the garden atop the roof of the firehouse, look at people pace back and forth while waiting for the 49 bus and of course — look into people's apartments and watch their lives.
I've fallen in love with my current apartment (the fourth in my adult life) and that's important because for nearly two years I was living in a apartment I hated. It was in a luxury building and filled with all the millennial amenities anyone could want, including copious amounts of casual racism. It had one large window that faced a busy street and a vintage car garage filled with unusual cars that were no doubt the expensive toys of the people who resided in my building.
There are three oversized windows in front of my new apartment, this time on the second floor of a three-story walk-up. I see my neighbors, more of them as each day passes, living this modern version of Rear Window while we are urged to sojourn in our homes. One couple has shifted their couch closer to the window and I can observe them browsing through Netflix, the roommates who live above them spend more time having coffee while leaning out the window, and the girl in the building next door to them comes down to the alley that divides the two to smoke; she listens to music several times a day while she travels from one building wall to the next.
My curtains are transparent enough where if the light is right you can look in and see the movements that shape my day.  I've been fastening the curtains to the sides of the windows, sliding them up and keeping them open wide despite the rainy days, allowing my music to play a bit louder out onto the essentially bare streets —— I'm summoning the outside, my neighbors, the world —— into my home.
Maybe welcoming and partaking in the purposeful peeking is encouraging my neighbors and myself to try for a fragile sense of normalcy. Your own routine may be chaotic and your moods and emotions overwhelming but staring across the way, into the window of the girl with the white sheets knowing she's stuck inside too may help the day go by just a little bit easier.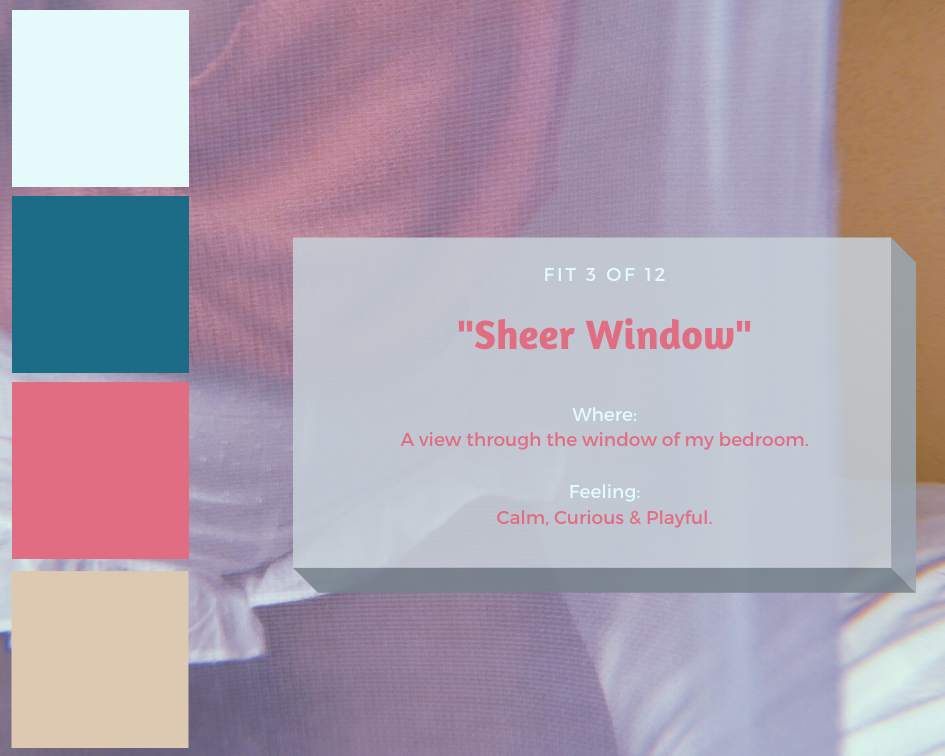 Links to the Fit:
I love my shoulders, when I am indoors and idling about, the most immediate way for me to feel a little more sensual is a comfy off the shoulder moment. I'll take a pair of scissors to the neck of a sweater with the quickness and that's what I did with this sweater. This one is from Target — this particular color is sold out in a lot of sizes but they have a few others to choose from. I like to get them a size up when I know I am going to hack away at it, makes it even more comfortable and it falls off the shoulder a lot more which makes me feel sexier.
I also recognize that I do in fact, have a killer rack. I also realize that the word rack is out of a very shitty 80's movie but those are some of my favs so here we are. The caged bras are a featured favorite in selfies that get sent to darlings who I want to distract in the middle of a workday. I also dig them for chilling at home, they usually don't have any underwire so they are a bit more freeing and don't leave any imprints when I awaken from my three-hour couch nap. I nabbed this one from Victoria Secret, not a fav spot but my mom has a credit card with them and gives it to me to restock on panties –– yes, she is cute as fuck. This bra is almost 4 years old so I had to find a similar color and this one from Journelle comes pretty close. Caged bras are everywhere though, just pop it into a search bar with your size and you'll find the one you need.
If I'm not kicking it around the house in lacy bras and oversized loose sweaters, you'll find me in a matching set. It is entirely my mother's fault, I've never seen her in a pajama or loungewear set that doesn't have matching pieces. I welcome the luxury and comfort of being in my very curated apartment, in my matching pj's, in lighting that has been perfected to capture the entire moment. These shorts are part of a set purchased from my mother as well. The tags have been cut off because I don't like the way they scratch. I can recommend Mark & Graham for a similar set; it is a bit expensive but I like theirs because they feel good, last long through washings AND YOU CAN GET THEM MONOGRAMMED!
We might be inside for quite a bit, so lean into the upcoming Taurus season and spoil yourself in the ways that you can :)