Way back in Season Six of Grey's Anatomy — a full ten years ago! — here were the first five things we ever learned about Dr. Theodora Grace Altman:
She's a so-called "Cardio-God."
You wouldn't know it by looking at the birds on her scrub cap.
She wears birds on her scrub cap because they were her best friend's favorite.
Her best friend died in the Twin Towers on 9/11.
This is the reason Teddy quit her attending position at Columbia and enlisted in the Army to provide emergency medical treatment to soldiers.
There is not a queer woman I know who hasn't rooted for Teddy Altman to break up with Owen Hunt for good and just make out with Amelia Shepherd instead. Or in Seasons Six — Eight, ditch Owen Hunt and make out with Cristina Yang instead (catching a pattern here?). Maybe we couldn't explain it, but something about Teddy, even after all these years, always felt like she should play for the home team. And sure, what we learned about Teddy in last night's Grey's Anatomy is actually a flashback. But what made it so moving, and from a storytelling perspective so brilliant, is that this reveal made everything else we've ever known about Teddy make more sense.
You see, for the five things we've always known about Dr. Teddy Altman, there was a sixth no one told us until now: That best friend who died in when the second tower fell? The one who loved birds? That was Allison. And they were much more than friends.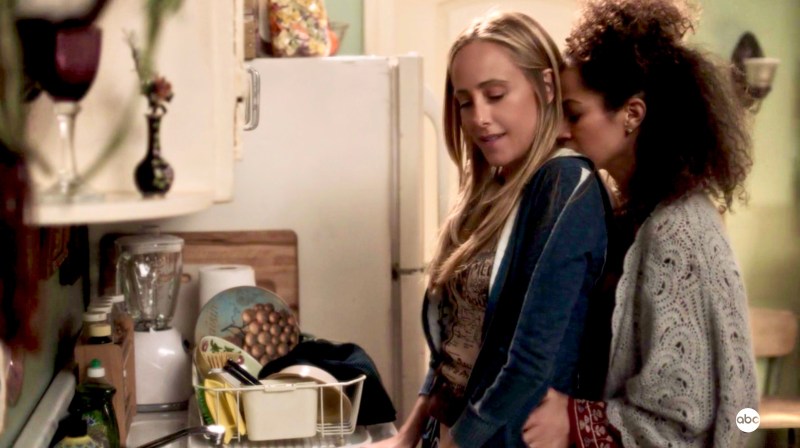 Over here in 2020, Teddy runs in to Claire, an old friend from New York, at a medical conference in Los Angeles (the world of Grey's hasn't yet been affected by the pandemic, so the rest of us should still stay at home). Claire, with her obviously gay haircut, lets us know that she now runs a small private practice with her wife down south. Teddy's shocked that Claire ever left New York! But Claire couldn't shake the mourning from after the towers fell; she said it embedded itself into the city's marrow. She had to leave.
Of course that makes sense to Teddy. Did she not also leave, in her own way? Did she not run away to stitch up wounded soldiers in the field, so she could feel like she was helping, somehow? So she could feel anything other than grief and sadness?
In 2001, Teddy was settling in to her life as an attending surgeon. She wasn't making a lot of money yet, so her best friend Allison offered Teddy a room in the apartment she shared with her then-girlfriend, Claire. Claire and Teddy were both doctors. At first Allison worried that the two would get too close, but Teddy was straight after all. And in case you forgot this apartment belonged to lesbians, let the Ani DiFranco singing "32 Flavors" in the background remind you. Did I mention that Allison is played by none other than Sherri Saum (that's The Fosters' Lena Adams Foster to you). Just for casual MAXIMUM gay points. That's what Grey's Anatomy is really going for here. Really looking to give the gays everything that they want.
Which is why, when Claire leaves for her shift, it's immediately clear that Allison and Teddy's relationship is more than they've said. Allison wraps her arms around Teddy's stomach, softly pushing her nose into Teddy's neck while she works on dinner. Then she turns Teddy around. They kiss, and Teddy knows it's wrong. She knows it, but she can't stop.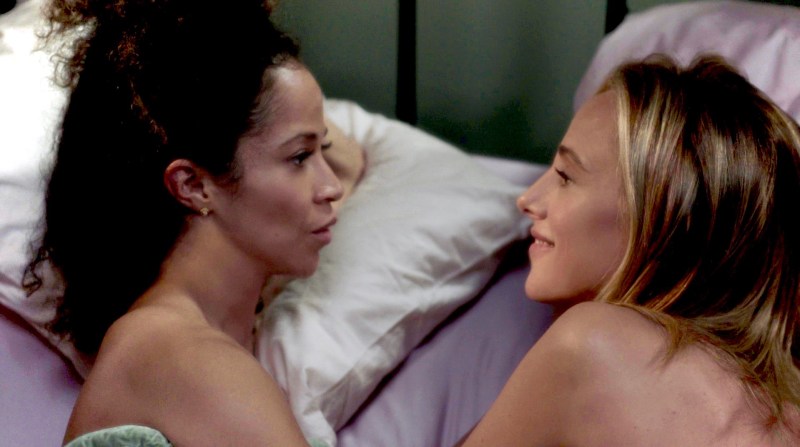 Later, when the two of them are naked together in bed, Allison faces the truth. She tells Teddy that she's her great love. It's hard, but she's ready to say it out in the open and let the consequences fall where they may. She loves Teddy. She loves her more, and more, and more. She declares it — whispering "more" into Teddy's neck, then her clavicle, her cleavage, her ribcage, and then, finally, she whispers it in between her thighs.
The morning of the attacks, Teddy was the last number Allison called.
That's how Claire confirmed her suspicions about the affair. Still, she never confronted Teddy about it. Instead, she left the city; let each woman that Allison loved claw their own way through the grief. She was ready to let bygones be bygones — until she found out that Teddy recently named her newborn daughter after Allison.
That's the straw that broke the camel's back. It's been almost 20 years, but Claire forces Teddy to come clean. Teddy weeps and apologizes, saying that 20 years ago she didn't believe that someone could love two people at the same time, but now — caught yet another love triangle, later in her life — she gets it. Yes, Allison chose Teddy, but that didn't mean her love with Claire was a lie.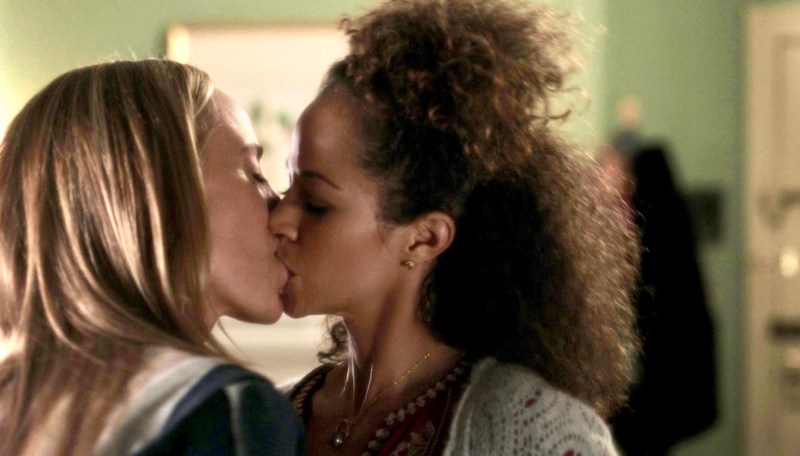 There's something deliciously satisfying when a show takes a character who's been presumed straight, but is beloved by LGBT fans, and reveals that this character is bisexual (Jane the Virgin's Petra Solano comes to mind of course, but also How To Get Away with Murder's Annalise Keating). What makes last night's bisexual revelation and secret love story so great isn't just the fan service, or that it's a love triangle that mirrors Teddy's current predicament — it's that as long as we've known Teddy Altman, she hasn't thought she was good enough.
She's always been messy in her love life. She's chased love that was unattainable (I don't believe that Owen Hunt will ever truly love her back, and her epic love story with Scott Foley's Henry in Seasons Seven and Eight had an expiration date attached to his health). Time and again, she's knowingly made romantic decisions that would only cost her pain. The best television "surprises" are the ones that take every puzzle piece we knew, and then re-arranges them in a way that makes perfect sense, but we somehow couldn't see before. The ones where we didn't know why, and now we do.
Allison was maybe going to be the love of Teddy's life. She was absolutely certain that Teddy was the love of hers. Teddy never got to live that life that out loud, so we'll never know. Instead, Allison died on September 11th.
And then everything changed.