Be our guest for Happy Hour at Home, a small series about the joys of lesbian socializing from home, because let's be honest with ourselves — we're going to be here for a while.
---
I've been trying to think of little ways to break up the day but also to replace the social act of going out for food and drink. It's not just the food and fancy cocktails I miss about restaurants but the ritual and space itself. (Bryan Washington wrote on this beautifully, focusing specifically on Houston.)
I've been hosting happy hours for me and my girlfriend at home, complete with fresh fruit margaritas and Vanderpump Rules viewing sessions (everyone talks so chaotically and at the same time on that show that it feels like you are in a noisy bar!). But yesterday I decided to do something a little different: afternoon tea service at home.
When I lived in New York, tea service was something I liked to do for special occasions. I drink tea all the time at home (I make a perfect cup of masala chai btw which is absolutely a brag but I'm not precious about the recipe so maybe I'll share on here soon!). But TEA SERVICE? AT HOME? It had never occurred to me until home suddenly became the only bar/restaurant/cafe I'll experience for the foreseeable future.
I don't have any fancy teapots or china where I currently live, but that's okay! My simple but still special tea service consisted of the following:
Tea (any kind you like! tbt when I wrote a guide to drinking tea post-heartbreak lol)
Tiny! Sandwiches! I love those goddamn itty bitty sandwiches that come with tea service. And I recreated them just using regular ol sliced sandwich bread that I cut into quarters. one version I made with sliced ham and avocado and another version I made with spreadable garlic and herb cheese and sliced cucumbers. Theoretically you could make literally any kind of tiny sandwich. Tiny pb&js! So cute! Keep it simple.
Sweets! Simple cakes or cupcakes or cookies are the idea. As for me, I made lemon rosemary olive oil cookies (recipe below) because I suddenly remembered I have a rosemary plant in my apartment. But you could also use pre-packaged cookies! Maybe think about what goes with the tea you're choosing. Gingersnaps would go great with ginger-lemon tea; something light and simple like a sugar cookie would be good with black tea; maybe a lemon cookie to go with a fruity tea. Those packaged wafer sticks that I'm freakin obsessed with would also be good for tea service. MAKE A WHOLE ASS CAKE IF YOU WANNA! Now would be a very good time to delve into the Femme Brûlée archives, but some of the specific recipes that I've flagged as good for afternoon tea are Reneice's cheddar apple crackers, flourless chocolate cake, cinnamon sour cream coffee cake, cranberry white chocolate scones, and no bake fruit tart.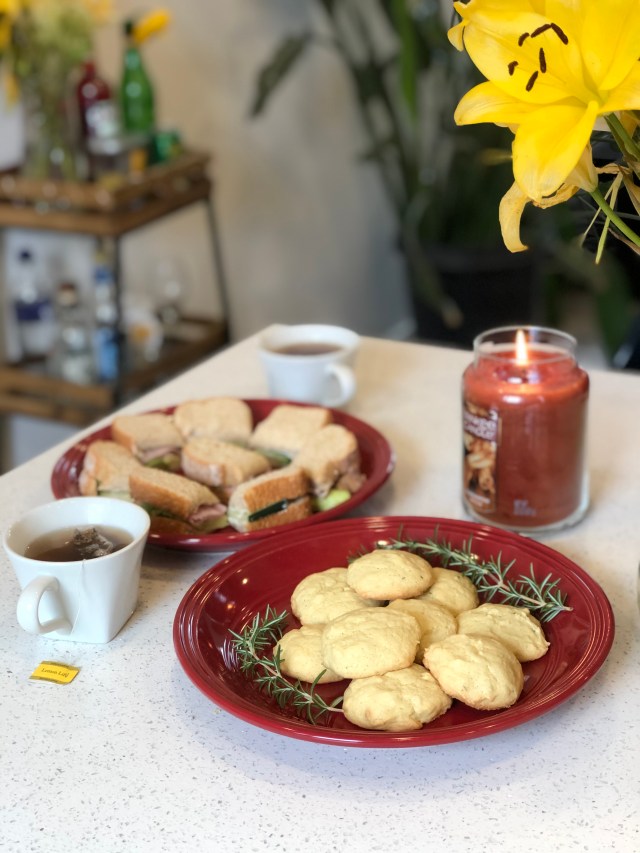 You don't have to convert your kitchen into a whole ass tea parlor, but there are little things you can do for ambiance. I had fresh flowers that were still looking good even though I bought them pre social distancing, so I set those out. I also lit the fuck outta some scented candles (wow I've written about candles before, too). My girlfriend and I also put on floral-print clothing because why the hell not. Maybe you want to make an afternoon tea service playlist. I didn't think of that until now, but it's a pretty good idea!!!!
Yes, I am lucky to be staying at home with a partner, but don't let being home alone stop you from indulging in tea service. Read a book while you sip your tea or do something relaxing like a puzzle or watching Great British Bake Off. Video chat in some friends and don fancy hats. Get cozy.
Here is the recipe I used for the cookies: Lemon Rosemary Olive Oil Cookies.
Some notes: I did not have lemon olive oil nor particularly fancy olive oil so I added about a table spoon of fresh lemon juice to my basic olive oil. I also used a lot more lemon zest and rosemary than it called for. I also froze half of the dough to use later.
Pinkies up bitch!