Sometimes it's too damn hot to even think about turning on the oven, and in Los Angeles that time is now. This heat wave means I'm coming at you with another no bake summer dessert. Get excited! It's a summer fruit tart filled with vanilla mascarpone whipped cream in a graham cracker crust topped with mint and a drizzle of honey. This tart might be my new staple dessert because it's a triple threat: It comes together so quickly it feels like cheating, it's crisp and refreshing while also sweet and comforting, and it looks elegant with very little effort. It's also, of course, incredibly delicious.
My girlfriend loved having multiple types of fruit on top rather than just one, and said, "It's like a new adventure with every bite!" Then she kept sneaking extra bites and so did I 'cause this tart just makes you want to come back for more.  Plus, the fact that there's no heat required and therefore no chance of breaking a sweat just to soothe your sweet tooth is an amazing bonus. Almost makes me wonder why I ever bother to bake things at all. Almost.
I'm also really proud of this recipe because it's simplicity doesn't sacrifice any flavor as often happens in no bake desserts. It's so good people wont believe it took less than 15 minutes to make. The addition of mascarpone to the whipped cream adds a depth and silkiness to the filling that, paired with the graham cracker crust, flirts with decadence but still manages to let the flavor of the fresh fruit shine through. If you can't find mascarpone you can definitely sub cream cheese but it does make the filling heavier so try to get your hands on some if you can! The mint and honey balance everything out and make it bright and refreshing. You'll be really happy to have this waiting for you in the fridge when the weather calls for triple digit heat.
Or… just any day really. This recipe is also great because it works with nearly any combination of summer fruits, berries, and herbs — so you can just use what you have on hand. I'm already planning to try it with mango, berries, and basil and dreaming up some sort of apple, pear, and thyme situation for the fall, but this one with a mixture of stone fruit and berries nestled in the vanilla cream is a definite winner. It pairs well with coffee AND rosé; it would make a stellar addition to any summer brunch, book club or barbecue menu. Here's hoping this makes it onto your list of regulars too.
Ingredients
For the Crust
2 cups graham cracker crumbs
1/2 cup brown sugar
1/2 cup coconut oil
pinch of salt
For the Filling
8oz mascarpone cheese
2 cups (16oz) heavy cream
5 tablespoons granulated sugar
1/2 teaspoon vanilla extract
2 cups mixed summer fruit/berries, pitted and sliced if necessary. ( I used apricots, nectarines, blackberries, red grapes, and plums)
Fresh mint for garnish
1. Line a 9×13 inch sheet pan or baking pan with parchment paper and set aside.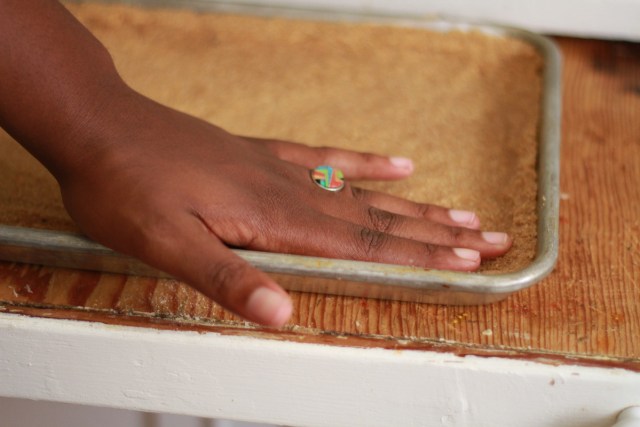 2. In a large bowl, stir together the graham cracker crumbs, brown sugar, coconut oil, and salt until ingredients are evenly mixed and start to clump together, then pour into your pan and press crust evenly into the pan and around the edges. Place in the freezer for 10 minutes.
3. In the meantime, pour the mascarpone, heavy cream, sugar, and vanilla extract into a large bowl, and whisk on medium speed for 1-2 minutes or until the mixture resembles whipped cream. Now add the filling into your chilled crust and spread evenly.
4. Arrange your fruit and/or berries on top in whatever way looks most delicious to you.
5. Then top with mint and finish with a sexy drizzle of honey.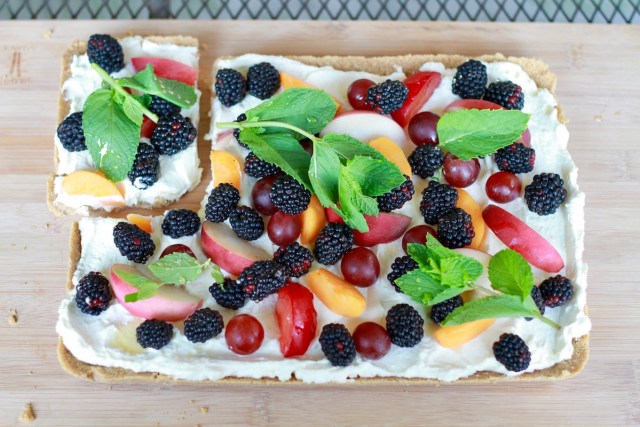 6. Chill for at least 10 minutes in the freezer, or refrigerate until you're ready to serve.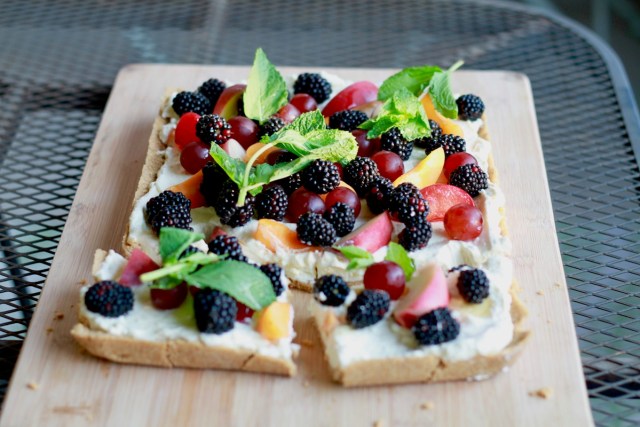 Then enjoy that summertime goodness!