As much as I would love to continue sharing about my travels and what I've been up to this week, that programming is delayed due to the fact that House Speaker, Nancy Pelosi, has finally announced a formal impeachment inquiry into Donald Trump. To be honest my optimism isn't yet enough to hold my breath about, but I still see this as cause for celebration. I think it goes without saying that being a black queer woman living under this administration is painful and anxiety inducing beyond belief. I work far too hard to make it through each day and find a way to look forward to the next. I have asked the universe for this every single day for years and finally, we have an inquiry announcement, so I have to celebrate.
Today that celebration comes in the form of an apple, peach and cheddar appetizer. Since it's only the beginning of this process it feels right to start with something small and light enough to be eaten without much thought while laser focused on whatever unbelievable spectacles are bound to cross our televisions in the months ahead, but sophisticated enough to feel fancy in a slightly hopeful and smugly celebratory way. I hope that as time goes on I have reason to bring out the truly magnificent recipes i've been dreaming up in anticipation, but for now we start with a snack.
I first put together this cheese and cracker combo when my best friends Nathalie and Constance were visiting me in LA. Despite their warnings I totally misjudged how soon we would need dinner after a day at the beach and somehow like a fool had no snacks in my kitchen to tide us over while dinner got made. I know the terror that is both of my besties being hangry at the same time so I stood in the kitchen starting at the random assortment of things I had on hand sweating and egging my brain to come up with something, ANYTHING that would save me. Just before I started to fear it was too late and set my mind to plotting the best way to discreetly lock myself in my room without them noticing to let them figure it out Hunger Games-style, the recipe creation powers that be dropped this idea in my head.
I didn't even try to make it in kitchen cause I knew it'd be a better look for me if they could see the progress and promise of the food up close in real time, so I grabbed my cutting board, knife and all the ingredients, then set them in my lap and sliced and assembled these saving grace fruit and cheese crackers right there on the couch while they watched in silence. It was intrigued and anticipatory silence though, so I knew I was good. I layered the sharp, creamy, biting cheese with juicy peach and crisp apple slices, drizzled them lightly with a bright citrusy olive oil, and sweet floral honey, then finished with a little thyme for fresh earthiness and flaked sea salt to really bring out all the flavors.
When I'd finished assembling them, each of my friends grabbed one, took a bite and started nodding their heads up and down in unison. Then they informed me that I'd just barely managed to avoid the thunder and I took a breath for the first time that hour. I feel like if these came through for me in the midst of that storm, they can weather me, and you, through the arrival of this one as well. Or they can just be a really delicious, well-rounded appetizer to set out at parties with no stress or pressure involved whatsoever cause they're so easy to make. Your choice! I know not all of us live for the kitchen drama. These pair very nicely with dry ciders and sparkling wines, and honestly make a great low-effort dinner if you're part of the cheese board as a meal club. You can also easily swap out one or both fruits for others, and try rosemary or another herb instead but the peach and the thyme (cause it's about time! so sorry, I had to) keep it on theme. Whatever you choose, they'll be there for you when hunger strikes.
Ingredients:
10 multigrain or your favorite unflavored crackers
4 oz sharp cheddar cheese, sliced into 10 pieces
1/2 of a just ripe peach, thinly sliced
1/2 an apple, thinly sliced (I like gala or fuji here)
2 sprigs fresh thyme
1 tablespoon extra virgin olive oil
1 tablespoon honey
1/2 teaspoon flaked sea salt (I use Maldon)
Makes 10 single servings*
*Note: This is truly less of a "recipe" and more of a "make however many crackers you want and eyeball the toppings" situation, but for the sake of my loves out there who need a recipe, you can start with these amounts and adjust up or down as you see fit.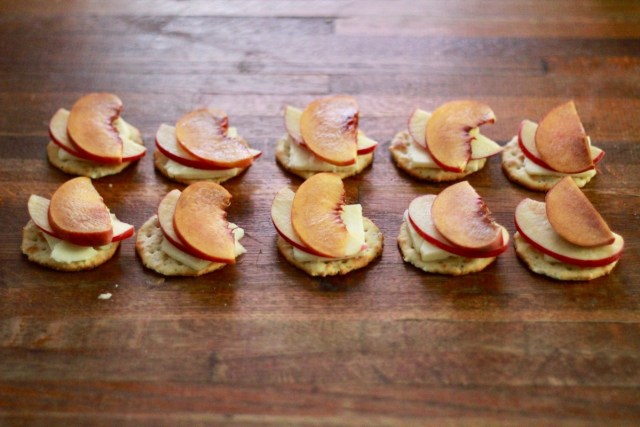 Stack the cheddar, apple and pear slices on the crackers.
Drizzle with olive oil and honey.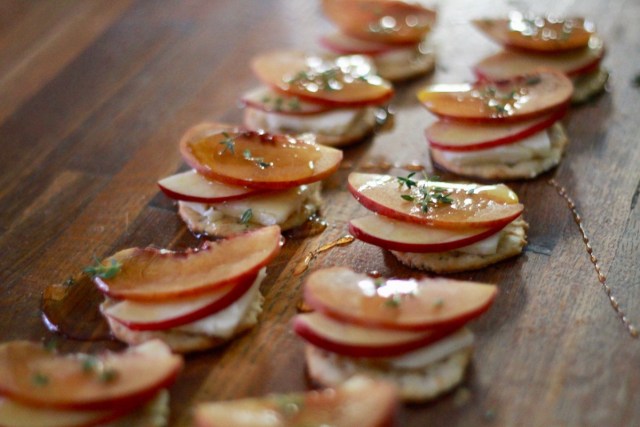 Finish with a sprinkle of fresh thyme, and a small pinch of sea salt. I used more than necessary for the sake of the photo, it should be just a touch of salt on top!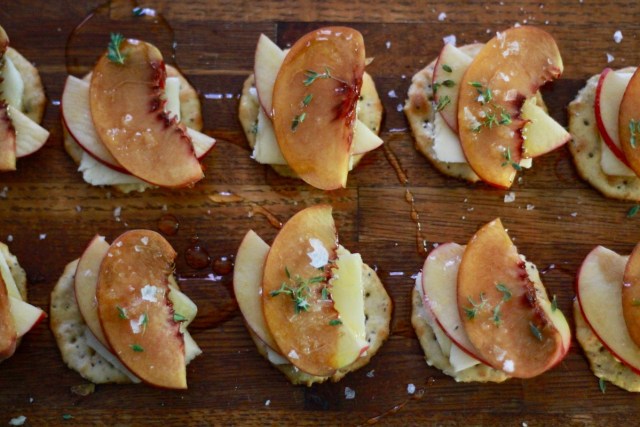 Happy eating, and (hopefully) happy impeachment season.