Fall TV is upon us, welcome! This week, Riese and Drew watched and reviewed the Transparent musical finale. Drew also wrote a beautiful essay about how Transparent changed her life (and TV) forever. Valerie looked back on how Killjoys became one of the queerest shows on TV. Lisa A.C. Ryan ranked every Bob's Burgers character by bisexuality. And Riese and Carly released another episode of To L and Back into the wild.
Notes from the TV Team: 
+ Surprisingly queer Canadian comedy Letterkenny has dropped a new trailer for its upcoming seventh season, dropping on Hulu October 14th. — Valerie Anne
+ 9-1-1 returned for its third season this week and while there wasn't a huge storyline this week for our hero, Hen Wilson, we did learn one bit of news: Hen and her wife, Karen, are trying for another child. They've picked an anonymous donor and Karen's undergoing IVF treatments that leaves her overly emotional. — Natalie
+ In semi-related news: 9-1-1 is getting a spin-off and it will feature the first trans man as a series regular in TV history. You might recognize the actor, Brian Michael Smith, from his stint on Queen Sugar or from his upcoming role as Bette Porter's campaign staffer in The L Word: Generation Q. — Natalie
+ As you may recall, in last season's Grey's Anatomy finale we found out that Dr. Amelia Shepherd Maybe Bisexual has been harboring a long-standing crush on Dr. Orgasm herself, Carina DeLuca. Well Dr. Orgasm was back in yesterday's season premiere and we were —> this close <— to having a threesome with Carina, Amelia, and Link — until it turned out that Amelia's probably pregnant and the mood was ruined! I've never been more angry at a fetus in my entire life. — Carmen
---
Written by Drew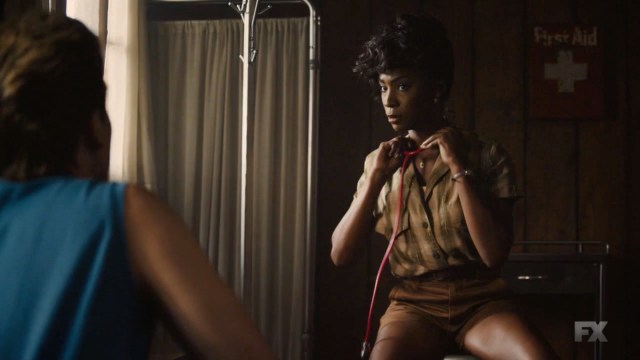 The new season of American Horror Story, subtitled "1984," begins with two girls kissing. But this promising beginning is quickly undermined by a man popping his head out from under the sheets. We're watching a threesome, coaxed along by a teenage boy.
The year is 1970. The place is Camp Redwood. The night is that of the bloodiest summer camp massacre of all time. The boy, the girl, and the other girl are brutally murdered along with the rest of the cabin, their ears sliced off as tokens.
The announcement that this season was going to take on slasher movies, specifically summer camp slasher movies, was especially interesting paired with the casting of Angelica Ross. The Sleepaway Camp film series is notorious for its killer trans woman twist. And while possible that Ross was cast simply because Angelica Ross is a phenomenal actor, it seemed likely the show was writing back to this comically transphobic series.
Ross' Nurse Rita is a newcomer to Camp Redwood. Our main group of teens are first time counselors as well. It's 1984 and the camp is having a grand reopening. Margaret Booth (Leslie Grossman), a Jesus-loving survivor of the 1970 massacre, is determined to face her fears and turn the camp back into a safe haven for impressionable teens. Or at least that's what she says.
Two episodes in there's already A LOT going on. New to LA, and to the counselor friend group, Brooke (Emma Roberts) has been attacked in her home by Richard Ramirez (Zach Villa), the Nightstalker, and shared her past trauma of her fiancé shooting up her wedding. The teens hit a hiker on their way up to camp who's probably a ghost. And the killer from 1970, Mr. Jingles (John Carroll Lynch), has escaped from prison.
Oh and Montana Duke, the big-haired, sexually free, wild child of the group kissed Brooke despite earlier insisting that she's "not a lez, just friendly." Montana is played by Billie Lourd who is as magnetic here as she was in Booksmart.
I'm excited to see amidst all the American Horror Story insanity how the show handles Montana's sexuality, and where they'll go with Nurse Rita. One thing is for certain: Most of these teens will not be making it out alive.
---
Why Women Kill 107: "I Found Out What the Secret to Murder is: Friends. Best Friends"
Last week, we started to see Eli's once dormant addiction spring back to life — as he desperately clung to Jade's Adderall — but this week, Eli's addiction has re-surged to the point that he's seeking out his old drug dealer for something a bit stronger. He scores a new stash from the neighborhood Nancy Botwin and takes a bump before returning home. As soon as he walks in the door, Jade spots him showing the telltale signs of a snorter, and calls Eli on it. He admits to taking stronger drugs but before he can explain further, Taylor steps into the room with a proposal for them all: a polyamory retreat. Taylor thinks her jealousy over Jade and Eli's newfound closeness is byproduct of not knowing how to navigate polyamorous relationships and hopes the expert-led retreat — which is definitely not an orgy — will offer some insight.
On the drive to the retreat, Eli feigns nervousness over his script's sale and pulls over to call his agent…but really, he's just jittery, waiting for his next hit which he takes as soon as Jade and Taylor are out of sight. A truck's horn startles him, though, so instead of getting his second bump, he scatters his coke all over the trunk. Before he can clean up the mess, Taylor and Jade are back from their trip to the rest stop mini mart and Eli slams the trunk closed to cover his tracks.
When the throuple arrives at the retreat, they're greeted by an extra level of security — the vice president is speaking to Republican donors at the same resort — and Eli fears what'll happen when the Secret Service opens his trunk. He's forced to pull the most inartful three point turn in history to get them out of the security line and, understandably, his erratic driving freaks both women out. But when Taylor spots blood dripping from Eli's nose, she knows what's up and asks him to stop the car. She steps out and inspects the trunk which confirms her worst fear: Eli is using again. Taylor's understandably livid — that sort of livid where someone wants to both hear an explanation but also not hear another word from you ever again — and Jade takes advantage of the moment by sliding her hand into Taylor's.
As soon as they walk into their home, Taylor takes Eli's phone and wallet and plans for him to leave for rehab first thing in the morning. But after Eli hears that his script has sold for $1.2 million, he's feeling less invested in his sobriety than he was before. Taylor gives him an ultimatum — rehab or she walks out the door — and Eli stands firm in his decision not to go rehab. Taylor prepares to head out, expecting Jade to accompany her, but she sticks by Eli's side. True to her word, Taylor spits a "fuck you" at both of them and leaves.
Jade's true to her word too: as promised, she helps Eli…helps him do another line of coke.
---
Viola Davis is a beast.
She has performed on the Broadway stage, on screens both big and small…and she astounds each and everytime. To list all her accolades would take more words than I am permitted — though Heather would, no doubt, allow it — but ultimately it boils down to one indisputable fact: Viola Davis is one of the greatest acting talents of our lifetimes.
The writers of HTGAWM have never lost sight of that fact. They terrorize Annalise Keating each and every season just to see Viola Davis spin straw into gold. It doesn't matter what nonsensical batshit crazy story they concoct, Viola Davis will emote the hell out of it, salvaging the story when no one else could. That's the way it's been through five seasons and that's the way HTGAWM's sixth and final season begins as well; and, just like in previous seasons, the outcome remains the same: a tour de force performance by Viola Davis.
Stunned by the news that Laurel and Christopher have disappeared and that Emmett Crawford's been murdered, Annalise retreated to the nearest bar. But when the burn of alcohol isn't enough to dull the pain, she turns to cocaine…taking bumps of the drug off a stranger in the bar bathroom until she's so wasted, she collapses. When Annalise awakens in the hospital, she recognizes it as her rock bottom and, finally, asks Bonnie to get her some help.
Rehab at the Vista View goes about how you'd expect it, "Karen" is as emotionally guarded as ever and unwilling to engage with any of the therapy. While Karen is quick to toss barbs at her fellow addicts, she reserves the most cruelty for herself, as is Annalise's wont. But it's not until her perky roommate Sally shows her some kindness — an embrace of Annalise at her most honest without expecting anything in return — that "Karen" has her a breakthrough. She has another in individual therapy — her problem isn't that she's selfish, it's that she hasn't been selfish enough — and then alone in her room, she's finally able to confront the worst about herself.
You're no failure. You're not trash. You're not cold. You're not a bitch! You're not ugly! You're not disgusting! You're not a slut! You're not dirty! You're not spoiled! You're not a monster! You deserve to be loved and touched and felt! You deserve to be free! I want out! I want out! Forgive yourself, Annalise! Forgive yourself, Annalise! 'Cause I forgive you! I forgive you! I forgive you! I forgive you! I forgive you! I forgive you! I forgive you! I forgive you!
Emoting. The. Hell. Out. Of. It.
A week in rehab cures her…JK, JK…Annalise needs to get back before the disciplinary committee realizes she was gone. She invites the interns — now down to just Michaela, Asher, Connor and Oliver — to her apartment and encourages them to put the ghosts of the past behind them. Annalise reenacts the exercise from therapy — each of the beating their demons out of her pillows with a fire poker — and reminding them that they're good people. She could've just given them all the new Lizzo album but I guess this works too..
…Or maybe not. Because, as is HTGAWM's wont, the episode ends with a murder and this time, it's Annalise's, seemingly bludgeoned to death by the aforementioned fire poker. RIP, Annalise Keating.
(JK, JK…I'm hoping beyond hope that this is a red herring…but we already know Pete Nowalk hates me so maybe this is just one last twist of the knife?)
Legal Briefs
* Yes, I'm disappointed that Michaela's having sex with someone and it's not Tegan (or Laurel) but this week's hook-ups, including intimacy between Connor and Oliver, feels like a return to the steaminess of season one.
* Speaking of Tegan, she steps into the role of Managing Partner with a little too much glee given the circumstances of Emmett's death, right? Nate's suspicious of Tegan's involvement and now so am I? Can they at least give us the Tegan/Annalise hookup I've been hoping for — because that phone call to Annalise definitely suggested Tegan's thirst is real — before they reveal her to be behind these crazy machinations?
* Everyone knows Annalise is bisexual now, I guess?