I can say two things with total certainty: I'm queer, and I am a "Bob's Burgerswp_postsexpert. Truly, I watch "Bob'swp_postson a loop; it's unfailingly consistent, down to callbacks to prior episodes in its background illustrations, which makes it the perfect panacea for the craziness of the world. My zeal for "Bob's Burgerswp_postswas part of the fabric of my life well before my bisexuality was — but here they are, converging. I've studied the show, collected the evidence, and now I'm ready to tell you which "Bob's Burgerswp_postscharacters are bisexual as fuck.
Bob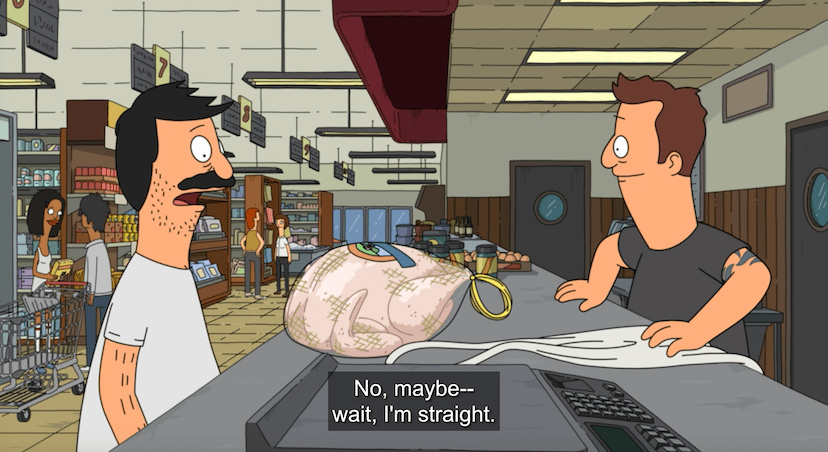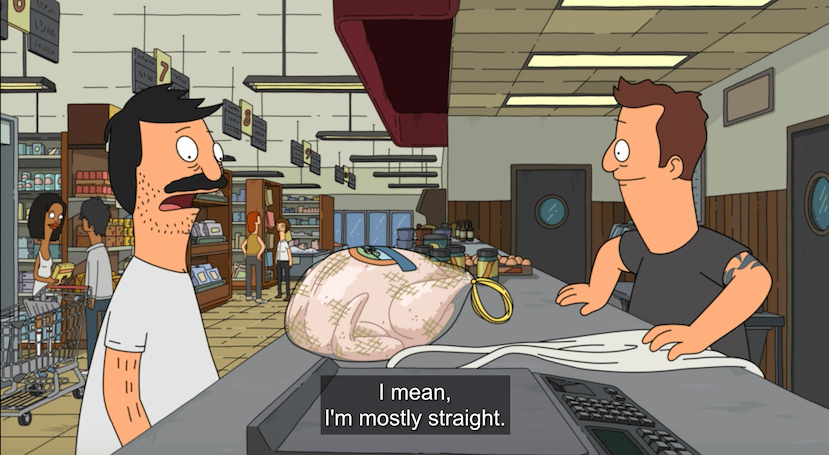 It's easy to make the case that the show's titular, unlucky burger chef is bi, since Bob's sexuality is basically canon. It starts in season four's "Turkey in a Canwp_postswhen Bob's Thanksgiving turkeys keep getting ruined; after repeat trips to the grocery store for a new turkey, Bob attracts the attention of a guy behind the deli counter who's convinced Bob has actually returned so many days in a row because he's working up the nerve to flirt.
"I'm straight,wp_postsBob insists. "I mean, I'm mostly straight.wp_postsIn season nine's Halloween episode, Bob asserts that the town's new, hot handyman is objectively attractive but isn't his "type.wp_postsSounds a lot like when I watched the first season of Orange is the New Black. Just saying.
I'd normally call it a cop-out for a show to allude again and again to a character being queer without ever making it part of the plot. I'd normally be pretty annoyed about the representation being off-screen only. (There are three things you should never ask my opinion on at a party, and one of them is the exists-only-in-my-mind — and probably on fanfiction.net — "Full Housewp_postssequel/"Fuller Housewp_postsprequel that explores the must've-happened doomed love between confirmed bisexual Stephanie Tanner and her Faith-Lehane knock-off friend, Gia. But anyway…)
I'll make an exception for Bob. From the show's early days, we know Bob has two great loves: his wife Linda, and burgers. Still, I'm holding out hope that the writers will use their talent for flashbacks to show us Bob's ex-boyfriend. In a show with nearly perfect continuity and a history of turning one-off bits into full-on storylines in subsequent episodes, I don't think it's far-fetched to hope a couple of jokes establishing Bob's bisexuality pan out into something meatier (pun intended).
Zeke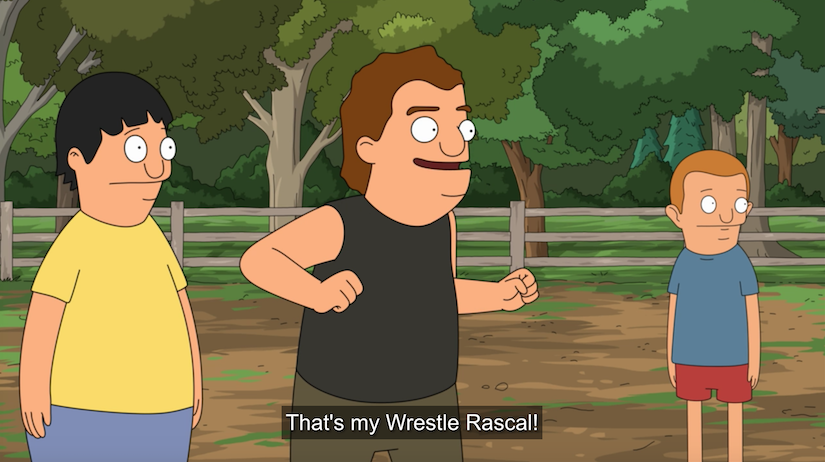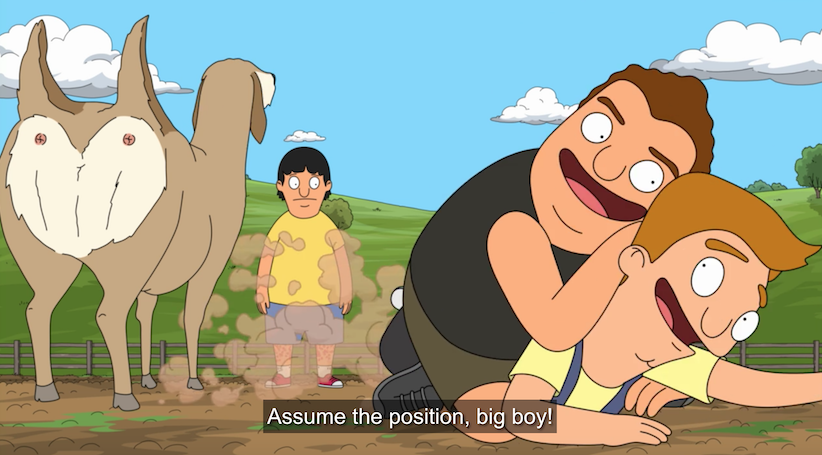 Zeke is going to be one of those bi adults who looks back on their childhood and realizes that when they weren't clumsily pursuing someone of a different gender, so much of what they did was very, very gay.
So, all of us.
Tina Belcher's super-southern classmate is allegedly obsessed with wrestling, but to me, it looks like grappling is a guise that gets him up-close and personal with his best friend Jimmy Jr. Like when you really want to french braid your best friend's hair.
Not wrestling-related, but please observe how unfailingly, affectionately supportive Zeke is of Jimmy Jr.'s terrible dancing. Then try to tell me that's not dancing only a wannabe-boyfriend could love.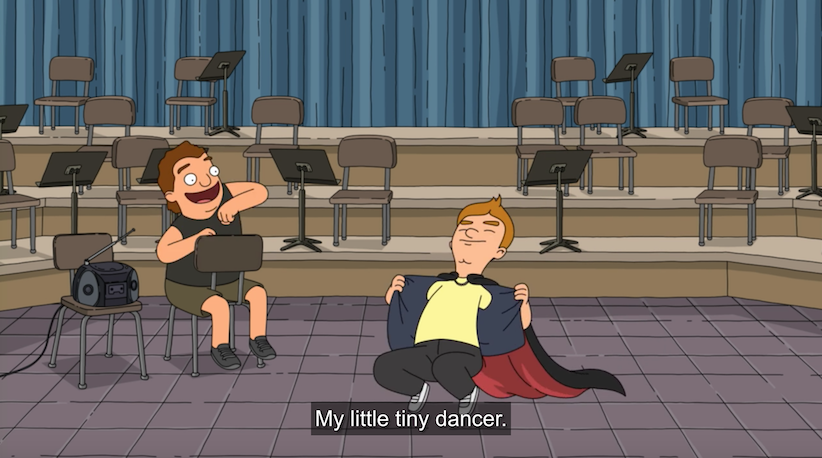 Aunt Gayle
Linda's sister Gayle owns a crap-ton of cats, writes poetry, and wears ugly-cute slip-on shoes.
Enough said, right? Wrong.
There's this amazing line, which embodies dating as a bi woman who doesn't yet realize she connects best with women: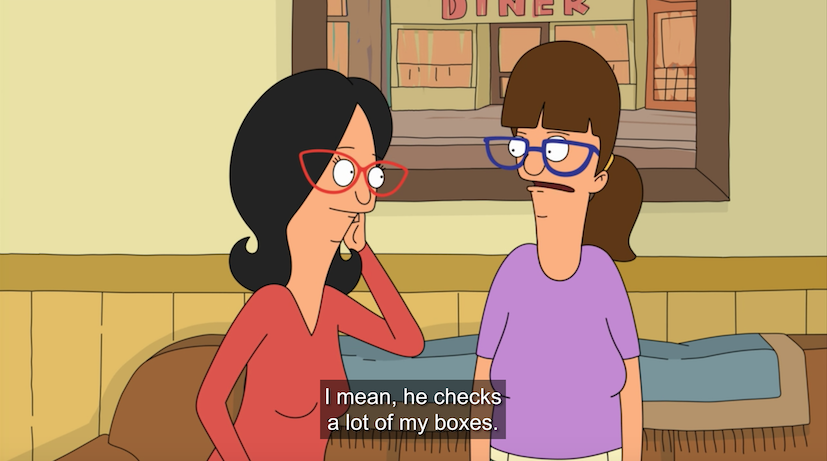 Finally, in the same episode where Bob professes to be "mostly straight,wp_postsLinda tells Bob that her sister will be spending Thanksgiving at their apartment because there'd been a fire at Gayle's place. How'd Gayle start a blaze? Well, it involves a prophalyctic I've only ever heard discussed among queer women (and one trying-to-be-edgy son of a dental professional).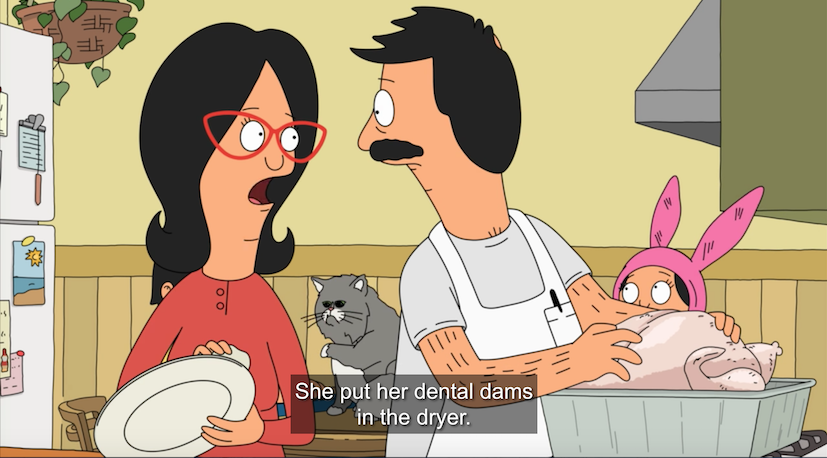 Nat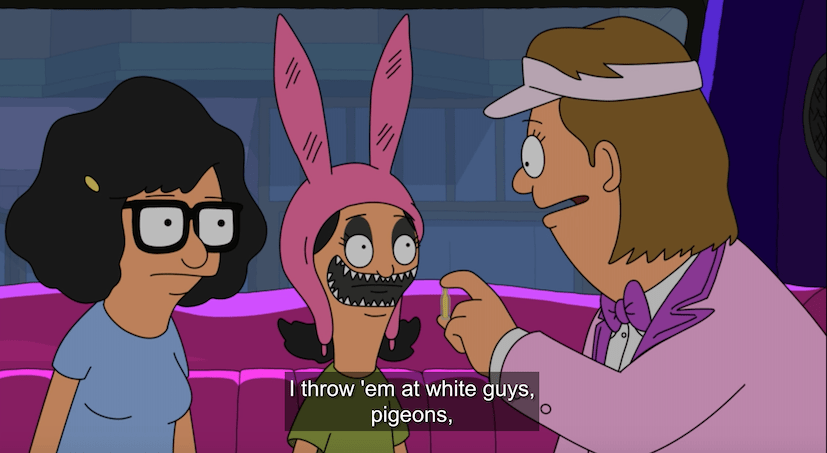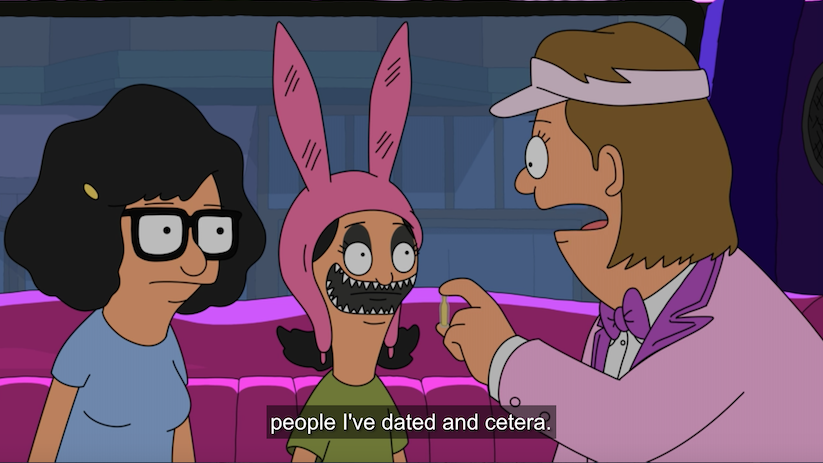 Nat, the be-suited, masc-of-center limo driver from season eight's "V for Valentine-dettawp_postsis clearly a queer woman. If you need proof beyond her visor and matching suit, she also keeps stink bombs in her limo's glove compartment so she can work out some really specific (but not gender-specific) aggression.
She says "people,wp_postspeople!
Nat can sit next to me forever, too.
Mandy
Aside from Bob, Mandy is the show's most obvious-but-unconfirmed queer character. We meet Mandy in season nine's "Better Off Sled,wp_postswhen the high school softball star is called in to save the Belcher kids and their friends from the teens who've been pelting the group with snowballs.
Mandy strides toward the group with the confidence of Xena, Warrior Princess; Louise immediately compares her to Brienne of Tarth, a character who I'm convinced is gay even though I've been told otherwise, repeatedly.
Mandy pummels the bullies with snowballs and then sits on their fort like the avenging (gay)ngel she is:
When Mandy's original onslaught of snowballs isn't enough to keep the boys from terrifying the younger kids, Mandy returns with reinforcements — her softball teammates.
And the girls' basketball team.
AND the girls' lacrosse team.
No one can tell me Mandy won't grow up to play professional softball and win the hearts of adoring queer women the world over; it won't matter whether there's a dude cheering for her from the sidelines, or if she finds the Sue Bird to her Megan Rapinoe.
As "Bob's Burgerswp_postsheads into its tenth season, I can only hope that it'll come back … well … Linda said it best.