I spent the majority of last week at a body positive retreat on the coast of Oregon channeling my best "How Stella Got Her Groove Back" vibes. It was an incredible and much needed escape. We stayed in a gorgeous oceanside home that has a GIANT kitchen with two dishwashers and a clear view of the beach. Now I know what heaven looks like!  When I saw how impressive and well stocked the kitchen was I made a meal plan for the week to make the most of it and made so many incredible things! Like waffles topped with Oregon marionberry jam for breakfast, garlicky chicken thighs with arugula salad for lunch, and herbed mushroom and goat cheese pasta for dinner. I was very, very happy with my meals. I cooked and ate so well, without judgement, every day. It was deliciously liberating and I was almost completely satisfied but there was one thing I found myself wanting every morning that sadly I didn't plan to make: coffee cake.
Something about being near the ocean makes me an early riser. As soon as the sun filters in I'm up and in search of the hazy damp air and soft morning waves . It's so soothing. So, in Oregon I'd be up at 6:00am, make coffee by 6:30, and immediately wish I had a piece of coffee cake. It's the perfect thing when it's early enough to want a morning snack but too early to think about making an actual meal yet. All I wanted was a crumbly topped buttery cinnamon swirled cake in my hand while I journaled and got all in my feelings for the day. There's nothing like writing with coffee and cake! It's how I do my best work. It just didn't seem worth it to go back out and buy a whole basket of baking supplies to make one thing when i'd be leaving in a few days though, so instead I put my cravings to work and dreamt up this coffee cake.
My favorite coffee cakes always have a little fresh fruit, a ton of cinnamon, and a nice crunch on top. I went with apples cause they're especially nice here: soft, warm, sweet little gifts — but blueberries, blackberries, and rhubarb would all be winners in this as well. Two layers of cinnamon sugar ('cause you can never have enough!) swirled through a moist, tender cake, thanks to the sour cream. Plus, the crunch of toasted walnuts will hopefully bring you back to this recipe again and again. If I saw this cake at a potluck brunch, I would absolutely choose it first. This would be a solid Mother's Day breakfast plan if you're celebrating tomorrow! Otherwise make it anytime but especially for beachside mornings, slow weekends at home, and any day when waking up queer in this world could use a little sweetness.
Ingredients:
1 cup (200g) brown sugar
1 teaspoon ground cinnamon
2 1/2 cups (300g) all purpose flour
2 teaspoons baking powder
1/2 teaspoon baking soda
1/2 teaspoon salt
1/2 cup (1 stick/4 oz/115g) unsalted butter, melted (canola oil works too!)
1 cup (200g) granulated sugar
2 large eggs
1 cup (243g) sour cream
1 teaspoon vanilla extract
1 medium apple (about 1/2 cup), diced
1 cup (113g) chopped walnuts
4 tablespoons (1/4 cup/2oz/58g)  salted butter, melted
1. Preheat oven to 350° F. Oil or butter a 9×13 baking dish and set aside. Whisk the brown sugar and cinnamon together in a small bowl and set aside as well.
2. In a medium bowl, whisk together the flour, baking powder, baking soda and salt. Next combine the butter or oil, sugar, eggs, sour cream, and vanilla extract and whisk together until smooth and fully incorporated. Finally, pour the dry ingredients into the wet and stir just until there's no dry spots of flour left in the batter.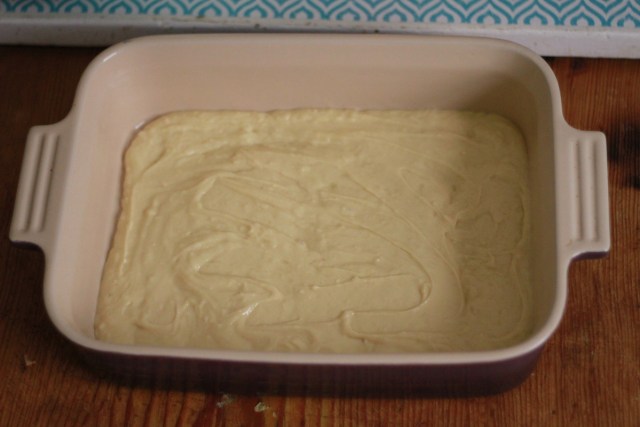 3. Pour half of the batter into your prepared baking pan and spread it out to the edges to fill the pan.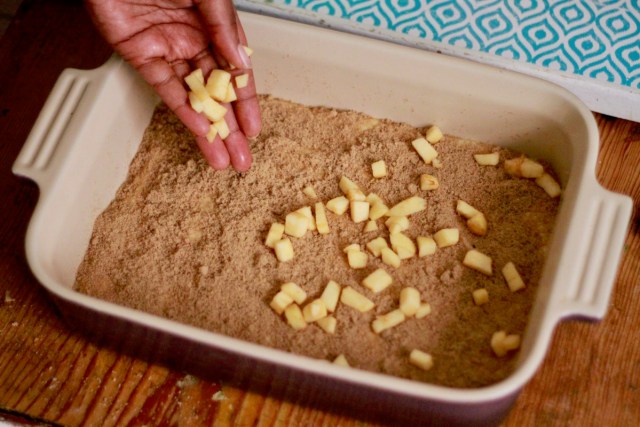 4. Sprinkle half of the cinnamon sugar mixture onto the first layer of batter, then top with the diced apples.
5. Pour the other half of the batter on top of the apples and spread it out to the edges as well. It might be a little difficult given the thickness of the batter, but you can do it and there IS enough I promise! Now sprinkle the top layer of batter with the remaining cinnamon sugar mixture and the chopped walnuts, and drizzle the melted salted butter all over everythang.
6. Place in the oven and bake for 35-45 minutes, just until a cake tester comes out clean, and let the cake cool for at least 10 minutes before cutting!!!
7. It's a super light, delicate cake so if you cut it before it's time, it may fall apart on you.
8. Honestly though, it's delicious when it crumbles too.
9. Best served with a warm cup of coffee.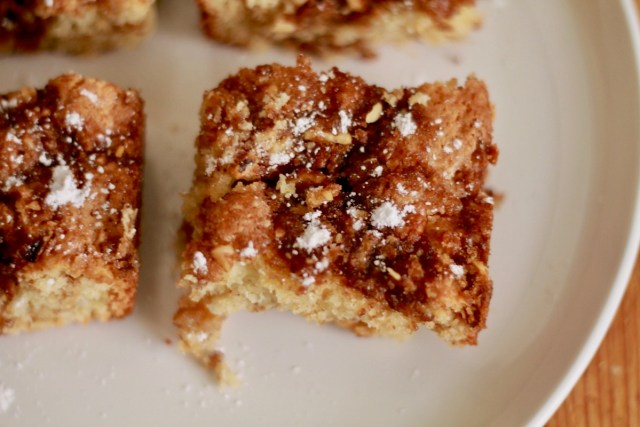 10. Or maybe dusted with powdered sugar with fresh berries on the side.