The Dyke Kitchen is a bi-weekly series about how queerness, identity, culture and love are expressed through food and cooking.
---
I don't know what your COVID lifestyle has been like, but in mine, it's been extremely easy to lose track of time. So when I woke up at noon on a Saturday and wanted something with the aura of breakfast but that was in fact a lunch food, this is what I came up with: a savory pancake with scallions, preserved limes and sesame seeds, with a fresh cabbage slaw to crunch it up.
I do want to put a wikipedia-style disambiguation that these are not the actual Chinese style scallion pancakes with the flaky, pastry-ish, chewy texture, which are also amazing. For my first meal of the day, I'm not up to that kind of involved process. If I'm being honest, as a person whose joy is generally exponentially increased by sharing it with other people, so not having live company with which to share my food has been underwhelming of late. That said, I do love to impress myself, and the easiest way to do that is to take something simple, like a pancake, and give it a makeover, so I can fall in love with it anew.
This is a regular-ass breakfast pancake that I tinkered with to become a savory Asian-ish snack paired with a crunchy, acidic Asian-ish cabbage slaw, inspired by the curtido that is generally served with pupusas. It worked, by the way, I was impressed.
The pancakes are medium oniony so that even onion wimps can hit it in the morning, the sesame seeds are crunchy and fun, and if you saw my last post on preserving lemons and limes, this is a great application — it's a 4th generation lime flavor, unmistakably limey, but also many other flavors you didn't expect. I'll wax poetic about the slaw dressing down below, just know that I made more as soon as I tasted it.
How To Make The Cabbage Slaw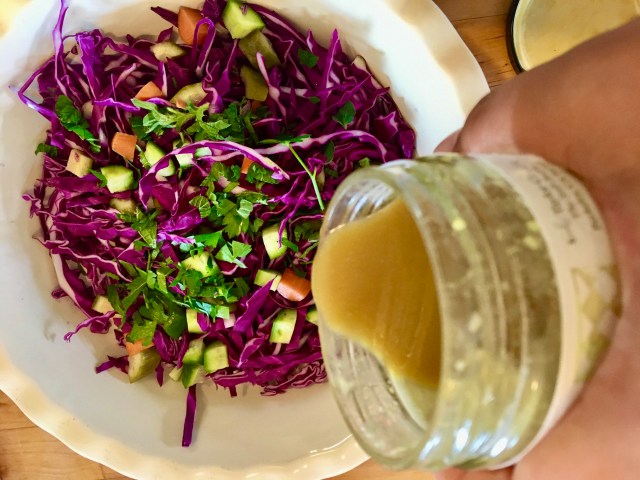 This dressing is really good because it has the tang of the rice vinegar, but it isn't sharp in a harsh way. Additionally, the tahini and mustard give it a silky texture, while also adding a lot of flavor, and microplaning the ginger and garlic make them blend pretty seamlessly into the liquid. Make the slaw before the pancakes, so it can take its time bathing in the dressing and getting loosened up by the acid while you pan the cakes. Plus then you can dip your pinky in the dressing as you go along to remind yourself of what's to come.
Ingredients
For the slaw:
Half a head of red cabbage (or any amount of your favorite cabbage, really)
Pickled carrots and cucumbers (or even fresh ones, but my Corona fridge doesn't have a ton of fresh veg right now)
A handful of herbs (I grabbed some mint, oregano, and parsley from my porch pot)
For the dressing:
Olive oil
Rice vinegar
Tahini
Soy sauce
Dijon mustard
Fresh ginger (in our time, powdered can work too)
Fresh garlic (again, powdered can work too)
Directions
Slice the cabbage as thinly as you can and add it to a bowl (I put mine in a pie plate so that it would lay flatter and the dressing would be more evenly distributed).
Cut up your pickles or vegetables into chunks and then add them to the same bowl.
Slice up your herbs and sprinkle them over the top.
Get out a jar or a sealable container that you can shake.
Use a microplane or another grater to grate about a teaspoon of fresh ginger in to the jar.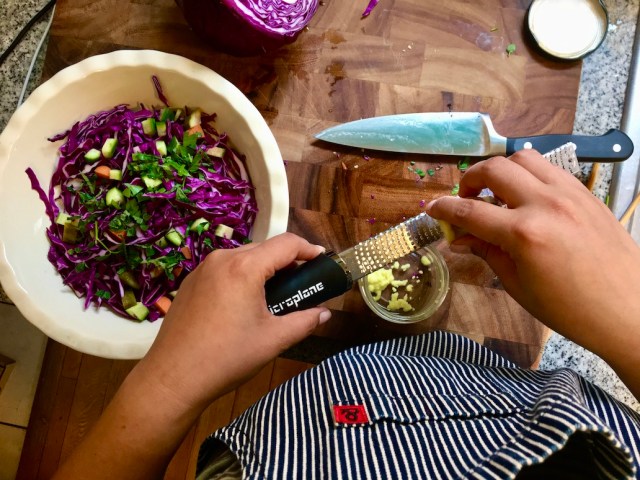 Grate a clove of fresh garlic into the jar.
Pour in about ½ a cup of olive oil.
Add about a ½ a cup of rice vinegar.
Drop in about a tablespoon of tahini.
Drop in a quarter-sized dallop of mustard (this does the double work of binding the dressing so it doesn't separate, plus gives you some mustard bite).
Add a generous teaspoon of soy sauce.
Put the lid on and shake it much harder than Polaroid picture, until it's combined.
Pour the whole thing over your cabbage and get it all covered.
How To Make the Pancakes
You could potentially put anything you want in these pancakes. I like these ingredients because they impart a strong enough flavor through the cooking, that you do get something more than just a strange pancake with the La Croix sensation of the ghost of scallions and sesame.
Ingredients
(this list made 8 small/medium pancakes)
1 cup flour
1 teaspoon baking powder
1 tablespoon of furikake, I went shiso flavor
1/2 teaspoon salt
2 eggs
2 tablespoons butter
2 tablespoons sesame seeds
1 cup of milk (I have oatmilk in my fridge right now and that worked totally fine)
1-2 scallions aka green onions minced
1 quarter of a preserved lime minced
Directions
Mix your flour, baking powder, furikake and salt together in a medium mixing bowl.
Beat the eggs up and add them to the dry ingredients and mix it up a little.
Heat up the butter and sesame seeds together so the butter melts and it gets the sesame flavor into it! You can do this in a pan and brown the butter a little too (just don't burn the sesame seeds) or in the microwave.
Let the liquified butter cool a little so it's not piping hot, then add it to your batter, and mix it up so it's all incorporated.
Toss in your preserved lime and scallions and mix it up again.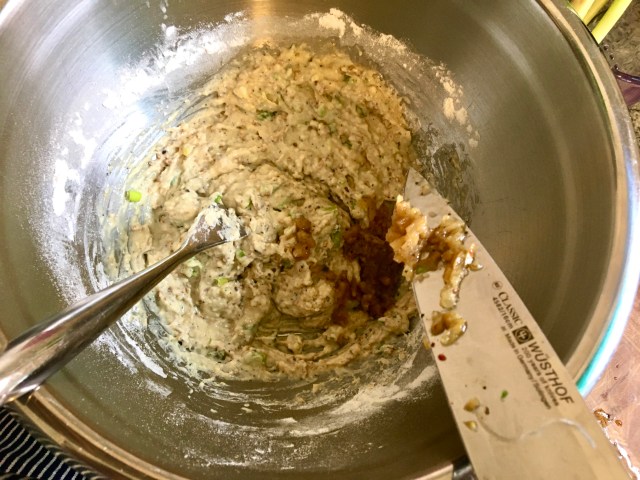 You're ready to cook them! I did mine in a seasoned cast iron pan in coconut oil, which worked out well, but you can also do them however you normally do pancakes. I put a spoonful of batter into the pan and flip them once they start getting bubbles all around the edges, probably not for more than 3-4 minutes total.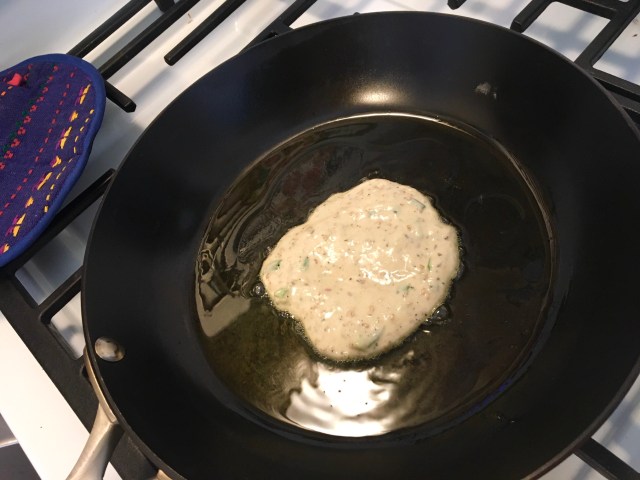 When your pancakes are done, put them on a plate and add the slaw! Take a bite with both and revel in the contrast and confluence: the soft with the crunch, the rich pancake with the sharpness of the slaw, the sesame with the ginger. I hope you find it as satisfying and comforting, as comforting as we can manage right now.