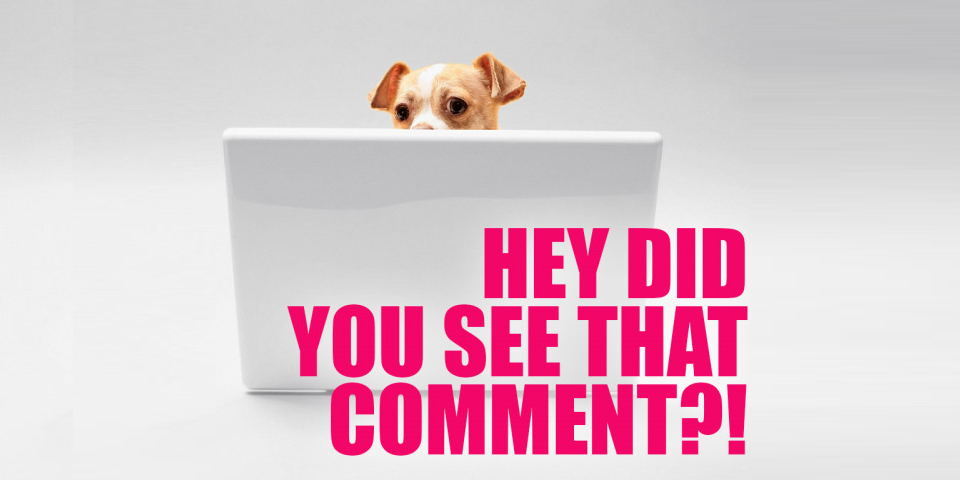 Hi, pals! Are you watching Batwoman? You don't have to be, of course. But I watched the first couple of episodes the other night and like have you SEEN how gay she is? Kate Kane is the kind of butch person that makes me yelp a little yelp, out loud, when I see them clomp across my television screen in their Docs. And Kate Kane in leather and flannel rescuing her ex-girlfriend? IT'S A LOT.
Sometimes I wonder – how would things have been different, if I'd seen a superhero like that on a teen show in the year 2000, when I was in high school? Who would I have become? What would my life have been?
I asked this, out loud, on Twitter, and, well, someone answered. (Shared with permission!)
I'm fifteen. We'll see. Assuming it's gonna rule.💖

— mark!!☆🏳️‍🌈 (@for_etheria) October 16, 2019
IDK I JUST FEEL LIKE MAYBE WE'RE ALL GONNA BE OKAY.
So! This week, Brie Larson asked "how do you top lesbians?" Tessa Thompson had some suggestions for her.
Need a queer Halloween couple's (or throuple's) costume? Malic's got you covered.
Abeni has launched a new series I am SO excited about with an article I absolutely loved: Trans Radiance: What's in a Name?
Bollywood finally made a lesbian romcom – but Nirali was underwhelmed.
I just keep thinking about this, from Rachel.
Drew wrote about The Hunger for the latest installation of Monsters and Mommis.
Natalie is loving the moments of authenticity in All American.
Molly did a deep dive into the gems and rocks of Steven Universe. This is EXTREMELY up my alley.
And then there were your comments!
---
On Sunday Funday Is Helping Tessa Thompson Teach Brie Larson How to Top:
The Lactose Tolerance Award to Chandra: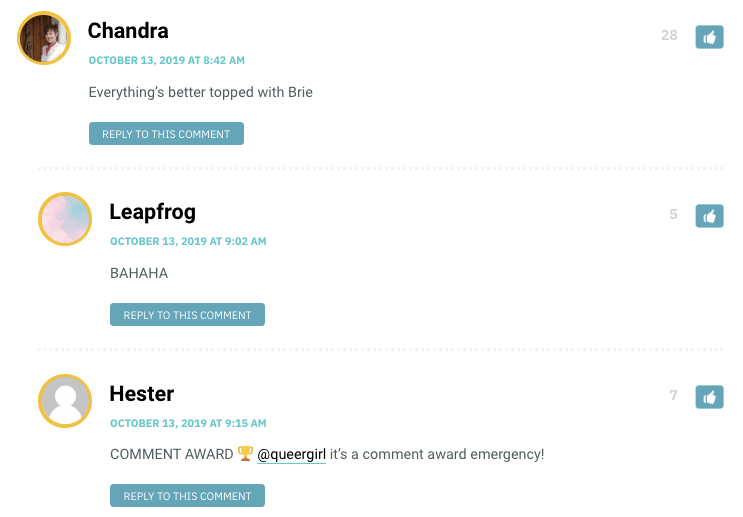 On 10 Halloween Costume Ideas For Queer Couples and Throuples:
The Stewing Stews Award to Sally and Lisa: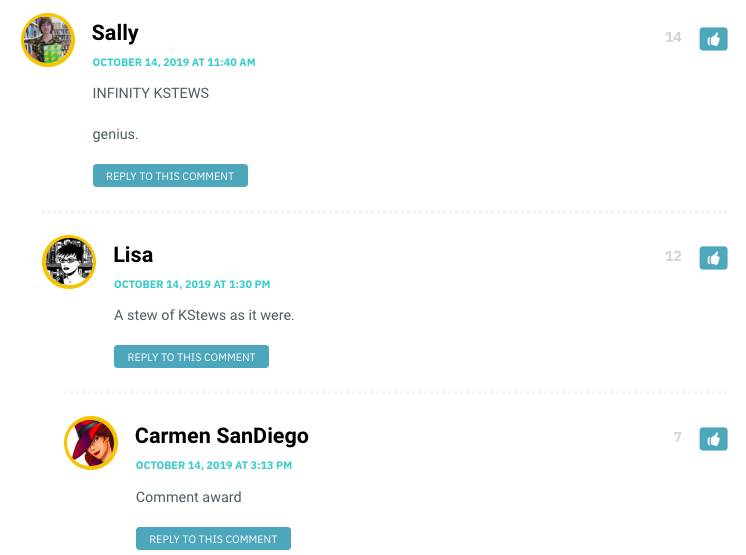 On Monsters & Mommis: "The Hunger" Is All About Fuckbois:
The New Merch? Award to Kayla, Lex, and of course, Drew:
And the Quelle Surprise Award to Swingebreech:

On No Filter: Samira Wiley Held a Baby While Wearing a Slightly Unbuttoned Button-Up Shirt and Nobody Told Me???
The Personals Award to Caitlin:
On "Steven Universe" Is Even Cooler When You Apply Some IRL Gay Rock Knowledge:
The Amedot Award to April A.:

On Season of the Witch: 25 Books on Witches, Witchcraft and Wonder:
The Initiated Award to Reneice Charles:

And on 15 Horny Songs from My Youth I Thought I'd Have Sex to by Now:
The Love That Journey For You Award to Lex:
And the Sticky Situation Award to Lisa:
---
See a comment that needs to be here? Let me know! I'm [at] queergirl on Autostraddle and [at] queergirlblogs on Twitter.