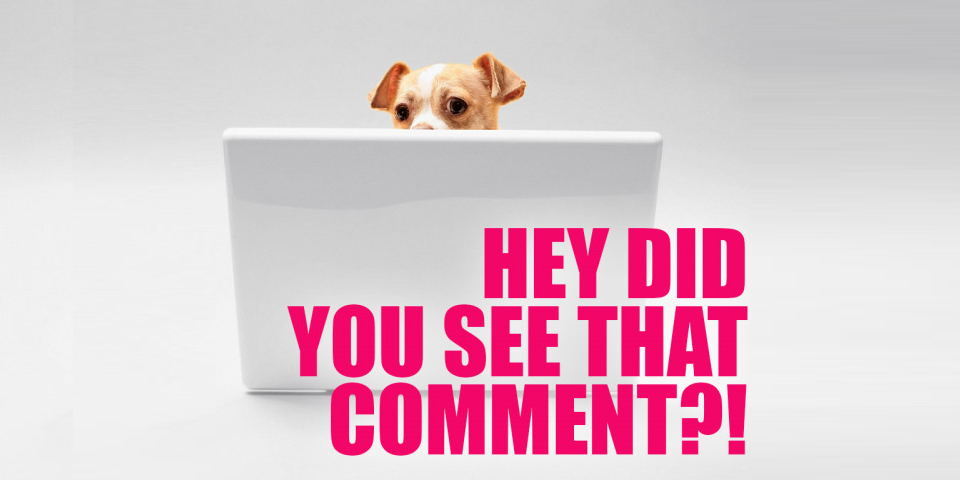 Hi! This week was 900 years long. But I think you're just swell! Also, I gave myself an undercut – one I started weeks ago, but really committed to (er, used a shorter setting on the clippers) this week. And it's a little crooked, but I fucking love it! How are everybody's quarantine haircuts going? (No matter what you've been up to with the clippers or the shears, I am 100% certain that your hair looks great today – THAT'S how much I believe in you.) We can do this! We're doin' it! It's done!
This week, Kamala made spicy, South Asian-ish biscuits in The Dyke Kitchen.
Autostraddle Needs You! To tell them your weird pandemic sex dreams!
Dating is hard. Dating during a worldwide pandemic is… on a whole other level.
But Batwoman's got some salty, delicious dyke drama just for you!
Xoài wrote about Aimee Stephens and about waiting for justice, as trans people, together.
This week's No Filter was full of celebrity moms and wow, they are all just the cutest????
Need some guidance navigating gender feels in quarantine? Adrian's got you covered.
Read this, from Natalie: I Am Who I Am: Annalise Keating and the Power of Black Reflection.
Finally, S L I C K is still really really hot and you should probably subscribe to A+ today so you can read it!!
And then there were your comments.
---
On Things I Read That I Love #310: Eight Minutes Of Scream-Talking The Coolest Things You Can Think Of:
The Truth to Power Award to Sally:
On The Dyke Kitchen: Spicy South Asian-ish Biscuits:
The #Dykes4Puligandla Award to Phoebe Unter: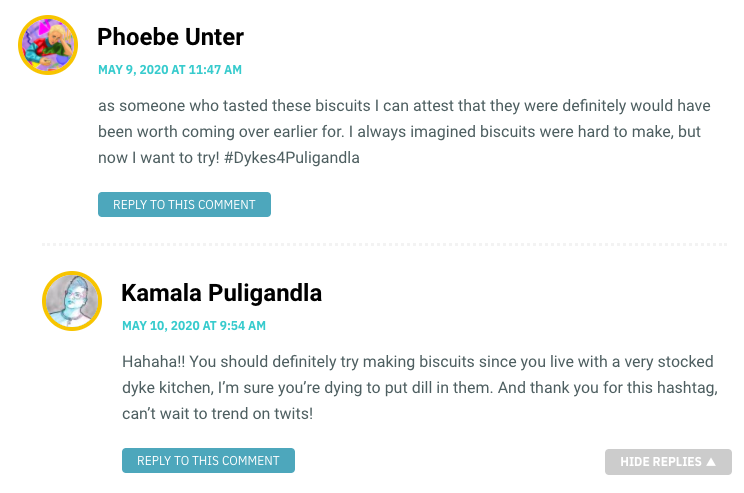 On "To L and Back" L Word Podcast Episode 407: Lesson Number One With Lianna Carrera!
The Uhhhh Award to BettyOnIt:
On Tell Us All About Your Weird Pandemic Sex Dreams!
The Unfinished Business Award to thatottergirl and Fiona:
On No Filter: Melissa King, Ashley Benson, Gaby Dunn and Ali Krieger Love Their Moms:
The What Not to Wear Award to Cleo:

On Pop Culture Fix: The Forever Pride Cover of Entertainment Weekly Sure Is Something!
The Mama Mia, Let Me Go Award to Caitlin:

And on Using Seeds and Soil, Cuir Kitchen Brigade Helps People Feed Themselves and Their Neighbors Through the Coronavirus Pandemic:
The Constant Gardener Award to Ish: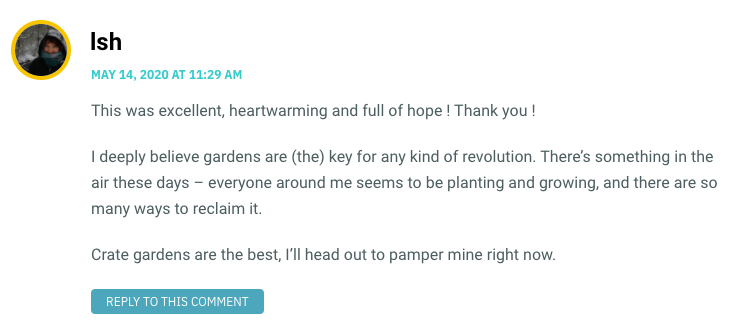 ---
See a comment that needs to be here? Tag me! I'm [at] queergirl.