What the hell are you going to do with those boobs, you big ol' lez? Everyone has a complicated relationship with their breasts and many queers find this relationship especially tumultuous. The bra industry is heterocentricly sexualized and even queer femme shoppers start feeling a little awkward the 45th time the saleswoman tells you how much your boyfriend will love that bra. Because what about your tomboyfriend, you know?
In this spirit we bring you the first-ever AUTOSTRADDLE BRA ISSUE. As you may or may not recall, we've already gone through what you should do with your bottoms area in Boyshorts 101 and what swimsuits to buy in The Swimsuit Edition.
We're attempting to address at least 50% of your needs in this piece, but the comments are wide open for you to share tips for your own gender presentation/sexual identity/income/lifestyle/taste-in-sandwiches.
Quick Note: The point of all the information contained within is not to help you "fix" anything about your body. Nothing on you needs fixing. Nobody's breasts need to be smaller or bigger or perkier or rounder than they are naturally unless you want them to be. That's the point of this guide — helping you find what you want, not what you "need." Hopefully we've provided a wide range of options for whatever those desires may be.
Quick Note #2: Because everyone is apparently shy about their rack, every section of this guide besides Julie's essay, Bevin's essay and Lily's picks aren't attributed to anyone. It's just a "team effort."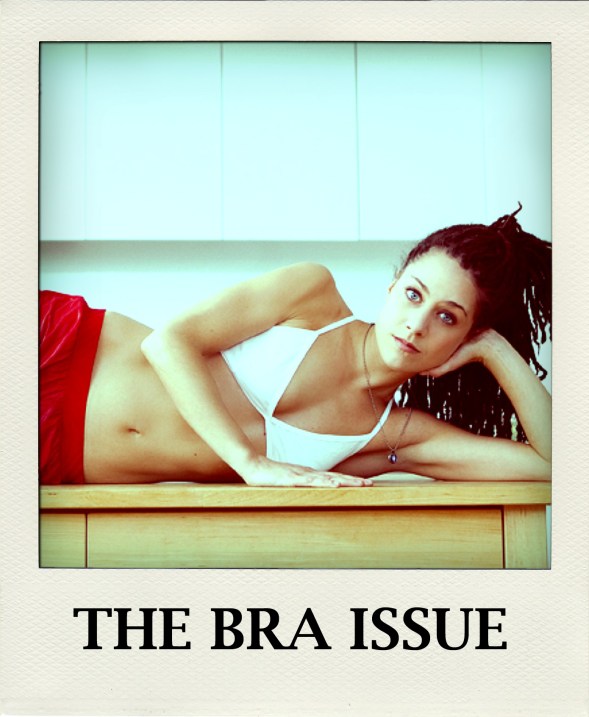 1) Fit Tips
2) What the Fuck is a Demi Cup?
3) General Tips/Gender-Neutral Bra Picks
4) WHATS A BUTCH TO DO – The Bra Epidemic In The United States and the World
by Julie Goldman
5) Butch Bra-Buying Tips & Picks
6) Bras for Girls With Small Boobs
7) Binding 101
8.) Tips For Chicks With Giant Racks
9) What To Do With Boobs from a Queer Fat Femme Perspective,
by Bevin Branlandingham of QueerFatFemme.com
11)  Something Girly, by Intern Lily

Fit Tips: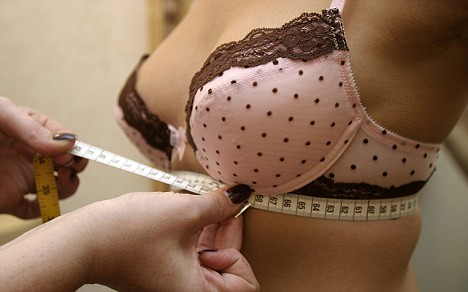 + You're probably wearing the wrong size bra right now, because 70% of women are.
+ If it fits right:
Straps: Should be level all the way around your body — it shouldn't be higher in the front or the back. FUN FACT! Only 20% of bra "support" comes from straps, the rest is from the cups/band.
Center seam (space between cups) should be flat against your chest and the underwire should rest on your rib cage, not your tits.
Your breasts shouldn't bulge out at the top or sides of your bra, they should be all wrapped up in the cup. If there's any wrinkles then it's too big and you need to go down a size.
Your bra shouldn't leave any lines or indentations on your body when you wear it for a long time.
+ One boob bigger than the other like Michelle from Skins? Guess what, almost all women have one bigger than the other. You should water and feed the smaller one, but also when getting a bra, buy for the bigger breast.


What The F-ck is a Demi Cup?
or "Different Types of Bras, Explained"
Demi-Cup: Half the coverage of a normal bra — it'll just peek past your nipple, maybe. On the whole demi cups are likely to create cleave and have shorter underwires.
Balconette: Slightly less coverage than a demi cup — cuts horizontally slightly above the bust line to provide superior uplift. Usually padding is involved.
Contour Cup Bra: These suckers hold their shape even when they're not on you. They provide a "sculpted silhouette" and "a specific round & symmetrical breast shape." It hides your nips but doesn't add size. Especially good for you if you're in between sizes or one breast is much bigger than the other.
Soft Cup Bra: No underwire, no padding.
Padded Cup Bra: Fiber-filled cups. Adds definition and gives a "well-proportioned look" if you're on the smaller side.
Push-Up Cup: This creates killer cleave and makes your breasts look fuller. Generally worn by C cups and smaller but YOU DO YOU GIRL you do you. Basically the cups are angled inward, pushing everything to the center, which you probably do with your arms in the shower a lot. Amirite?
Minimizer Cup: These babies reduce your breasts' projection so you can wear front-button shirts without that gap thing happening. It shifts things around to different areas, etc.
Molded Cups: Designed to disappear under t-shirts, but not always easy to find in the right size.
Plunge Bra: The middle is super low so you can wear it with v-necks. Usually also maximizes cleavage.

Gender-Neutral Bra Shopping
So let's start with the basics every bra-wearing woman might want to consider having in her collection:
1) A racerback (or convertible, which is good 'cause it also goes strapless in case tube tops come back)
2) For under white shirts, a bra that matches your skin tone
3) Regular black bra for everyday use
4) Sports bra for sports and/or gender panic
You can find plenty of guides to gorgeous lingerie in mainstream women's magazines but what about just a run-of-the-mill gender neutral bra? Not too shiny, not too lacey…? Even American Eagle manages to fuck up their seemingly homogay bras with a tiny little maddening bow right there in the g-ddamn middle: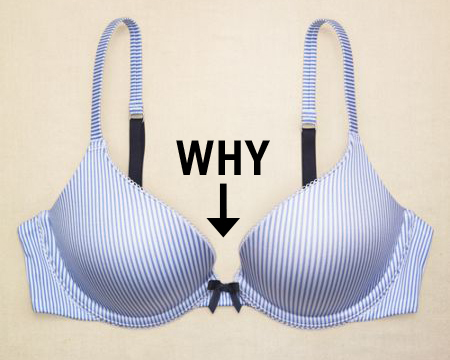 In general, brands which are likely to sport gender-neutral designs include Calvin Klein, Diesel, D&G, Ralph Lauren, DKNY, Just Cavalli, The Gap and American Apparel.
Autostraddle's Gender-Neutral Bra Picks
1) Calvin Klein Underwear "ck one" Cotton Basic Convertible Bra- $36  – (32a – 36D) – The big bonus here is No Padding!
2) Top Secret Billie Jean Bralette – $54 -(XS – L) -"Sweetheart neckline" and "seamed cups" and "hip."
3) CK One Cotton Push-Up Bra / Heather Stripe – $36 – (32A – 36C) -soft/comfy stretch cotton, a little bit of foamy push and sweet sweet stripes for your stars.
4) Lucky Brand Hope Demi Bra – $38 –  (32B – 38D) – Okay, there's some "picot trim" happening here — but also — no padding!
5) Chaps Modern Deco Full-Coverage Convertible Contour Bra – #38 – (36 B – 38 DD)- Full coverage, "360 degree comfort-stretch foam padding for contoured shape and support," and a "let's go ride horses" thing happening.
6) Victoria's Secret Full Coverage Cotton Lingerie Full Coverage Bra – $24.50 – (32B – 40DDD) – The softest, stretchiest, sexiest cotton ever." Lots of colors, more size options.
7) Gilligan & OMalley Women's Microfiber Racerback $10.99 – (32 A – 40D)- Cheap. Simple. Works under racerback tank tops.
8 ) Diesel Push-Up Bra – $30.00 – Blue, just like the sky!
9) Just Cavalli Push-Up Bra – $50 – Reminds me of Speed Racer.
10) Gap Favorite Unpadded T-Shirt Bra – $36.00 – (32A – 36D) – Simple, basic, no padding, etc.
11) Barely There Custom FitFlex Wire-Free Bra – $26 – (XS-XL) – Wire-free, seamless and tag free with adjustable shoulder straps.
12) Knickerocker Navy & White Stripey Bralet – $38 – (32A – 38D) – "Saucy but soooooo cute, how can you resist this navy and white striped cotton bra with red elastic trim."

WHATS A BUTCH TO DO – The Bra epidemic In The United States and the world.
By Julie Goldman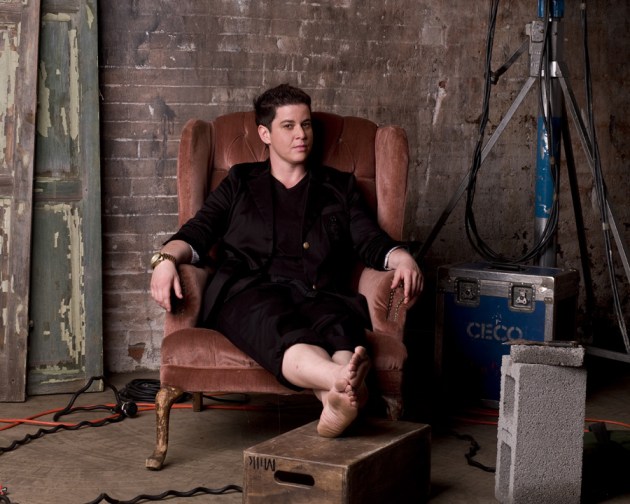 Yes. This global epidemic of butch ladygentlemen and the lack of undergarment resources is disturbing and just plain wrong. It's clearly adding to GM injected foods and to babies being born without heads. This is all scientifically backed up by my butt. But it's true that for a larger masculeen ladyman such as myself, the options for bras and underwear are few & far between.
I've always toyed with the idea of creating a line of BUTCH BRAS AND UNDERWEARS for the discriminating Butchesque In-Betweener. However, I have no design skills and can't even raise money to make my movies, so it remains a dream.
The truth is — there's just so much body image displaced weird shit running through us sensitive Butches and when you're larger, often the last thing you EVER want to do is show your body. BUT — perhaps if we had some undergarments that accentuated and complemented our bodies we'd start feeling more confident and we'd take our sexual power back. I can't speak for everyone, but I know many who have expressed these feelings. I am one of them.
Isn't there something between a regular bra and a sports bra for us? I see so many fun Manties — they get superheroes, and cool colors, and fun words strewn across their sacks, like "balls here" with an arrow pointing to their packages. Why can't we have fun with OUR bras? Why must they all be flowered? And lacy? With underwires… and crème…
Boobs are considered to be inherently feminine and the world tends to think unless it's a sports bra, your feminine boobs require flowers, lace, and the Seduction of Men.
Well, first of all: I hate men.
And secondly — I want to seduce MYSELF and feel confident and sexual and powerful with a Special Lady. I want to hypnotize her with my boobs. I cannot do this in a flowery lace Balis Minimizer that my mother forced me to wear my entire life 'cause I carry 38Ds.
I wish someone would create a line of Butch Bras for ANY girl who wants to have some fun with her underwears and still be sexy & powerful without looking like a Victoria's Secret Model, 'cause for some of us that look takes our power AWAY and makes us feel weird inside (Not that we don't like to see it — on other people.)
I want something that lifts and separates and keeps my shit tight. I don't mind showing some cleavage – I am a girl – and I'm not trying to hide 'em.  I'm just trying to look in the mirror and feel good. I want to see a sort of masculine femininity reflected in my bra and underwear. I don't want to strap my big ass boobs down, I want to show them off –- we just need a designer to understand for the masculeeene lady – our femininity is IN our masculinity and someday I hope there is a bra that supports that.
See what I did. Supports that. Our boobs.


Bra-Buying Tips for Masculine Ladies
Sinclair Sexsmith, butch sex lord at Sugarbutch.net, recently did a post about trying to find bras for butches. Here's what Sugarbutch says:
"Sports bras obviously are a little less precise in their sizing, but even if you don't intend to wear any regular bras anymore, figure out your size. It's amazing how hard it is for us to figure that out. There really is a difference between a 34D and a 36C, and they are not the same size. This seems to be a particularly difficult one for many of the butches I know, because bra shopping is just about The Scariest Thing Possible, and going in there and asking a professional to help figure out what size you really are is pretty much like walking into hell. But, let me just say, it has made a really big difference in my bra-buying since I actually got measured properly, figured out why the sizes are different, and what size I really am."
Just like any other identity, butches are not a homogeneous sort. Some of us want to make our breasts as invisible as possible, some of us wanna sport some aforementioned masculeen-lady-cleve. Some of us dislike the straps that look too much like traditional bra straps. A friend of mine said she stays away from halter cuts because the straps are more likely to be visible under t-shirts.
A traditional black/grey/white sports bra isn't hard to track down, so rather than offer you 12 black/grey/white sports bra options, we mixed it up a bit if you wanna sex it out to various degrees:
1) Champion Powersleek Sports Bra – $27 – (all sizes up to 44DDD) – this is the standard. Sugarbutch says: "Because it has a clasp, instead of being pulled over my head, I can actually buy a size that is slightly smaller and tighter, which I love."
2) Victoria's Secret Pink School Spirit Sports Bra – $26.50 – It turns out Victoria's Secret manufacturer a few items that are not pink. This is like athletic and tomboyish and fun.
3) Adidas Supernova Racer Bra – $35 – runner-level support, racerback, compression support and fun fun colors.
4) Natori Sport Underwire Bra – $48 – (32B – 40DDD ) –  SERIOUS SUPPORT. This bra is not fucking around.
5) Seamless Racerback Sports Bra from Champion – $16.99 – (32ABC – 40C) – Double-layer seamless construction offers great support in a classic pullover design by Champion.
6) Performance Wear Compression Spyder Tank – $29.99 – For a full-body experience.
7) Jane-Fonda Inspired Bra -$38 –  (32A-38D) – This is for if you really wanna like get wild and stuff. "Made from a red and black stripy cotton lycra and black power mesh, this bra is edged with a black fold over elastic."
8.) Harbour Club Plunge Bikini Top – £42 – (D cups up to HH cup) – As Julie Goldman mentioned, it's nearly impossible to find something between a Sports Bra and a Lace/Flower Situation for anyone who's breasts have grown out of the juniors section. Most mono-color bras, for that matter, are shiny satin material. But this sucker is cotton, there are no visible bows, and it's got a little Nautical theme going on. The only thing is that you've gotta order it from Miss Mandalay's in the UK.
9) Fila Sport Seamless Performance Sports Bra – $30- (XS-XL) –  It's seamless, therefore providing a "smooth look under clothes."
10) Comfort Sports Bra by Champion – $44 – (32C – 42DD) – Mesh-ventilated, molded cups, inner spacer fabric, moisture-wicking bra.
11) Booby Trap Sports Bra – $19 – "Will lock your girls down and not let 'em go." Available at Title Nine, which is a butch favorite for its variety and "barbell" measurement system and the "Frog Bra" which was awesome but is gone now. I weep for it every day.
12) North Face Bounce-B-Gone Sports Bra –  $28 – Less support for those in need of less support. Cute colors.

For the Small-Breasted Girls
When you're sporting an AAA, AA or A cup, your options include "not wearing a bra" and sources are split on when/where/how such a thing is "appropriate." For example, nobody has to wear a bra in San Francisco or at Bonnaroo, but you might wanna pack one when going back to the heartland for the holidays because visible nip makes grandma nervous. Similarly, bras are useful for loose shirts or see-through fabrics.
According to most mainstream women's magazines and mainstream fashion, all women should have bras on at all times and only hippie feminist lezzers go without.  But really there are no rules. Just whatever feels comfortable.
However, regardless of your size a lot of women just prefer to have a bra on (A cups bounce too!) and aesthetically, you can sometimes almost think of bras as an accessory which makes your shirt look cuter, regardless of whether or not you "need" it.
If you're a AAA or AA and have nothing that really fits into a cup and you're just looking to prevent nipping out at the office, you can usually go with a triangle bra or a shelf-bra. The American Apparel Cotton Spandex Jersey Cross-Back Bra is the standard:
I'm an A cup and find triangle bras aren't especially flattering under shirts and, conversely, bras that offer a lot of coverage (like most "t-shirt" bras) are expecting to handle a much larger chunk of flesh than I have. So demi-cups and balconettes are usually a skinny girl's BFF.
There are a few specific challenges for small-breasted bra shoppers — for starters it is near damn impossible to find a bra in your size without padding as apparently all As are aspirational. For A-cups in larger band sizes, it can be difficult to find anything at all — as far as that goes, we recommend Just My Size, which stocks A-cups and B-cups for band sizes ranging from 38 to 50. Conversely, Macy's has a few options in a 30-A, like this Molded Triangle Racerback.
If you're out in the world and shopping, you'll find a pretty serious selection at H&M (you can't shop H&M online), including some sporty styles and the very best in spaghetti-strap tank top/camisoles which can substitute for a bra. Big-box stores like Target and K-Mart have healthy stocks of small bras. The Juniors section of some department stores might have what you're looking for, and brands that cater to teens are more likely to have small sizes, such as American Eagle Outfitters.
I've been wearing the same two Calvin Klein bras since high school. They can be pricey, which is why TJ Maxx and Marshall's and Loehmanns exist.
Autostraddle's Picks for Small-Breasted Girls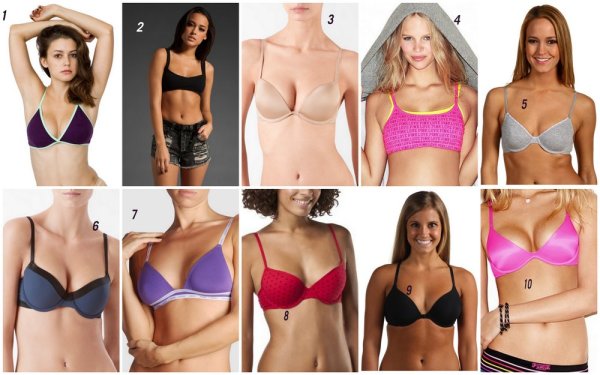 1) American Apparel's Cotton Spandex Jersey Cross-Back Bra – $14 – The classic small-breasted girl pick with every color under the sun.
2) Free People Wrap Bra – $28 – For when you're really, really over it.
3) CK One Convertible Micro Push-Up Bra – $38 – (32A and up) – This is your do-everything enhance-everything gadget. You can adjust it to halter or criss-cross (racerback), it's silky, padded cups give you super-cleave and the embossed logo looks fancy.
4) Victoria's Secret Pink Yoga Bralette – $16.50 – Simple, comes in a billion colors.
5) CK One Cotton Underwire Bra – $27 – "The one for everyone." Most important thing about this one is that there's NO PADDING so you can rock out with your nips out all you want. (Recommended for a larger A/smaller B cup)
6) Calvin Klein's Perfectly Fit Satin Sculpt Balconette Bra – $44 – (34A and up) – lightly padded balconette with line-free edge, hook & eye closure, satin trim, underwire.
7) Diesel Triangle Bra – $30 – sporty jersey, stretch, lightly lined.
8.) Xhiliration Juniors 2-Pack Demi Bra – $12 – Super cheap! Lined but not padded. Hard to go wrong with this one.
9) Calvin Klein Perfectly Fit Racerback Bra – $42 – (32A and up) – I'd like to draw your attention to this bra because your boobs will never look as good as they do when you undo the front clasp on this sucker.
10) Victoria's Secret Pink Scoopneck Plunge Demi-Bra – $30 – (32AA and up) – This will go well underneath your v-necks.

NEXT: Binding, giant racks, the Queer Fat Femme perspective and Lily's Girly picks.

Binding 101
People bind their breasts for all kinds of reasons, and whatever yours might be, there are a few options out there to choose from in terms of how you go about it.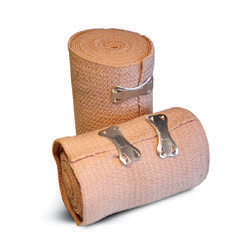 Probably the most basic of these is Ace bandages, available at just about all pharmacies and department stores and anywhere that has medical or first aid supplies. It's good to get the wide, 5″ one, as it provides better coverage, and make sure you get one long enough to wrap around you a few times.
Start the bandage on either side of your torso, wrap it around and secure it with 2-3 butterfly clips (they come with the bandage – but they go missing easily and also can potentially poke through to your skin if you don't put them over enough layers). Be careful not to wrap it too tightly – you might be tempted to the first time but you have to be able to breathe and move normally/comfortably or you'll be miserable all day/night. If you're wearing the bandage for a while it could shift/drop/move, etc., so you might have to readjust.
If you're binding regularly and/or don't like the hassle of dealing with the bandage, you could try a binder / compression shirt. They can be a bit tricky to put on at first — and again, it's important not to get one that's too tight or you'll have problems — but they come in a variety of styles and offer a lower maintenance way to bind on the regular.
Come As You Are (a kickass Canadian sex toy company that also provides helpful tips for choosing a binder) has several styles available from a trans-owned company in Taiwan that specializes in making binders for FtMs, and "because they are made for transmen, they tend to fit well and discreetly under clothing."
I haven't tried these yet so if anyone has, please share your feedback; I'd be interested to know if they breathe better than most compression shirts. I've tried some by Underworks, and they get the job done but have a tendency to become mini-saunas when it's hot.
Tip: for a more male-chested look, pull your breasts up and out towards your armpits under the binder.
Sidenote: For transmen who don't have the financial means to get a binder, there's the Big Brother Used Binder Repository – a service where guys who need binders can inherit them from guys who don't need theirs anymore. It's really for transguys only, though; anyone else should go elsewhere, please.
Got tips and tricks? Share them in the comments!


A Tip for Chicks With Giant Racks From a Chick With a Giant Rack
Get yer ass fitted. Seriously. You could potentially wear the wrong size for years and years and there are so many nice old ladies out there who want to free you of this torture. Do not go to Victoria's Secret or a chain lingerie store because Victoria's Secret CANNOT HANDLE OUR SHIT. Do you want your breasts to say HEY WHAT'S UP or be a bulge that makes your shirts fit funny?
Girl you do not even know how good your breasts could look!
I wore the wrong size (36DD) for years and years — since probably eighth grade. As you can imagine, eighth grade was TERRIFYING.  And finally a good friend convinced me to go to a specialty shop — this place called Bratenders on Ninth avenue (in Manhattan) where this woman seriously took one look at me topless, disappeared into the racks of underwear and emerged with a 32G which fit like magic. It was $70 for one, but it was magic. Totally worth it.
Wearing something that actually fit and supported them properly made them look awesome in a way I didn't exactly recognize they could. I developed early — I'm actually really shy about my rack, I joke about it as a defense mechanism 'cause I was tortured about it. SO having them look actually pretty awesome was a nice change.
The people at the bra-fitters were super nice. They tried to talk me into some lacy over-the-top stuff but I explained I wanted something really basic, and they complied.

What To Do With Boobs from a Queer Fat Femme Perspective
By Bevin Branlandingham of QueerFatFemme.com
As someone whose ample rack is often the first thing people notice, I have come a long way. I was uninspired by my boobs for a long time. Plus size since I was a little kid, my first interaction with bra shopping was a huge rack of unimpressive beige things that were fiddly and not exciting to wear at all. It stayed that way through my late teens, when I was certain that underwire was the devil and was going to be uncomfortable no matter what.
I didn't wear a sexy or interesting bra until I was out of college and working at Lane Bryant. I tried on their brand new Plunge bra and haven't gone back since. I thought cleavage was something that real lesbians didn't expose, since I was still under the impression that one had to be androgynous to be attractive to the same sex. This is not the case. Being self-assured and genuine about my gender expression has gotten me way more laid than hiding myself (and my cleavage) under baggy clothes and frumpy bras.
So as a fashionable plus size Femme, having a good bra with excellent support and generous cleavage is really important to me. It is also the foundation for every outfit I wear. I, personally, believe very strongly in the Cacique Plunge bra. They are pricey (around $40 a piece) but you can get them cheap by buying a lot at a time during their semi-annual sale (buy one get one free) or waiting for a Lane Bryant gift cheque. Typically I spend about $20 each.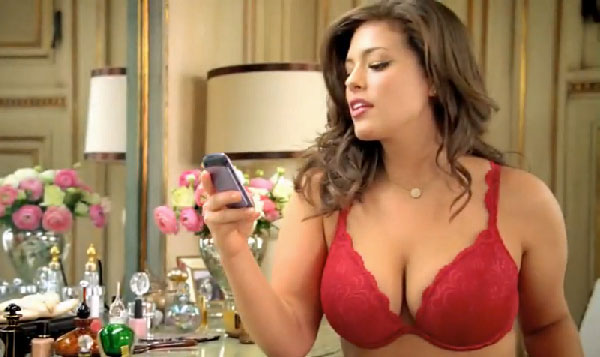 I find the Plunge Bra does me so well it is the only bra I wear except when I do yoga or wear a specialty garment that requires a halter bra.
I love Torrid for plus size friendly convertible halter bras. I think their construction is a little better than other places I've seen and they are a bit cheaper than the halter bras at Lane Bryant.
For sports bras I shop at Roaman's or other online equivalent. I have friends who use two bras at once for particularly vigorous cardio activities.
And for strapless, I believe in a piece of full-body shapewear. I have had so much drama with strapless bras moving around, shifting, generally moving towards my waist and away from where they are meant to hold up. The best luck has come from something that just sticks to my body in one glorious piece of spandex with molded underwire cups. Shapewear is a department store plus size staple. It is an investment–I've had the same great body shaper for years through countless formals and performances.
I think manufacturer's bra sizing is bullshit. This is a controversial statement, but in general I think bras are just like anything that is mass-manufactured–actual sizes can wildly vary. The way cups are molded and how stretchy the elastic band on a bra is all vastly affect how a bra fits and lifts. I wear one size in the Cacique Plunge bra (44D) but if I try that same size on in any other bra manufactured by Cacique and my size might be really different.
So, just like any other clothes shopping, use your tape-measure deduced bra size as a guide and always try one size up and one size down. Take a look at how your boobs look–they should fill up the bra cups without spilling out. If there is gapping in the cup try one cup size down. If they spill over and create quad boob, move up a cup. If you are getting intense love handle spillage over the bra strap on your back, increase your band size. There are also great bra back extenders you can buy if you need an extra-long bra band.
Also, don't be fooled by bra claims for special types of functions like "tee shirt bras" or "loungewear bras." Just try your bras on with lots of different clothes and see how it looks under certain garments. I think a plunge looks just fine under a tee shirt.
I also feel strongly that cute bra straps are accessories. I used to think I couldn't wear tank tops without a strapless bra and I was wrong. It is way hotter to have a really cute lacy bra strap coordinating with my overall look. And besides, most of the time tank tops are supposed to be sexy or comfortable and I think this look is well achieved with a good bra strap.
I leave you with my final tip for a good cleavage-enhancing time. You can use knee high nylons tied closed with about a cup of rice in them placed under your boob in a bra a cup size or two above your current cup size. Cheap and easy boob lift I learned from drag queens!
Editor's Note: Dorothy Allison complemented Bevin on her cleavage once. Just so you know.

Autostraddle's Picks For Large Racks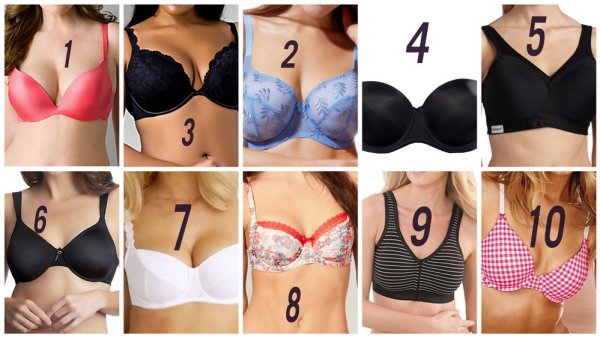 1) Lane Bryant Sateen Convertible Plunge Bra – $42 – (up to 46DDD) – Convertible straps can be crossed or done away with altogether. Also looks hot with plunging necklines.
2) Panache Tango II Unerwired Bra -£28 – (34 DD – 44HH UK sizes)  – Bet you didn't even know what "Australian leaf embroidery" looked like, amirite?
3) Lane Bryant Lace Plunge Bra – $36  – (up to 46DDD) – Pick-your-own cleavage with "removable air pads that offer a little or a lot of lift."
4) Torrid Black Sizzling Strapless Microfiber Bra – $32 – (38DD – 44DDD)  – Adjustable/convertible clear straps.
5) Glamorize Women's Full-Figure Sports Bra – $42 – (32D – 48F) – Seamless non-stretch cups, moisture-wiking fabric – designed to fit/flatter. Is also nice for everyday.
6) Le Mystere Dream Fit Minimizer Bra – $31 – (34D – 44E) – If you're interested in reducing fullness by at least one cup size, this'll do it and it's the right price. Also it's really easy to cut off that bow in the middle if you're allergic to bows.
7) Fantasie Anna Underwire Balcony Bra – $51 – (up to 40H) – This is just super cute, reminds me of sitting on the porch drinking lemonade.
8.) Panache Cleo D-G Cup Rita Floral Print Bra – $43.03 – (3o DD – 38I) Featuring an underwired full cup design, an all-over floral print, a lace trim to the cops and a bow detail to the centre.
9) Wire-Free Front-Hook Seamless Leisure Bra – $29.99 – (38B – 54G) Ideal for laying around with your top off all day.
10) Victoria's Secret Full Coverage Cotton Bra – $26.50 – (up to 44DD) – This gingham makes me want to have a picnic on my rack.


Get Girly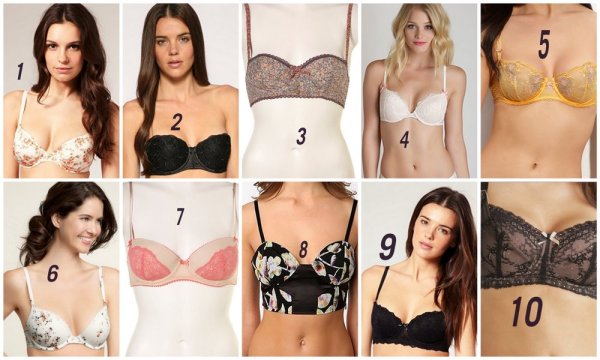 Our resident fan of all things flowery, lacy and girly, likes these ones best:
1) Panache Superbra Tango – $26.90 – This looks like a really soft satiny pillow thing, which is exactly what you want your tits to seem like.
2) Lepel Bouquet Lace Strapless Bra – $35.86 – For under that dress you're gonna take off.
3) Topshop Pink Ditsy Floral Underwired Bra – $36 – Pink ditsy floral underwire bra with mixed print straps and trim and wooden buttons.
4) Betsey Johnson "Rebel Rose" Bump M' Up Bra – $42 – (32B – 36D) –  This looks super innocent, maybe you can fool somebody or tell the truth.
5) Chantelle Intimates 'Romance – 2745' Underwire Demi Bra – $108 – (32A – 38E) – This is totally see-through and really fancy looking and features "two-part construction for more support, while the low-profile design is ideal under plunging necklines." Or, you know. Necking.
6) Gap Favorite uplift contrast bra – $28.50 – (32A- 36D) – A little push-up and a little bit of padding and you're super comfortable but it's also really kind, like flirty sheets.
7) Pink Lace Overlay Balcony Bra and Mini – $44 – (32A – 36DD) – It's like a creamsicle for your breasts with lace.
8.) Sparkle & Fade Colorblock Bra Top" – $34 – This bra was "inspired" by a "corset." Some chicks really dig corsets for real. Hidden side zipper for removing while spooning.
9) Emporio Armani Gardenia Lace Balconette Bra – $64.55 – (32A – 36E) – This is black and mysterious, like sex before you've had it.
10) Panache Sophie Support Bra – $46.20 – (30D – 40JJ) – Sexy and also supportive, like a really good girlfriend.
—–
During the process of writing this post we also discovered a great site called X-Chrom, which sells "surgical bras" for various procedures such as mastectomies, breast reduction and breast augmentation. So CHECK IT OUT.
Okay everyone talk about your tits now! Share your tits tips tricks!
Pages: 1 2See entire article on one page