Binding 101
People bind their breasts for all kinds of reasons, and whatever yours might be, there are a few options out there to choose from in terms of how you go about it.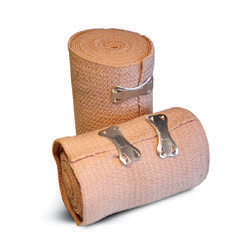 Probably the most basic of these is Ace bandages, available at just about all pharmacies and department stores and anywhere that has medical or first aid supplies. It's good to get the wide, 5″ one, as it provides better coverage, and make sure you get one long enough to wrap around you a few times.
Start the bandage on either side of your torso, wrap it around and secure it with 2-3 butterfly clips (they come with the bandage – but they go missing easily and also can potentially poke through to your skin if you don't put them over enough layers). Be careful not to wrap it too tightly – you might be tempted to the first time but you have to be able to breathe and move normally/comfortably or you'll be miserable all day/night. If you're wearing the bandage for a while it could shift/drop/move, etc., so you might have to readjust.
If you're binding regularly and/or don't like the hassle of dealing with the bandage, you could try a binder / compression shirt. They can be a bit tricky to put on at first — and again, it's important not to get one that's too tight or you'll have problems — but they come in a variety of styles and offer a lower maintenance way to bind on the regular.
Come As You Are (a kickass Canadian sex toy company that also provides helpful tips for choosing a binder) has several styles available from a trans-owned company in Taiwan that specializes in making binders for FtMs, and "because they are made for transmen, they tend to fit well and discreetly under clothing."
I haven't tried these yet so if anyone has, please share your feedback; I'd be interested to know if they breathe better than most compression shirts. I've tried some by Underworks, and they get the job done but have a tendency to become mini-saunas when it's hot.
Tip: for a more male-chested look, pull your breasts up and out towards your armpits under the binder.
Sidenote: For transmen who don't have the financial means to get a binder, there's the Big Brother Used Binder Repository – a service where guys who need binders can inherit them from guys who don't need theirs anymore. It's really for transguys only, though; anyone else should go elsewhere, please.
Got tips and tricks? Share them in the comments!


A Tip for Chicks With Giant Racks From a Chick With a Giant Rack
Get yer ass fitted. Seriously. You could potentially wear the wrong size for years and years and there are so many nice old ladies out there who want to free you of this torture. Do not go to Victoria's Secret or a chain lingerie store because Victoria's Secret CANNOT HANDLE OUR SHIT. Do you want your breasts to say HEY WHAT'S UP or be a bulge that makes your shirts fit funny?
Girl you do not even know how good your breasts could look!
I wore the wrong size (36DD) for years and years — since probably eighth grade. As you can imagine, eighth grade was TERRIFYING.  And finally a good friend convinced me to go to a specialty shop — this place called Bratenders on Ninth avenue (in Manhattan) where this woman seriously took one look at me topless, disappeared into the racks of underwear and emerged with a 32G which fit like magic. It was $70 for one, but it was magic. Totally worth it.
Wearing something that actually fit and supported them properly made them look awesome in a way I didn't exactly recognize they could. I developed early — I'm actually really shy about my rack, I joke about it as a defense mechanism 'cause I was tortured about it. SO having them look actually pretty awesome was a nice change.
The people at the bra-fitters were super nice. They tried to talk me into some lacy over-the-top stuff but I explained I wanted something really basic, and they complied.

What To Do With Boobs from a Queer Fat Femme Perspective
By Bevin Branlandingham of QueerFatFemme.com
As someone whose ample rack is often the first thing people notice, I have come a long way. I was uninspired by my boobs for a long time. Plus size since I was a little kid, my first interaction with bra shopping was a huge rack of unimpressive beige things that were fiddly and not exciting to wear at all. It stayed that way through my late teens, when I was certain that underwire was the devil and was going to be uncomfortable no matter what.
I didn't wear a sexy or interesting bra until I was out of college and working at Lane Bryant. I tried on their brand new Plunge bra and haven't gone back since. I thought cleavage was something that real lesbians didn't expose, since I was still under the impression that one had to be androgynous to be attractive to the same sex. This is not the case. Being self-assured and genuine about my gender expression has gotten me way more laid than hiding myself (and my cleavage) under baggy clothes and frumpy bras.
So as a fashionable plus size Femme, having a good bra with excellent support and generous cleavage is really important to me. It is also the foundation for every outfit I wear. I, personally, believe very strongly in the Cacique Plunge bra. They are pricey (around $40 a piece) but you can get them cheap by buying a lot at a time during their semi-annual sale (buy one get one free) or waiting for a Lane Bryant gift cheque. Typically I spend about $20 each.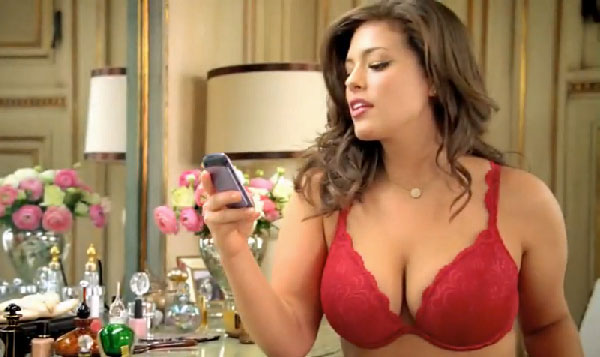 I find the Plunge Bra does me so well it is the only bra I wear except when I do yoga or wear a specialty garment that requires a halter bra.
I love Torrid for plus size friendly convertible halter bras. I think their construction is a little better than other places I've seen and they are a bit cheaper than the halter bras at Lane Bryant.
For sports bras I shop at Roaman's or other online equivalent. I have friends who use two bras at once for particularly vigorous cardio activities.
And for strapless, I believe in a piece of full-body shapewear. I have had so much drama with strapless bras moving around, shifting, generally moving towards my waist and away from where they are meant to hold up. The best luck has come from something that just sticks to my body in one glorious piece of spandex with molded underwire cups. Shapewear is a department store plus size staple. It is an investment–I've had the same great body shaper for years through countless formals and performances.
I think manufacturer's bra sizing is bullshit. This is a controversial statement, but in general I think bras are just like anything that is mass-manufactured–actual sizes can wildly vary. The way cups are molded and how stretchy the elastic band on a bra is all vastly affect how a bra fits and lifts. I wear one size in the Cacique Plunge bra (44D) but if I try that same size on in any other bra manufactured by Cacique and my size might be really different.
So, just like any other clothes shopping, use your tape-measure deduced bra size as a guide and always try one size up and one size down. Take a look at how your boobs look–they should fill up the bra cups without spilling out. If there is gapping in the cup try one cup size down. If they spill over and create quad boob, move up a cup. If you are getting intense love handle spillage over the bra strap on your back, increase your band size. There are also great bra back extenders you can buy if you need an extra-long bra band.
Also, don't be fooled by bra claims for special types of functions like "tee shirt bras" or "loungewear bras." Just try your bras on with lots of different clothes and see how it looks under certain garments. I think a plunge looks just fine under a tee shirt.
I also feel strongly that cute bra straps are accessories. I used to think I couldn't wear tank tops without a strapless bra and I was wrong. It is way hotter to have a really cute lacy bra strap coordinating with my overall look. And besides, most of the time tank tops are supposed to be sexy or comfortable and I think this look is well achieved with a good bra strap.
I leave you with my final tip for a good cleavage-enhancing time. You can use knee high nylons tied closed with about a cup of rice in them placed under your boob in a bra a cup size or two above your current cup size. Cheap and easy boob lift I learned from drag queens!
Editor's Note: Dorothy Allison complemented Bevin on her cleavage once. Just so you know.

Autostraddle's Picks For Large Racks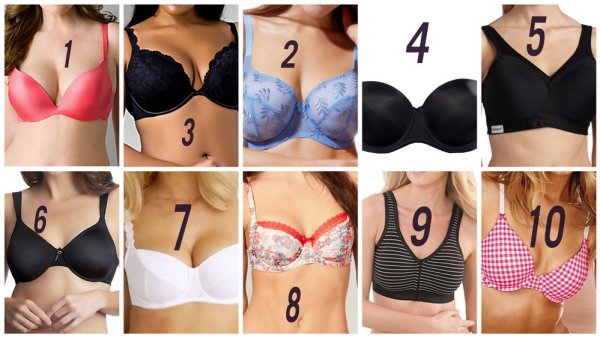 1) Lane Bryant Sateen Convertible Plunge Bra – $42 – (up to 46DDD) – Convertible straps can be crossed or done away with altogether. Also looks hot with plunging necklines.
2) Panache Tango II Unerwired Bra -£28 – (34 DD – 44HH UK sizes)  – Bet you didn't even know what "Australian leaf embroidery" looked like, amirite?
3) Lane Bryant Lace Plunge Bra – $36  – (up to 46DDD) – Pick-your-own cleavage with "removable air pads that offer a little or a lot of lift."
4) Torrid Black Sizzling Strapless Microfiber Bra – $32 – (38DD – 44DDD)  – Adjustable/convertible clear straps.
5) Glamorize Women's Full-Figure Sports Bra – $42 – (32D – 48F) – Seamless non-stretch cups, moisture-wiking fabric – designed to fit/flatter. Is also nice for everyday.
6) Le Mystere Dream Fit Minimizer Bra – $31 – (34D – 44E) – If you're interested in reducing fullness by at least one cup size, this'll do it and it's the right price. Also it's really easy to cut off that bow in the middle if you're allergic to bows.
7) Fantasie Anna Underwire Balcony Bra – $51 – (up to 40H) – This is just super cute, reminds me of sitting on the porch drinking lemonade.
8.) Panache Cleo D-G Cup Rita Floral Print Bra – $43.03 – (3o DD – 38I) Featuring an underwired full cup design, an all-over floral print, a lace trim to the cops and a bow detail to the centre.
9) Wire-Free Front-Hook Seamless Leisure Bra – $29.99 – (38B – 54G) Ideal for laying around with your top off all day.
10) Victoria's Secret Full Coverage Cotton Bra – $26.50 – (up to 44DD) – This gingham makes me want to have a picnic on my rack.


Get Girly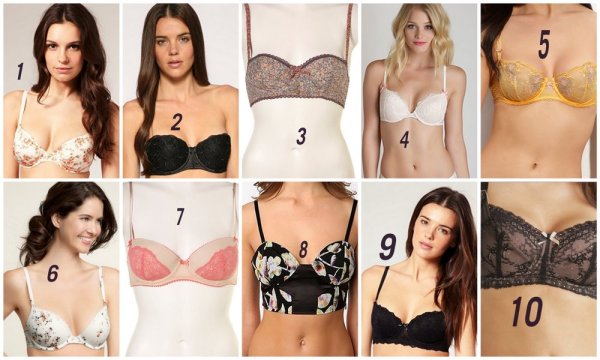 Our resident fan of all things flowery, lacy and girly, likes these ones best:
1) Panache Superbra Tango – $26.90 – This looks like a really soft satiny pillow thing, which is exactly what you want your tits to seem like.
2) Lepel Bouquet Lace Strapless Bra – $35.86 – For under that dress you're gonna take off.
3) Topshop Pink Ditsy Floral Underwired Bra – $36 – Pink ditsy floral underwire bra with mixed print straps and trim and wooden buttons.
4) Betsey Johnson "Rebel Rose" Bump M' Up Bra – $42 – (32B – 36D) –  This looks super innocent, maybe you can fool somebody or tell the truth.
5) Chantelle Intimates 'Romance – 2745' Underwire Demi Bra – $108 – (32A – 38E) – This is totally see-through and really fancy looking and features "two-part construction for more support, while the low-profile design is ideal under plunging necklines." Or, you know. Necking.
6) Gap Favorite uplift contrast bra – $28.50 – (32A- 36D) – A little push-up and a little bit of padding and you're super comfortable but it's also really kind, like flirty sheets.
7) Pink Lace Overlay Balcony Bra and Mini – $44 – (32A – 36DD) – It's like a creamsicle for your breasts with lace.
8.) Sparkle & Fade Colorblock Bra Top" – $34 – This bra was "inspired" by a "corset." Some chicks really dig corsets for real. Hidden side zipper for removing while spooning.
9) Emporio Armani Gardenia Lace Balconette Bra – $64.55 – (32A – 36E) – This is black and mysterious, like sex before you've had it.
10) Panache Sophie Support Bra – $46.20 – (30D – 40JJ) – Sexy and also supportive, like a really good girlfriend.
—–
During the process of writing this post we also discovered a great site called X-Chrom, which sells "surgical bras" for various procedures such as mastectomies, breast reduction and breast augmentation. So CHECK IT OUT.
Okay everyone talk about your tits now! Share your tits tips tricks!
Pages: 1 2See entire article on one page