Oh hello there winter! When did you get here? There are plenty of things to love about cold weather, like hot cocoa and hot cider and mulled wine (is it weird that all of my favorite things about winter are beverages?), but let's be real, winter kinda blows. It doesn't have the brisk weather benefits of layering up flannels and leather jackets in the early fall, it lasts FOREVER, and, if you live in a northern metropolis like NYC, you don't even get snow. We get what is politely referred to as a "wintry mix," which is honestly just fucking slush. It's wet, cold, and entirely unsuitable for snowmen. Please don't get me started on Christmas. I'm pretty much Mrs. Grinch.
It's getting colder and colder by the day, and I cannot help but remember how helplessly sad I was last time around. This time, I'm gonna try to nip it in the bud. Here are some ways to stave off your cold weather blues.*
---
ABB: Always Be Baking
So many benefits: your house will always be warm, smell of cinnamon, and your friends will always want to come over to eat. Less hungry, less lonely, more delicious. I try to avoid gluten and dairy, so there is the extra distracting challenge of updating regular old recipes to my dietary needs.
---
Buy A Bouquet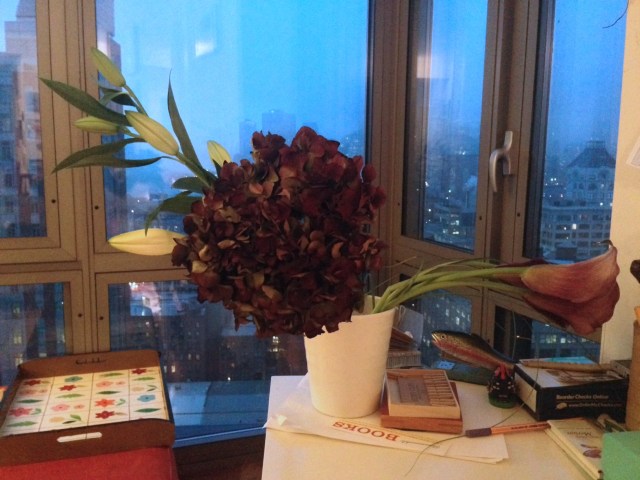 I mean, this is good advice for any time of the year, but nothing brightens up a living space like flowers. We just got this sparse but gorgeous purple number and now walking into my house feels like walking into a spa. Bouquets can die quickly, but will survive much longer with regular water changing and removal of dead leaves/petals. Alternatively, you could get a floral houseplant, but only if you've got a green thumb. I kill everything, and feel much less terrible about a dead and replaceable bouquet than an emaciated orchid plant.
---
Candle Cure-All
You could buy a baked good scented candle, but I think that's just cruel. I personally don't understand the appeal of having your house smell like apple pie if I cannot then eat said apple pie. I'm more of a "clean laundry" or "geranium" type of scent-seeker, but You Do You.
---
D… Vitamin-D, That Is
Bring the sunshine inside! Sunlamps offer some of the same health benefits as actual sunlight. This is an actual therapeutic treatment for Seasonal Affective Disorder,* but even if you're just feeling down it won't hurt to have a little extra sunshine by your side. You can buy this compact sunlamp on Amazon for a reasonable price, but there are all variety of sunlamps for all variety of budgets.
---
Exercise?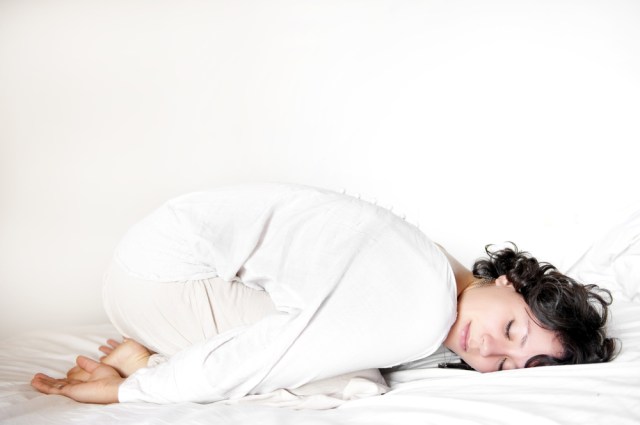 Real talk, I cannot stand exercising. This is not an admirable attribute. It just is what it is, and I will likely pay for it in my old age. However, I discovered there are yoga poses you can do IN BED. There's a compromise I can get down with. A little under-the-covers stretch before you go to sleep and right when you wake up can make just the difference in how you approach the day. I'm hoping this baby step will be the kick in the pants I need to start yoga-ing in an actual studio with all the fancy gear I bought all those years ago (unfortunately I can't reclaim the 200+ yoga classes I never used).
---
Fuckin'
You Already Know.
---
Get Cultured
Sometimes it feels like there is literally NOTHING to do in the wintertime. This is not true. You're just being lazy. There are plenty of indoor activities to participate in: museums, plays… mostly museums and plays actually. They will be heated. Museums even have cute little restaurant/cafés where you can feel very cultured while sipping coffee and reading an art book. Bonus: if you hate Christmas shopping, museum bookstores are like a one-stop shop for prezzies.
---
Hit the Gym
Idk somebody told me this would help. Let me know how it "works out."
---
You guys the alphabet is hella long and I've run out of letter-appropriate suggestions, but really I think the best thing to do when you're feeling down is just do something. I'll be here forever googling homoerotic pictures of Rihanna and sipping mulled wine, so if you've got more cures for weather-related melancholia drop 'em in the comments!
*Seasonal Affective Disorder [SAD] is a real, diagnosable illness that can be treated. While I have no idea if my brand of the blues is in fact SAD, if your seasonal depression feels very serious, you can seek treatment. Feel free to also bake cookies, though.