Nevermind your feelings about pumpkin spice everything. It is, indeed, decorative gourd season, and those of us with digestive issues are feeling trés left out. All you normies out there with your guts of steel may not notice that all of the gluten free baked goods on the shelves are conspicuously stuffed with butter and cheese, and if it's dairy free, it's made of all variety of gluten. The madness never ends, especially if you have a soy allergy (thankfully I do not). NO FEAR! I have developed a Frankenstein pumpkin pie, free of dairy, gluten and soy that you could actually feed to your families on Thanksgiving and nobody would be the wiser.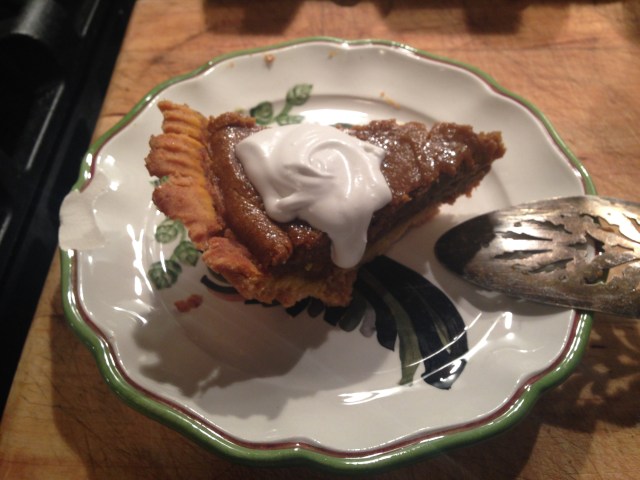 One of my favorite activities is taking a plain-old recipe off the web and re-inventing it in my laboratory (pronounced lah-bohr-ah-to-ree, like on Dexter's Lab). I take even more pleasure in my work when I get to butcher a recipe like this one by Paula Deen. I like to imagine her tossing and turning in a cold sweat with night terrors while I extract all of the butter, eggs, heavy cream and cream cheese from her heart-attack pie, only to be replaced with everything coconut: oil, cream, flour, you name it.
First Things First
You need a crust. If you want to make it from scratch you can use one of these recipes, but ain't nobody got time for that, so I used Bob's Red Mill Biscuit & Baking Mix. One very important step I found has changed my gluten-free pie-baking experience is to make sure you roll your dough out on a piece of plastic wrap. GF dough has a tendency to fall apart during the transfer, so instead of bringing your dough to the pie dish, invert your pie dish on top of the dough (which is on top of the plastic wrap), pull together the sides of the plastic wrap and flip your dish over. Ta-da! With any luck, your crust will remain intact. Adjust any imperfections with your fingers. Do NOT forget to grease the dish like I do. every. single. time.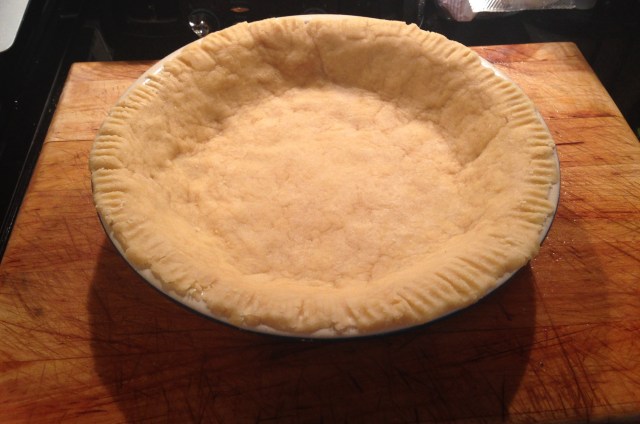 Second Things Second
The Filling:
Here is the recipe I modified from our most tolerated racist grandmother, Paula Deen:
Ingredients:
8 oz. package cream cheese 8oz. coconut cream(not milk), with the oil drained off
2 cups canned pumpkin, mashed
1 cup sugar
1/4 teaspoon salt
1 egg plus 2 egg yolks, slightly beaten 1/4 cup cornstarch, liquefied (mixed with water and stirred until completely liquid)
1 cup half-and-half ew, no thank you
1/4 cup melted butter 1/4 cup warm coconut oil
1 teaspoon vanilla extract
1 teaspoon ground cinnamon
1/2 teaspoon ground ginger
1/4 teaspoon ground cloves
1 piece pre-made gluten free pie dough
Whipped cream, for topping coconut cream, for whipping (optional)
Place 1 piece of pre-made pie dough down into a (9-inch) pie pan and press down along the bottom and all sides. Pinch and crimp the edges together to make a pretty pattern.
Fit a piece of aluminum foil to cover the inside of the shell completely. Fill the shell up to the edges with pie weights or dried beans (about 2 pounds) and place it in the oven. Bake for 10 minutes, remove the foil and pie weights and bake for another 10 minutes or until the crust is dried out and beginning to color.
For the filling, in a large mixing bowl, beat the cream cheesecoconut cream with a mixer. Add the pumpkin and beat until combined.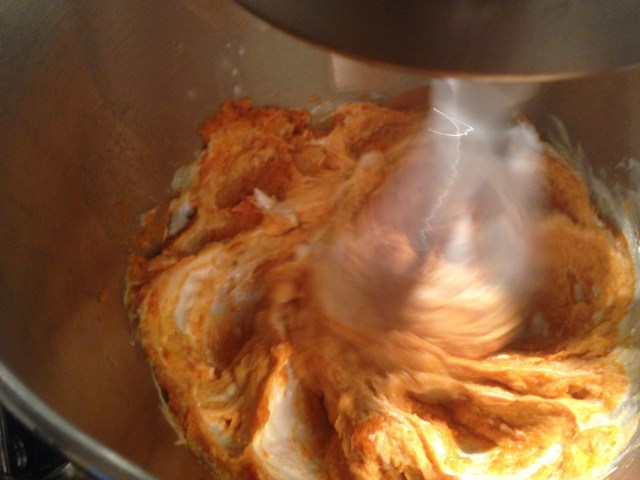 Add the sugar and salt, and beat until combined. Add the eggs mixed with the yolks, half-and-half, and melted butterliquefied cornstarch and warm coconut oil, and beat until combined. Finally, add the vanilla, cinnamon, ginger and cloves,beat until incorporated. Do not forget to lick the spatula. 1) because you're a grown-up and can do whatever you want, and 2) because it's vegan and 100% salmonella-free!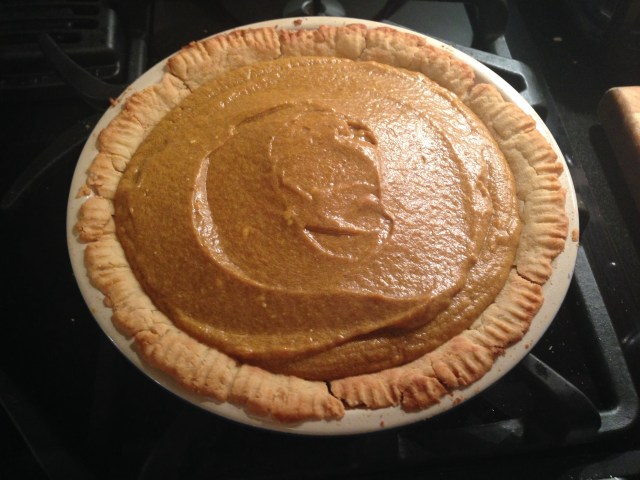 Pour the filling into the warm prepared pie crust and bake for 50 minutes, or until the center is set. Place the pie on a wire rack and cool to room temperature.
Third Things Last
The Whipped Coconut Cream
Ingredients:
1 can coconut cream (or whole canned coconut milk), chilled overnight
3 teaspoons confectioner's sugar (or sweetener of your preference)
½ teaspoon vanilla extract
I didn't have any cans of coconut cream left over, so I put a can of whole coconut milk in the fridge overnight to separate.
Right before you're about to whip, put your mixing bowl in the freezer for a few minutes.
Flip your can of coconut cream/milk over, open it from the bottom and drain off the liquid. I'm sure you can use this liquid for something, but I never have. It feels like a waste until you've got a bunch of dairy free whipped cream and then everything feels all right.
Using a hand or stationary mixer, with the whipping attachment, begin whipping your coconut cream. Add sweetener and vanilla. Continue whipping until your cream has stiff peaks.
Put that shit on your pumpkin pie and eat it! Welcome to the wonderful world of autumnal baked goods!