When Riese wrote about GLAAD's Where We Are on TV report this year, she mentioned that she created and has been maintaining a comprehensive database of LGBTQ TV characters, so she wasn't too surprised to read that GLAAD's findings were mostly positive, and that they now have stats to back-up something we've been saying forever: "showrunners are listening to GLAAD, they're listening to fans, and they're increasingly aware of how specifically passionate queer women are about our stories."
That's more obvious on this list — and what's not included in on this list — than maybe any of the other year-end lists we're compiling this year. In the intro for the best lesbian and bisexual movies of 2018, I noted how weird it was to be able to create a queer women's pop culture list and leave things off of it — because, finally, we had enough good content to set some parameters for inclusion. Well, here I am making a list of best lesbian and bisexual TV couples of 2018 and the same thing is true! There've definitely been enough queer women pairings to fill out lists like these the last few years, but it would have been unheard of until very recently to leave off any two women whose mouths had touched each others'. But here I am, doing just that! I counted 60 TV shows that featured women smooching this year. 16 shows made this list.
Even more interestingly/awesomely, there are at least a dozen fan favorite lesbian and bisexual TV characters this year who aren't on this particular list because they had excellent queer storylines that didn't include being in a relationship. (Don't worry, our annual list of Best/Worst TV characters is coming next week!)
The couples on this list had to include: a non-guest queer character who had noticeable character development; sex/affection/screentime that was equivalent to the sex/affection/screentime given to straight characters of the same status (main character, recurring character, etc.); and the majority of our TV Team had to agree on their inclusion. And here they are!
---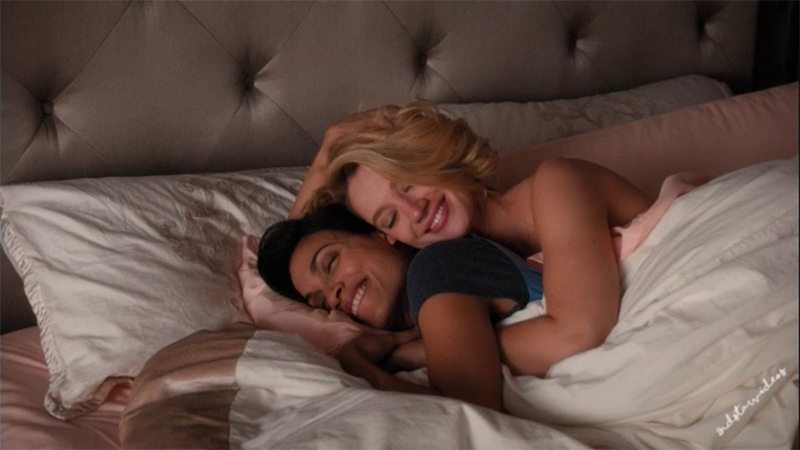 Jane the Virgin fans had been reading Petra as bisexual for a few seasons, and while the show didn't match her up with Jane Villanueva, they sure did give her a whole other Jane to fall for! Petra's coming out storyline was so real and so sweet and so funny and so sexy and — best of all — it ended with her getting the girl (at least for a minute!).
---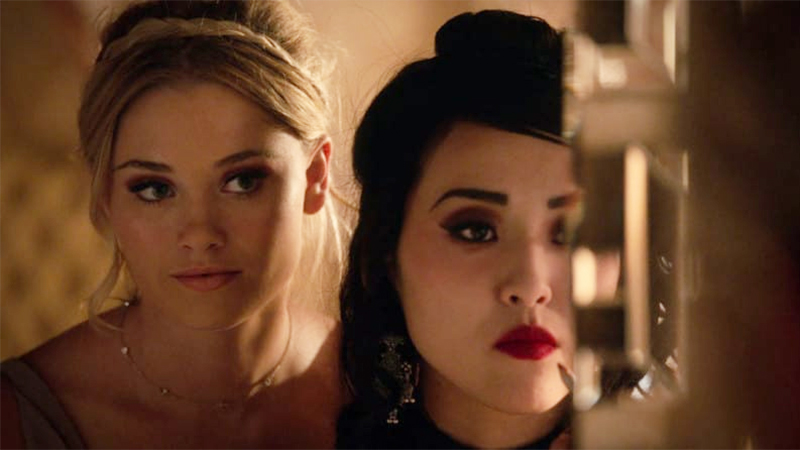 Nico and Karlina's relationship is special because both characters have their own storylines, and their own relationships to their queerness, so they're just as dynamic and fun to watch when they're apart as they are together. Their relationship had been highly anticipated by fans of The Runaways comic books, so it was really rewarding to see the usually-gay-reluctant Marvel actually go there on-screen, and do it so well.
---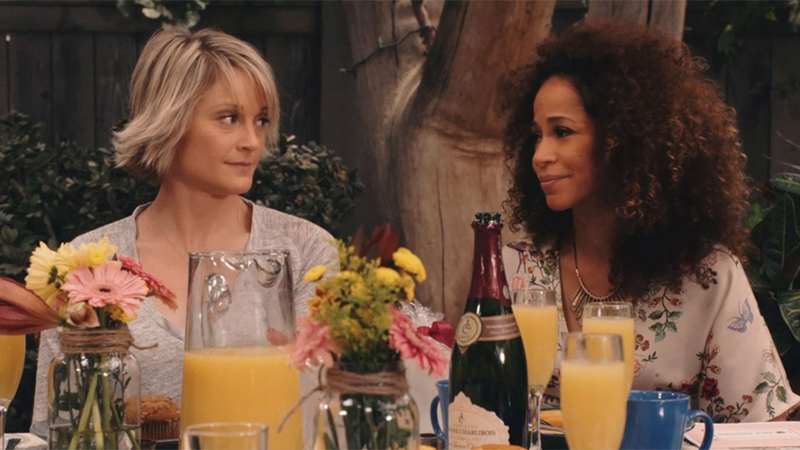 Stef and Lena will go down in history as one of the all-time great lesbian relationships on TV. It was sad to say goodbye to them in their final season, but easily worth the tears for the five years of laughter and love and late-night swims and pancake breakfasts they gave us. In the end, they renewed their commitment to be home with each other, always, right where they belong.
---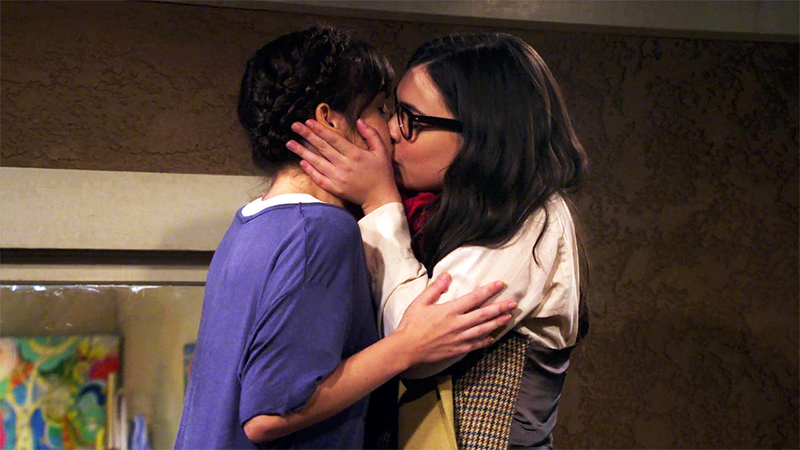 Elena's season one coming out storyline was perfect and profound. And so was her first love storyline in season two. Syd, Elena's nonbinary queer pal, went from being her activist buddy to her partner over the course of the season. They shared their first kiss together, their first school dance together, and their first Doctor/TARDIS cosplay together. A romance for the ages.
---
Princess Bubblegum and Marceline, Adventure Time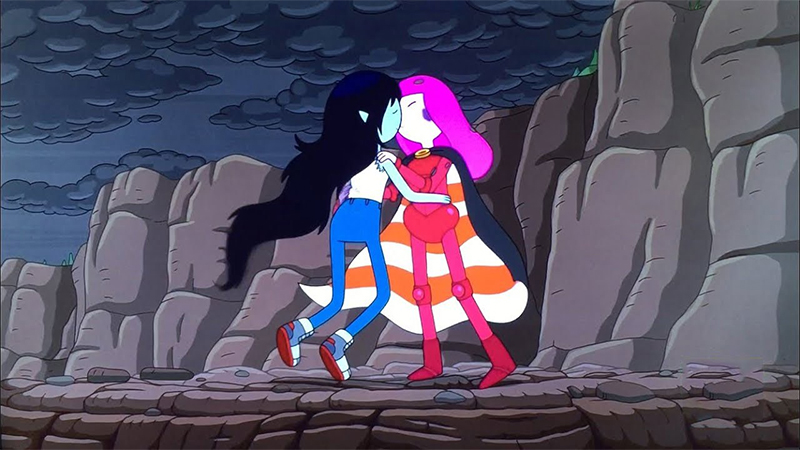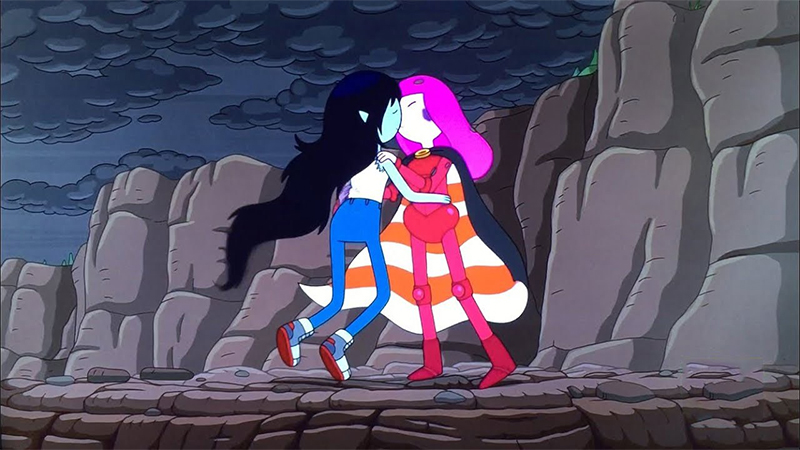 After the slowest slow burn in the history of slow burns, Marceline and Princess Bubblegum finally kissed on-screen in the Adventure Time series finale (fittingly, as Ooo was literally burning to the ground around them). Marceline stopped hinting that her affection for Bonnibel had never gone away and said it right out loud. Did they live happily ever after? Well, time is an illusion. But they did live, and together!
---
We loved Sara with Nyssa. And it was always fun to watch Sara romp through time and make good girls go gay. But watching the strength and vulnerability it took for her to fall in love with Ava and fight for their relationship peeled back even more layers of her character. They make each other so happy, and that makes us happy. These two have suffered enough! Let them live and love!
---
Riese and I were both kind of stunned by how much we loved Everything Sucks and how bummed we were that Netflix cancelled it. Kate's storyline spoke to both of our gay-but-unaware '90s teen lesbian souls, in large part because Kate's relationship with Emaline just felt so real. Lots of people agreed with us. Lots and lots and lots of people. In a shocker, these two won our March Madness Best Kiss competition! You'll always be our little Wonderwall, Kate Messner.
---
Emma and Cruz, Vida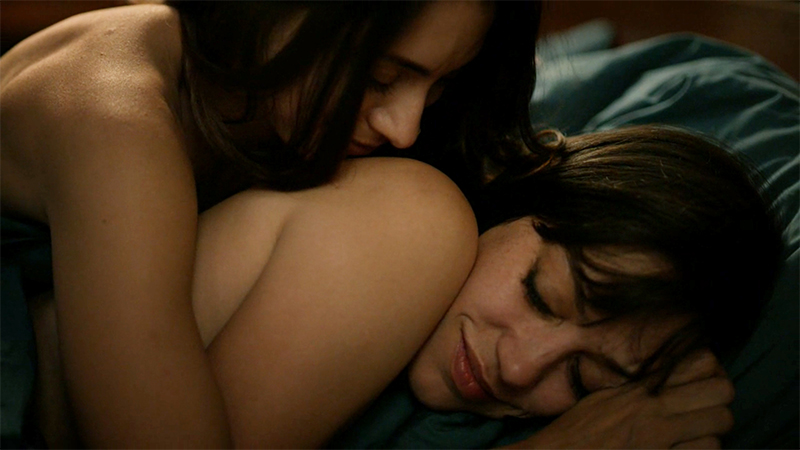 When Autostraddle Associate Editor Carmen Phillips recapped the season finale of Vida, she wrote, "Over the course of Vida's first season, there have been quite a few moments where I had to pause the television slack jawed in disbelief and mutter to myself, 'I can't believe I'm lucky enough to see this on TV.'" And about their beautiful, blossoming relationship: "Listen, Emma never falls asleep at a hook up's house. But with Cruz everything is safe, you know? It's warm and gentle and soft. Emma's built her whole world into sharp edges. Cruz brings out parts that she long thought she buried. And despite herself, she craves it." And so did we!
---
The news that trickled in about the CW's Charmed reboot over the course of this year surprised us in so many ways. That the main characters would all be Latinx, that one of them was going to be an out-and-proud lesbian, that she would have a girlfriend from the get-go. None of those facts prepared me for the biggest surprise of all: that I was going to fall in love with Mel and then Mel and Niko immediately, and that it was going to break my heart when Mel had to save her girlfriend by setting her free.
---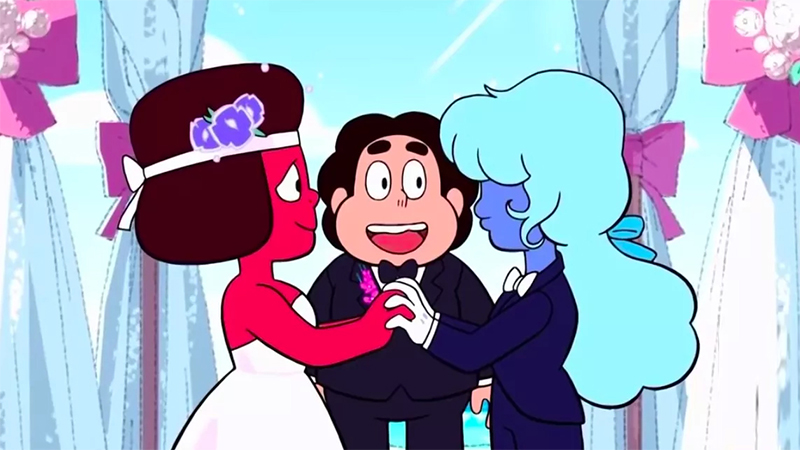 Ruby and Sapphire have not stopped breaking ground since they showed up, individually, on our teeves. This year, they just went right on ahead and got married and kissed right on their cartoon mouths on primetime TV on Cartoon Network. Plus: masc Gems in dresses, femme Gems in tuxes, throwbacks to Ruby and Sapphire's other most romantic moments. There were an awful lot of awful things we could have be thinking of, but for just one day we only thought about love.
---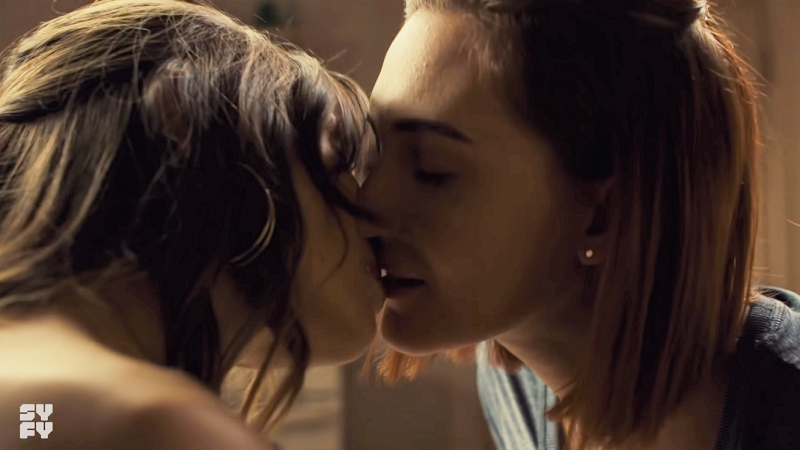 We go now to our official WayHaught correspondent, Autostraddle Staff Writer Valerie Anne: In their third season together, Waverly and Nicole are a fully established couple with their own separate relationships with each of the other characters, their own roles in this wacky shitshow, the new Sheriff and a literal angel. We got to see a little more of a domestic side to them this year, having Big Gay Dinners and Nicole meeting Mama Earp, but they still had their fun (see: the Christmas episode) and there was never a moment of doubt that they're head over heels in love. Plus, they may or may not have gotten engaged before Waverly got sucked into the Garden of Eden/Evil and Nicole went missing.
---
Kat and Adena went all this season, and while it didn't end happily ever after, it was an excellent growing experience for Kat's character — as a person who'd never been in a serious relationship and as a newly out queer lady. Plus theirs continued to be the most resonant relationship on the whole show.
---
It's wild to think that all of the first season of Black Lightning and half of the second season happened in 2018! And it's a good thing, too, because if it'd just been season one, these two superheroes would never have made our list. Grace disappeared! Luckily, in season two, she returned to our screens and to Anissa's loving arms. Their story is groundbreaking in so many ways, and so tender and so angsty and so sexy. We can't get enough.
---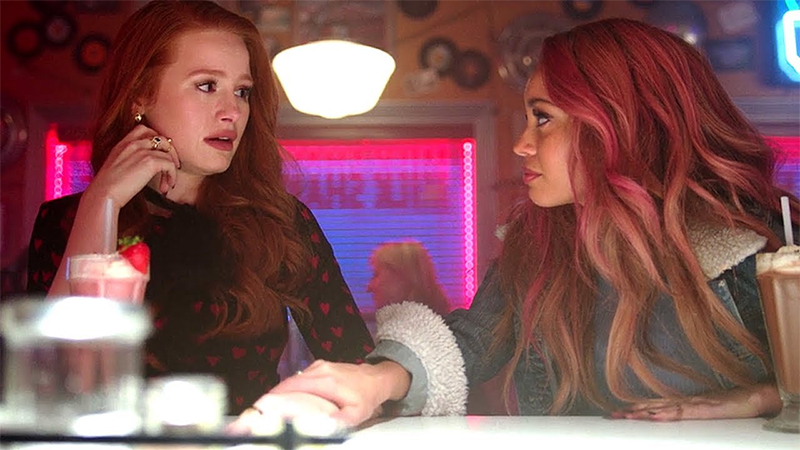 Cheryl is another character who got a girlfriend because fans were reading her as queer and the actress who plays her (Madelaine Petsch) pushed for it. I believed in Toni and Cheryl from the second their paths crossed before that inexplicable drag race in season two. And look at them now! Toni broke Cheryl out of conversion therapy! Cheryl joined the Serpents! Just two Slytherin babes from opposite sides of the tracks, constantly saving each other from getting axe-murdered.
---
Violet and Amelia, Harlots
Violet Cross and Amelia Scanwell's love story is so star-crossed it makes my heart hurt just thinking about it — but it's so wonderful, too. On paper, they have nothing in common, and their connection happened so slowly and subtly in season one it was hard to tell if it was really a thing or if I was just Seeing Gay People (again). But it did happen! And in season two, they got to explore their fraught connection further. If you haven't read Riese's review of season two, do that now, and I will quote it anyway: "Basically, what I'm telling you is that stories about sex workers are not niche, they are transcendent and universal, and often the truest and most enduring stories about Western Civilization ever told."
---
Yolanda and Arthie, G.L.O.W.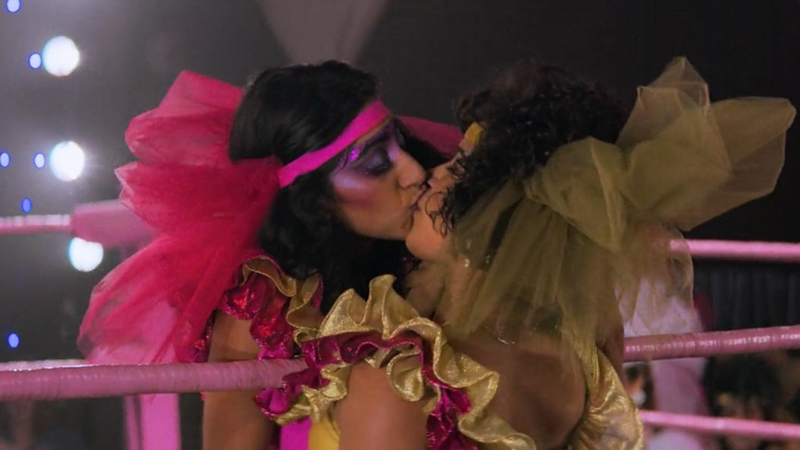 We were all so annoyed that the first season of G.L.O.W. was so dang gay without being gay. In season two, though, we got the real deal with Yolanda and Arthie. Yolanda knew she was gay and said it right away, and over and over until everyone was forced to get comfortable with it. Arthie didn't have any queer feelings at all, until she shocked herself when she started feeling things for Yolanda. They wrestled each other, danced around their feelings, and finally kissed (on national TV!).